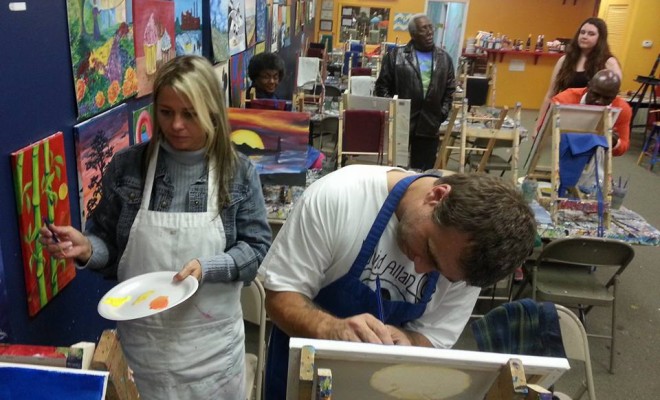 Art
Art With A Buzz
By
|
By Beverage and Art Advocate: April Norris

My first experience at Brushes and Beverages was with a group of friends who were needing a ladies night out, but wanted a low key atmosphere where we could drink wine, laugh, and make memories, now that we were "grown-ups."
My friend recommended Brushes & Beverages. This combined our favorite things: getting a buzz, and pretending to be artists. We all excitedly arrived at the quaint shop on Broadway.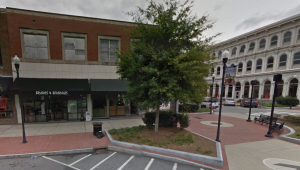 We walked into the colorful studio, welcomed by a friendly staff, good music, and feeling like we had a reason to celebrate.
BYOB (wine and beer) is welcomed, thanks to owner Katy Kent, who pays a significant annual fee to make brown-bagging possible, so I supported. They also have a great in-shop selection if you want to choose your booze when you arrive, and there's snacks for the light weights.
You know who you are.
This was a pleasant experience for me, even if my phallic painting of lipstick paled in comparison to my talented girlfriends' paintings.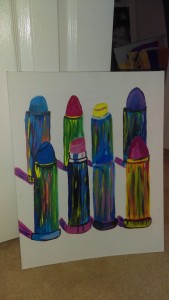 I chose the price of the canvas I deemed worthy of a wine-soaked attempt at an art lesson. We were encouraged to make it our own, and I felt proud of my efforts.
It resides in a closet, because I didn't choose a stretched canvas; and to frame it, would feel like putting my glamour shot on the fireplace mantle.
The next session, at Brushes and Beverages, was with my boyfriend and his family.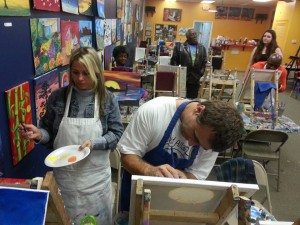 His family is extremely talented, but just as nurturing as the staff. They were very accommodating to a large group, and never lost patience with cries for help like, "She needs more booty, right?"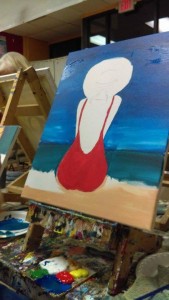 No judgment; only a helpful brush technique to give that red bathing suit what it needed. This sweet artist put the class in ass!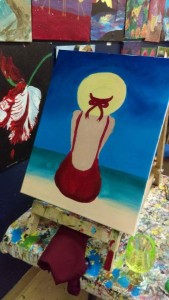 All of our paintings were amazing, and I will display my green bamboo painting in my bathroom.
Right after Christmas, my sister suggested she make a surprise visit to Columbus and for us to do something different with mom. Rather than just go to dinner, my sister and I decided it would be cool to take the moms out for some wine and crafts. 
We went when the bottom fell out, and the Chattahoochee flooded the River Walk…again. It didn't start pouring until we were inside the studio, where I was greeted by the amazing Jamal (an incredible artist).
I chose a cherry as my masterpiece to be, and changed all the colors to take the pressure off of my mother.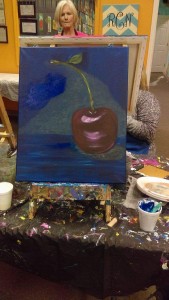 I could tell she wanted to do a good job.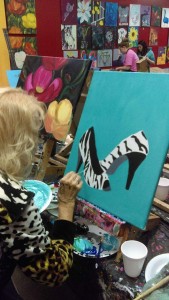 I remembered that  'I can't'  feeling, which makes anything a chore, and not fun. Despite the frustration of learning to paint something, you find yourself going down the path of "this is fun" or "this is frustrating". If you're doing it right, you'll feel a little bit of both.
Katy Kent sets the tone for fun, experimental learning and has 13 years experience as an art teacher in Phenix City, AL. In 2009 Katy opened Brushes and Beverages, she wanted to be downtown and loved the vibe.  
So, if you are looking for something different in the ever-evolving Downtown area (it will never be Uptown to me), check out Brushes and Beverages at 1102 Broadway, Columbus, GA. 
Even folks from Lagrange and Macon drive down to frequent the artsy event shop, and I see why. While I would love to tell you that it is something I would do by myself just to become a better painter, I would be lying. You could call it the karaoke of painting. 
Brushes and Beverages is about making memories with a group of people that like to laugh, make mistakes, ask for help, and create art with a comfortable buzz. (If you're wanting to get serious about painting, Katy does hold private group lessons during select weekdays.)
For those of you who are thinking about making this your next team building event, this place has you covered too. Brushes and Beverages does corporate parties for AFLAC, TSYS, Pratt & Whitney, RC cola, and more. They will also do an off-site party and themed parties at your request, too!