Art
Artist Spotlight: Marina Dunbar
By
|
It's a beautiful thing to see art illuminate a community, and Columbus keeps getting brighter! One particular force of creative light comes from a Columbus resident, who has a huge heart for the community.
Artist, Marina Dunbar, is the head coordinator of Home is Where the Art Is, and additionally, donates her art to support local charities and events. With a new website recently launched, Marina shares with us some pieces, and the inspiration behind the ethereal watercolors, which have been ever-so-pleasantly sweeping Columbus, GA.
How would you describe your style?
"My style is very organic and fluid. Someone once told me that watercolor is meant to be guided instead of controlled, and I agree; sometimes the painting paints itself. I like for my paintings to be expressive, energetic and seductive. My work is very feminine, I use light colors, subtle marks and delicate tonalities. I think my paintings possess a sense of ephemerality, a fleeting moment."
How has your background influenced your path thus far?
"My artistic influences go as far back as I can remember. I lived in Minsk, Belarus until I was about 9 years old and my mom and I traveled all across Europe, visiting many museums. My mom made it a point to take me to every major museum, and I believe those experiences left a huge impression on me and paved the way for my artistic ways!"
Who and what has been your inspiration?
"There are too many artists to mention, but to name a few painters: Alex Kanevsky, Eric Fishl, Lourdes Sanchez. I currently have the pleasure of working for two incredible artists, Betsy Eby & Bo Bartlett, whom I am inspired by every day. Beyond that, the process of painting and creating is a constant inspiration. The more paintings I finish, the more I want to make…it is an adventurous process."
What research do you do?
"I investigate a lot of different techniques, materials and videos. I experiment with various papers and inks. There is a beautiful spontaneity to the way watercolor moves that I love exploring. With figurative work, I often look up vintage pictures and daguerreotypes. There is something about the soft, subtle quality of light that attracts me to those images."
What has been the most beneficial piece of advice you have received throughout your college career?
"A professor once told me that if you don't want to do something, sometimes that's a sign that you should. If there is a class you don't want to take because you think it has nothing to do with your work, that's a sign that maybe it would be good for you. If there is a book, or a project or an event you don't think will benefit you, that's a sign that it might be exactly what you need. Some of the most useful and eye-opening things I learned were from classes and lectures I never thought would be interesting. It is the perfect way to push yourself to stay open minded."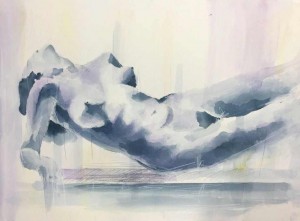 What is your favorite artists tool? Is there something you can't live without in your studio?
"Yep, my tea set! I use it instead of a watercolor palette when working on a larger painting."
Marina is currently completing her last semester for a bachelors' degree in art at Columbus State University. Her artistic travels include Paris, Madrid, Barcelona, Venice, Quebec City, and Montreal, with a summer in New York, studying photography.
To view more and purchase Marina's work, visit MarinaDunbar.com