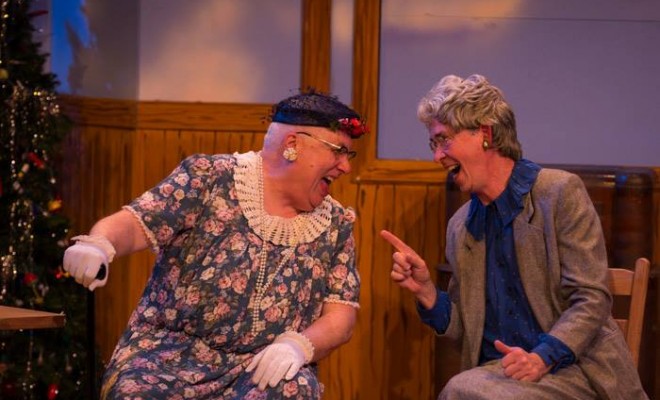 Art
A Tuna Christmas in review
By
|
Recently I had the pleasure of seeing A Tuna Christmas, hosted at the Springer in the McClure theater in uptown Columbus, written and directed by Ed Howard and performed by Ron Anderson and Paul Pierce. This play, raved about by locals, and clearly a Columbus favorite, did not disappoint. After hearing all the positive reviews from so many local play-goers, I walked in with high expectations and a critical eye, and walked out with tears of laughter running down my face.
Set in Tuna, Texas, this play based on a small-town Christmas holiday does an excellent job of bringing laughter to an audience of people often times feeling the stress or sadness that can accompany Christmas. According to Anderson, "Laughter is the best medicine." If that be the case, the Christmas enthusiasts and Scrooges alike are guaranteed a strong dose of holiday happiness.
This twenty two character show is cast by only two people, Ron Anderson and Paul Pierce. These two men bring each character to life with a unique flair; nosey neighbors, rebellious teenagers, and naughty waitresses among the menagerie of characters. This play is sarcastic and politically incorrect, two qualities I am instantly drawn to, but what makes this play fun is that the characters are relatable. In watching the play unfold, I saw that people in my own life were characterized on the stage.
The acting in this two man show is superb. Quick costume changes and excellent directing are clearly what make this show possible. Thanks to velcro, practice, and an excellent backstage crew, Ron and Paul are able to change characters within 10 seconds. Though props are limited, I knew exactly when the characters were drinking something hot, looking out a window, or smelling something foul; no doubt a testament to Director Ed Howard's talent. Funny both on and off the stage, I asked Ron if he had any pre-performance rituals. To my amusement Ron stated, "I make sure my fly is up and I remember my first line."
A self described Green Bay Packers fan and church-going man, Ron Anderson has been an actor in this play for 14 years. When asking him why he continues to act in this play after 14 years, he will tell you that it's not Christmas without Tuna. The ongoing success of this show proves that the audience agrees. In wrapping up the show and asking Ron about plans for the show for holiday seasons to come, he replied, "As long as people want to see middle age men in panty-hose, by golly the show must go on."
Though holidays are coming to an end and A Tuna Christmas has already finished for the season, I encourage everyone to make this part of their future holiday traditions. It absolutely has become one of mine.