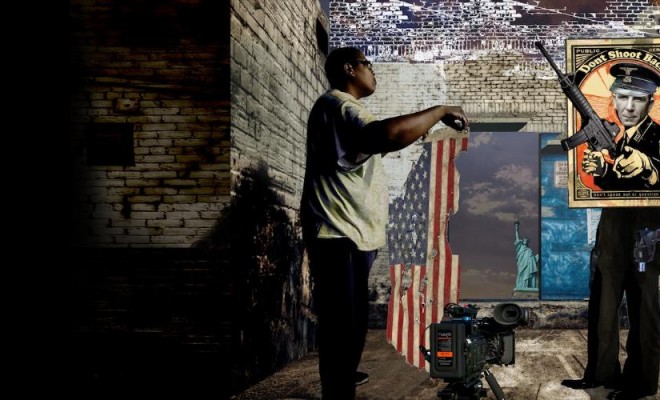 Najee Dorsey
Art
BAIA: There Is Nothing Else Like It
By
|
It appears to be a trend in the last couple of years: people are being called, or called back, to Columbus, GA. Najee Dorsey, Artist, 'Artrepeneur' and Collector, is one of that tribe.
Najee was compelled to move to Columbus, GA over a year ago from Atlanta, Georgia, and is originally from Mississippi County, AR. He's felt a movement happening here, and been inspired by aspects of Columbus' black history. For instance, his painting "Liberty Legends," features Columbus native, Ma Rainey, "The Mother of the Blues." In the painting, she's hanging out at a "juke joint" with other famous people who performed at The Liberty Theater, including Marian Anderson, Cab Calloway, Louie Armstrong and Nat King Cole.
Najee has also been a tremendous inspiration to our community as well. He's worked with Columbus' historic Liberty Theatre, Home is Where the Art Is, countless art organizations, and had an exhibition at The Columbus Museum last year.
When I experienced "Leaving Mississippi — Reflections on Heroes and Folklore: Works by Najee Dorsey", at our museum, I was deeply moved by his vivid, poignant art. In the middle of a silent museum, I wept because of the articulate depth and struggle, of African-Americans, he expressed in his work.
Dorsey is not only an incredible, renowned, figurative artist, he is also the Founder and CEO of Black Art In America™ (BAIA), and one of the most charismatic, ambitious people you will ever meet.
Najee was the recipient of the 2006 Patrons Purchase Award from Polk Museum of Art. His art is featured in the collections of the Charles H. Wright Museum in Detroit, Syracuse University, the African American Museum in Dallas, Liberty Bank and Trust Company in New Orleans, LA, and the Marietta Museum of Art in Florida.
During his artistic journey, he realized how many doors were closed to the African-American arts community. Najee had a vision for a centralized platform to maximize exposure for black artists; a place to profile the artist, see their work, and collect future masters.
All of his experiences lead to the creation of Black Art In America™ in 2010. It is now the leading, global, social network & resource for African-American visual artists, collectors, industry leaders, and arts enthusiasts. 
Over the course of five years, Black Art In America™ has become a leading resource for knowledgeable curators, collectors, connoisseurs and arts industry professionals. BAIA is the leading online portal and social network focused on African-American Art with visitors from over 180 countries visiting their site each month, and about a million visitors to their social media pages for Black Art In America™ and Do You Basel?™.
BAIA amplifies thought-provoking commentary on today's visual arts news from a variety of perspectives, including breaking news, gallery meet-ups, market trends, and profiling leading (and emerging) Black visual artists in the country. There is nothing else like it.
We are thrilled to announce their Second Black Art In America™ Fine Art Show, October 23 – 25, 2015 at The Faison Firehouse Theater, in Harlem (NYC). 
This fine art show is featuring an impressively, curated array of artworks!  The BAIA arts experience includes exhibition, programming, and performance. The fine arts exhibition will highlight works by 19th – 21st century Masters, as well as emerging contemporary artists. Artwork will be offered in a range of media from paintings, photography, limited edition prints, mixed media, works on paper, and sculpture.
We are grateful Najee and his lovely wife and partner, Seteria, have chosen to call Columbus home base. When they aren't galavanting off to exhibits, festivals, and art shows, you can catch them here working humbly, behind the scenes.
*Featured images by Najee Dorsey