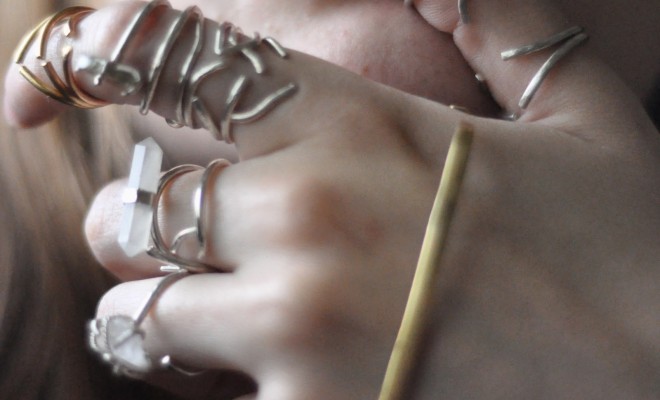 Art
Columbus Native Artist Revisits Home
By
|
Houston-based artist, Michelle Sanchez's thoughts on art, jewelry making, & Columbus, Georgia.
When asked about her origins as an artist, Michelle recounts her early days. "My family consists of creative women," she says, "so I've been surrounded by it all my life." She remembers making clothes for her dolls while her mother sat beside her making costumes for her older sister's theatre class. "When I was in high school at Shaw, I started making tote bags." Years later, the artist recalls it as her first experience producing a creative item and selling it. "But I didn't see it that way then!"
The thing about growing up in Columbus, the artist explains to me, is that it's a wonderful place to grow up, "and left me wanting more," she says. Her feeling of wanting to do more, creatively and personally, has stemmed from that town. She also credits her love for nature to the trees, the red Georgia clay, and living close to the Chattahoochee River.
In her years away, Michelle has changed. During a recent visit, she found that Columbus has changed as well. "The trees are still soothing, but now there are pockets of life blooming downtown. It's really great to see the growth, and I can't wait to go back again."
After moving to Houston, seven years ago, her main focus was photography. But one night, in one of those precious, manic states of inspiration, Michelle stayed up for hours and crafted jewelry; mostly from found objects and intricate beading. Before long, she completed a metalsmith class and learned to solder. Michelle realized she wanted to make wearable art, something that was more than just pretty; a sculpture that reflected an artistic intention and message.
When asked about her biggest inspirations, the artist is quick to reference cultures. She finds traditional Arab and Islamic art particularly meaningful, because of the restriction on showing humans and featuring patterns instead. She finds that focus as a counterbalance to American popular culture, and sees to it that her work reflects those principles of design as well. She is also inspired by Indian and Indonesian art, which communicate the maker's belief system, rooted in nature. When asked what themes she hopes to communicate in her art, she answers, "Nature for sure. I'm very in touch with it, but my reality is this busy city."
Michelle admires designers whose work exhibit beautiful form and excellent craftsmanship. "That's what I want to do with my designs – make it so that it could be from a different era, but also go with you into the future." Her work, which changes with each collection so only few pieces of the same design exist, will be making its way to AthFest next year. Until then you can keep in touch with her and check out more of her work via website, Facebook, and Instagram to catch a glimpse of her current designs and photography.
For more information & custom orders email: Contact@Mecstatic.com