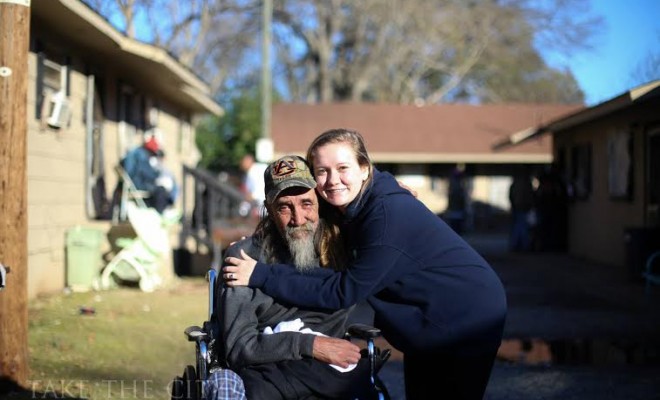 Events
For the Love of a City
By
|
Written by Rachel Rice
"Love has no meaning if it isn't shared. Love has to be put into action." – Mother Teresa
Once a month a diverse army of people descend on our city, targeting specific neighborhoods such as historic East Highland, Lake Bottom, Wilson Homes, and Broad Street. What are they doing? Spreading hope and breaking social barriers. There is a revolution stirring in Columbus, and it is called Take the City. 
Since 2013, Take the City has mobilized hundreds of people from over 75 different churches across racial, economic, cultural, and denominational backgrounds into the city of Columbus. Take the City operations are responsible for feeding over 5,800 people.
Once a month, Take the City volunteers split up into teams and drive to different locations to meet marginalized people, distribute clothes and food, and have conversations about God. A focal point has been inner-city neighborhood, Wilson Homes, where teams have hosted Kid's Clubs and Princess Party events for children. Teams go to homeless camps by the river, visit senior adult centers, play tag outside with kids, and pray with drug addicts.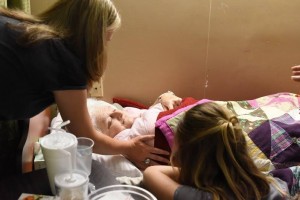 The volunteers of Take the City are as diverse as the city of Columbus. There are hipster college students, senior citizens, TSYS employees, pastors of larger congregations and small, African-Americans, Hispanic-Americans, soldiers, young children and their parents, and people with very different beliefs. It is rare to see such diverse people agree on anything, but everyone volunteering agrees that spending a few hours one Saturday a month to reach out to others is worthwhile.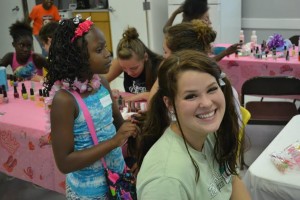 The number of community leaders, pastors and members of various denominations working together toward a common goal is astounding. No person is more amazed at the success of Take the City than the director, Andrew Chalmers, a humble, blue-eyed visionary.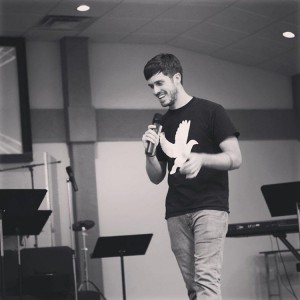 "Take the City is not an event, it's a movement," said Chalmers.
His genuine love for people and the city of Columbus is contagious. He believes that the revitalization of a city happens one person at time, and that God's love is greater than any problems or addictions people face.
"God has been bringing pastors and church members together in way that hasn't been seen here in Columbus before. I believe God is going to do something really special here," said Chalmers.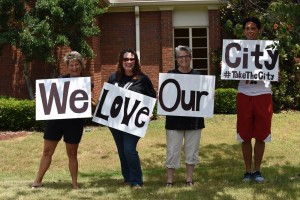 It's hard to believe when you look at him today, but only a few years ago Andrew Chalmers was strung out on drugs and sleeping on the streets of Atlanta with his backpack for a pillow. He went to Teen Challenge to get clean, and while he was there, "God filled me with a sense of His love," said Chalmers.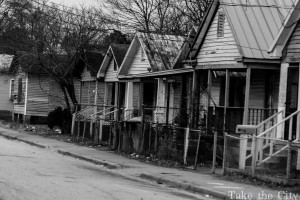 Years later, after moving to Columbus to work with Teen Challenge, "God gripped me with a heart and vision for this city. I didn't know that could happen." People who also had a desire to help and share God's love with the marginalized people of Columbus were organically drawn together and Take the City was born. Today, wherever Andrew travels he brings the backpack that was his pillow on the streets of Atlanta, a reminder that love can overcome the darkest moments.
Take the City is growing and committed to sharing love and hope with those who are easily forgotten. Building even greater collaboration between civic, corporate, and churching leaders spanning economic and racial lines to revitalize the city is the goal going forward.
To find out more about Take the City or view upcoming events visit www.take-the-city.com  or visit their Facebook page www.facebook.com/takethecitycolumbus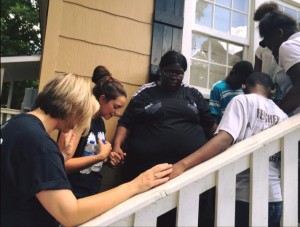 *Pictures taken from Take the City websites.