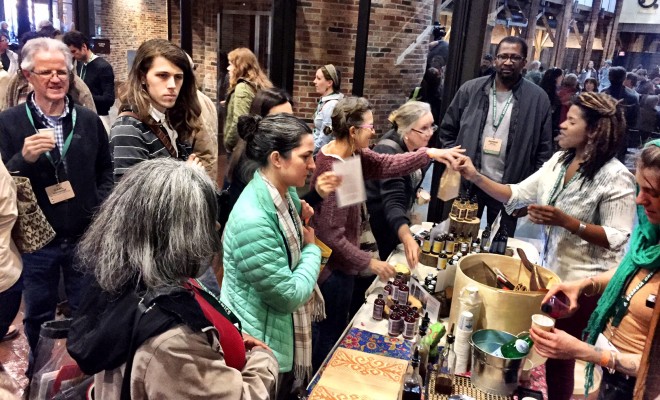 Dining/Drinking Experience
Georgia Organics is Changing Our Town
By
|
Walking into The Georgia Organic's Conference with my note pad, investigator's glasses and coat, I expected to ask a couple of questions Saturday afternoon, then go home.
Five hours later, I walked out with a belly full of an organic feast, and high on the conference's inspirational synergy of the good food movement.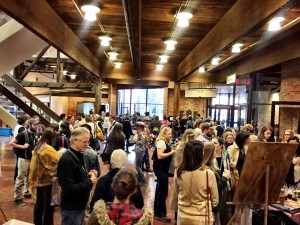 As I waited in the lobby for Paige Swift, with Chattahoochee Valley Land Trust, to hook me up with her organic connections, I immediately felt an inviting, thought provoking, eclectic energy that was something reminiscent of my University of Georgia, college days. Ironically, I look around only to see Columbus State University's President, Chris Markwood.
While scoping the room, a kind-eyed woman with a name tag that said, "Angela Johnson" approached me. I clumsily asked what she was experiencing at the conference. Within a second she exclaimed, "Fear and excitement!"
Angela founded Reconciliation House, Inc. in 2003. This long-term, faith-based, residential Women's Aftercare Reentry program is located on 53 acres in Middle Georgia. It is the perfect place to develop a therapeutic community for women, by using farming as a rehabilitation method to reduce recidivism. Johnson is excited about coming back every year to learn and network.
This excitement, and need for connectivity, seems to be the consensus; it was felt by all at the 19th Annual Conference, as Georgia Organics believes food should be community-based, not commodity-based.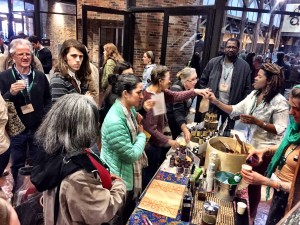 Alice Rolls, Georgia Organic's Executive Director, was thrilled about the conference coming back to Columbus after four years. Rolls is continually impressed with Columbus' community, development, and the revitalized vibe (Electric City Life) felt on The RiverWalk and downtown.
"Initially inspired by the restoration of a major Georgia River that runs through Columbus, and the resulting recovery of a river ecosystem, we decided to celebrate the demonstrated resilience of plant and soil and human communities under the care of sustainable farming practices," Georgia Organics on their 2016 Conference.
Since Columbus is one of only two cities in Georgia to be chosen as a Food Oasis by Georgia Organics, they are helping us to further develop innovative and affordable ways to discover, taste and learn about food. 
Alice was happy to report that the 1,00 attendees boosted our local economy, by spending an estimated $200,000, in the Chattahoochee Valley area this weekend, too! 
Serving on the Board of Directors for Georgia Organics, and being a forerunner for the sustainable food movement here, Ashely Turner, shares with me, "In 2012, when the conference was held here, I only knew five people from Columbus at the Farmer's Feast; this year there were 30 or more people that I knew. We have people here like Betsy Covington, CEO of The Community Foundation, who has been instrumental in helping start The Columbus Local Food Fund, the Superintendent, Dr. Lewis, and so many more. These people are leaders wanting to make a difference, and are helping this cause for our community."
The caliber of people who were (increasingly) present locally and globally, is indicative of the good food movement's growing strength here.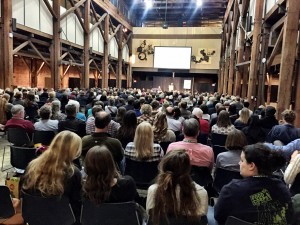 For instance, Joan Dye Gussow, who is considered the movement's Matriarch, pioneered the "eat local, think global" approach to sustainable food systems, and was the keynote speaker before the Farmer's Feast. An environmentalist, professor, food policy expert, gardener, co-author or editor of five books, and the former chair of the Columbia University Teachers College Nutrition Education Program, Joan lives, writes, and grows organic vegetables on the West bank of the Hudson River.
The Matraiarch described how, after three floods in three years, her soil was rocky and wrecked, but she grew sweet potatoes in one of her garden beds and encountered a miracle. The soil transformed, after one growing season, in to better, silky soil. As we are looking for solutions to heal our land, a vibrant 86-year-old Joan encouraged us to be more flexible than our current, rigid system.
Joan perfectly primed the room for two forces in our state's food community, to win awards for finding solutions. Erin Croom, who seemingly single handedly lead the Farm to School movement by pollinating it in Georgia and implementing it in 39 districts, won The Barbara Petit Pollinator Award.
Rockstar Cowboy, Will Harris, of White Oak Pastures, runs the only farm in the country with federally approved slaughterhouses, or abattoirs, for both poultry and mammals. Harris took a major financial risk as he transitioned his family's farm of 150 years to a fair, sustainable, and humane farm in 1995. Will won The Land Stewardship Award and, like his emails which are in all caps, exclaimed how his farm put the cult in agriCULTure!
And he is right, I heard at least ten people say they wanted to adopt Will as their dad. The New York Times writes, "If the Southern organic crowd were made up of teenage fan girls, he would be their Justin Bieber." There was a buzz about how the favorite, compassionate cowboy will be featured on The Dr. Oz Show on Monday (February 29th) to discuss the benefits of grassfed beef and regenerative land management, as well.
The need for leaders and cowboys to implement change is deeply felt today, as challenges created by industrial agricultural practices and climate change are inevitably causing sickness and even death, simply because a lot of our food is not good. 
"We need more infrastructure in our state, and region, for organic storage and processing facilities to meet the USDA's national organic standards. We can grow it, but where do we process it? It takes us working together to develop, and that's why these conferences are so vital to this movement." Explains Ashley Turner, who then turns to introduce me to a connection she met last year at the conference, Mark Vanderhoek, who is helping fill this gap.
Mark is the Community Relations Manager for Coyote Creek Farm and Feed Mill. They will be installing their second feed mill (one is in Texas) as a regional hub in central Georgia, outside of Macon. This feed mill will foster organic grain farming, lower the carbon footprint for organic feeds, help cooperation between organic grain farmers and organic food and livestock producers, and improve local and regional farming economic opportunities.
Vanderhoek believes cross pollinating the food system and networking is so powerful, because we need to build our state's agriculture, particularly the organic agriculture.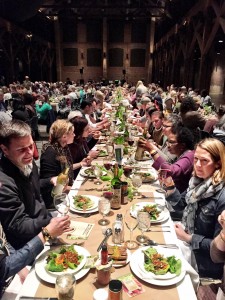 Alice Rolls adds, "We grow about 240,000 pounds of lettuce a year, but we eat 28 million pounds of lettuce a year in Georgia. That gap is valued at 82 million dollars! So if we start rebuilding and making those connections happen again with agriculture we can keep those dollars here in the Columbus region."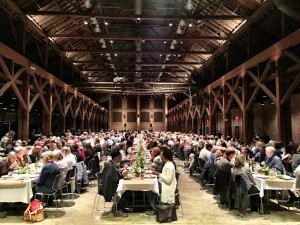 It was a revolutionary weekend of connectivity, but there is still plenty more work to do. If you'd like to get involved on a local level, Georgia Organics Food Oasis kicked off their campaign in Columbus, GA on Oct. 28, 2015 and will have another meeting in April, date TBA, so stay tuned and check out their site for more details.