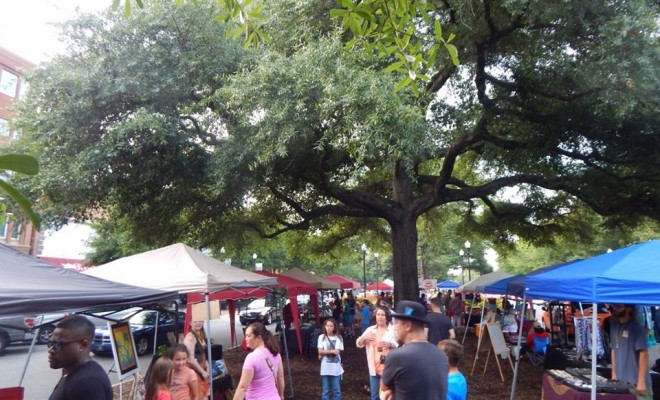 Art
A Grassroots Initiative: The First Friday Art Walk
By
|
Written by Drew Barwick, Chairman of Columbus' First Friday Art Walk
Initiative. Gotta have it. What's yours?
The First Friday Art Walk's original initiative was to enlighten people about local creatives from our community. The FREE events, put together by our team of volunteers, have been the first Friday of every month, since March of 2014 (except January and February) and we will be there tomorrow (October 2nd).
The event lasts from 4:30 to 10pm, mainly on the 1000 block of Broadway in Columbus. You are all welcome and invited. We have a wide range of artists, from jewelry makers to painters to musicians, who set up every month, contact us if you want to be involved.
Our mission has evolved into one that engages people; one that creates an environment where people's creative spirits can flow freely. People can entertain themselves with several collaborative art projects, the dogs that PAWS Humane brings out, and the reptiles from Oxbow Meadows. 
Habitat for Humanity shares their values, along with spare materials to work with ColumbusMakesIT on other collaborative projects. ColumbusMakesIT has A LOT of cool gadgets to share with you, like their 3D printer and so much more.
New this month: At least 3 elementary schools will have some of their students' works displayed in windows along the 1000 block.
"Possibly my favorite place to be. Vendors who love Art, appreciate Artisians, and they freely share their passions with each other. The atmosphere is incomparable. Can't wait!!!" – from one of our vendors.
Striking passion in individuals is priceless. How much do you believe arts and culture can affect our society's development? How many smiles can they bring, and how many children's minds can be touched by the creative spirit? Do you believe in bringing communities together to learn and grow?
CREATIVITY is SO POWERFUL. Research suggests that some Developmental Benefits of Art in children come in the form of Motor Skills, Language Development, Decision Making, critical thinking, problem solving, Visual Learning, Inventiveness, Cultural Awareness, and Improved Academic Performance. The benefits are not limited to developing minds.
Dr. Benjamen Blair, a CSU Economics Professor, recently studied the economic impact of creativity on economies. Studies told him that arts in communities contribute to a more
"diverse, open, and creative environment that is more attractive to talented, skilled, highly desirable workers and entrepreneurs. It also creates an environment which results in people becoming more talented and innovative… It fosters networking among local businesses and community leaders."
That touches on another issue: How do we keep talent in our community? How do we attract our youths to return to Columbus after graduating from college? Most kids move away and never come back.
Tom Hacket (CSU Interim Pres in January, 2015) said, "We could be the Seattle of the Southeast. We could if the community will was there."
When's the last time you went out to enjoy our local culture? There is really a lot to be appreciated here, and there's something new everyday. Did you know that Steeplechase is a non-profit event to support arts and culture? Some of the First Friday Art Walk volunteers will have a booth on the terrace there, and we will have collaborative art to be donated to their art auction.
Our collaborative project from the September 4th, 2015 event was originally donated by Habitat for Humanity, and we all contributed to make it an encouraging coffee table (last picture above). After its completion, we donated it to the House of TIME with guidance from United Way.
Help empower others to make a difference in our community. We can all do something. The biggest limitation is our own mind. For our events, what money we use comes out of our pockets. This is our gift to you that gives so much back to us. We are thankful for the opportunity to engage and enlighten others.
Thank you,
Drew Barwick, Chairman of Columbus' First Friday Art Walk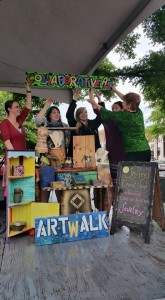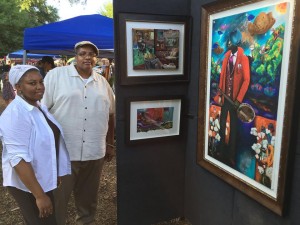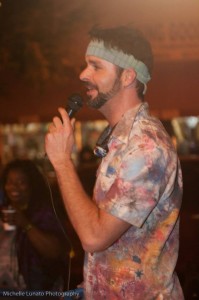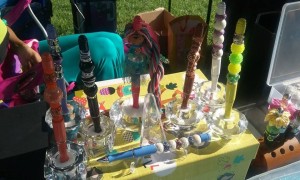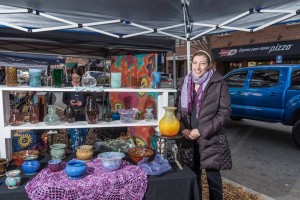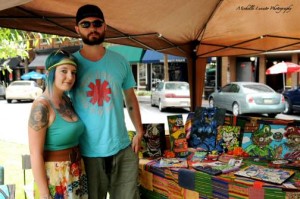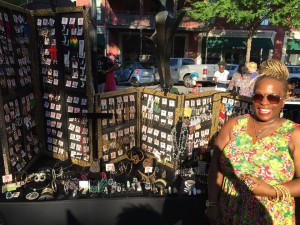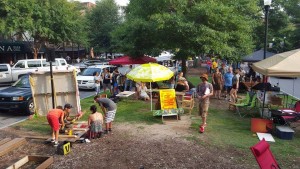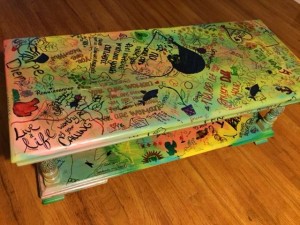 *Photos taken from CFF Facebook page*