Events
Inaugural Monthly Meeting of the Minds
By
|
We hosted a meeting last night for about 60 brilliant, diverse people in our area. The main objective of our monthly meeting of the minds (mmm) is to connect and engage all the incredible people and ideas we have in our community, once a month (tentatively every third Wednesday at The Loft 5:45-7pm). Each month there will be a different/one subject(s), idea(s), and expert(s) in the field to help us facilitate discussions.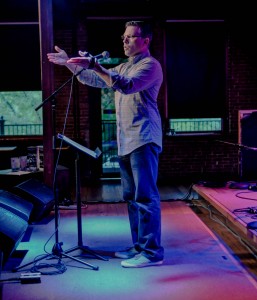 The rain delayed most people, and kept some away too, but as the room gathered more and more people, while jamming up the entrance, there was an excitement in the room. Maybe it was the drink most of us had as soon as we walked in the door. Either way we were all electrified to be there, because we all want to be a part of something that could progress our community.
Charlie Mordic, who will be helping us facilitate, spoke on an initiative for finding local needy families around Christmas through Open Door, local shelters, and letters to the Ledger-Enquirer. He expressed filling the needs of Columbus area families, and how no family should lack in our area during the holidays. The most interesting feedback was to possibly re-connect with the Jaycees (Charlie mentioned he used to be involved with them) and host a haunted house fundraiser. Who remembers Jaycees Haunted House, and more importantly who wants it back?
The topic on bringing film to Columbus, GA, ways to be involved, and how we can be ready as a community was led by Stacy Cunningham, Paul Pierce, and Peter Bowden. We were all taking notes. Film is a very hot topic and the discussion began on our Facebook event before the meeting even started.
Stacy Cunningham introduced herself as a director and actress who will be filming a 1950's movie here soon. Stacy's family is based here and she has come back with experience, and a passion, for our beautiful community to be featured in films.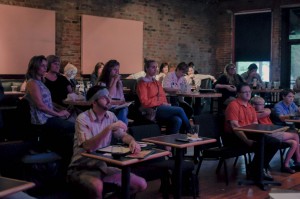 Paul Pierce, Director of Springer Opera House, gave us all a chuckle when he shared the nickname being used for Georgia: "Y'allywood". He furthered explained that the explosion of film here is due to the film tax credit, and is a huge incentive to shoot films in our state. Did you know 158 feature films were shot in Georgia last year, 40-50 television shows, 4 billion was spent last year, 6 billion this year was spent, and Tyler Perry is about to turn much of Fort McPherson into a movie studio? Me either.
Paul continued by expressing the issue of a skilled film workforce. For example, the lowest entry level jobs are $40-50 per hour and everybody is working overtime. However, producers are bringing in crews from out of state, which means less economic impact for us. There were many more facts and future plans shared, stay connected to find out more.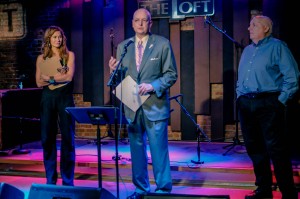 Peter Bowden is the President & CEO of Columbus, GA Convention & Visitors Bureau (CVB). He shared that the CVB is the direct liaison with the Georgia Film, Music & Digital Entertainment Office as projects develop. Peter said being designated as a Camera Ready Community was a rigorous process, through the Georgia Film, Music & Digital Entertainment Office, but will help us. Camera Ready was established as a way to offer film and television production companies easier, faster and better access to local resources and information. The CVB is currently collecting photos and locations to help film scouts know what and where is available to film here. Please send them photos to help build their database.
Many have expressed concern over how Columbus may be portrayed when films come here. There has been a lot of work put into bringing film here, but it seems the conversation has just begun, with a lot more discussion and work to follow.
Next up David Hehman, co-founder of ColumbusMakesIT (who will be helping us every month too), briefly explained their vision for an incubator and maker space that will be open in September. This space will help our community use high end tools to learn and create (read more here).
It all started converging when it was suggested ColumbusMakesIT will be a part of building film workforce, like making sets, costumes, etc.
David continued by stating some perspectives about starting a business in Columbus, GA from the Regional Prosperity Initiative survey. The survey found we are lacking in angel investors, incubation facilities, and overall entrepreneurship. He continued by asking the group questions about startups for breakout discussions.

A couple of individuals then shared on the stage what their group concluded. Many agreed that an association or club for entrepreneurs is crucial to development. We need to pool our resources together to help mentor and connect startups in our area. ColumbusMakesIT plans on helping fill this need.
The official meeting was over but 90% of the people lingered, connecting, collaborating, and exchanging ideas.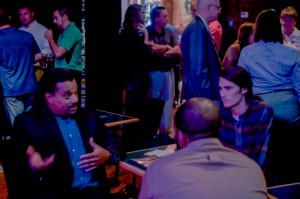 There are so many details and conversations from last night that couldn't all be written in one article, but we hope you will join us to have the full picture. Our next meeting will be Tuesday, September 15th at The Citizen's Service Center 5:30-8pm.
We are open to taking subjects. Maybe you have an idea and you'd like to lead the discussion on it? Let us know. This is our meeting, the more feedback and participation the better connectivity these meetings will produce.
*Photos by Luzana Flores*