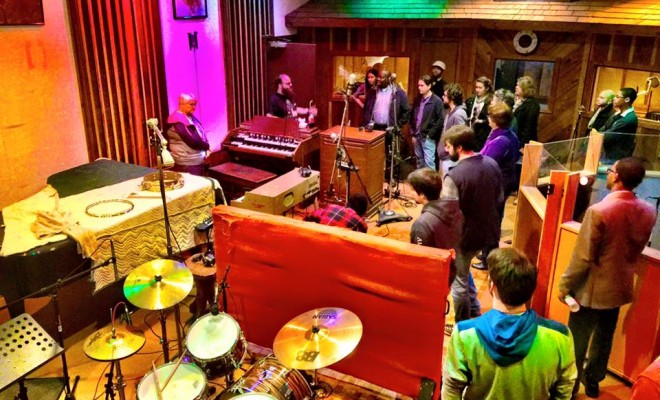 Insight
Inspiration from Points North
By
|
A blues legend's birthplace, a university, a great music scene, several recording studios, and a river; those are just a few of the things I saw this weekend. That's not abnormal though, I see those things almost every day, because I live in Columbus, GA. 
This weekend though, I went to Florence, Alabama with a group of my students and a few of my friends and colleagues.
Florence is the largest city in a cluster that includes Muscle Shoals, Tuscambia, and Sheffield, AL. The blues legend is W.C. Handy, the university is the University of North Alabama, and the river is the Tennessee.
The recording studios were FAME,
Muscle Shoals Sound Studios, 
Sundrop, Noiseblock, the Nut House, and several others. 
Downtown Florence looks and feels a lot like downtown Columbus.  There are coffee shops, local restaurants and bars, venues, locally-owned boutiques, and a small-city feel, just like we have here.
The Muscle Shoals region has a population of about 200,000, which is smaller than our metropolitan area (which the census bureau counted as having nearly 300,000 residents as of the 2010 census).  If you include our neighbors in Alabama, our region has nearly half a million people, double what that area of North Alabama has.  They also still have their dam in the Tennessee river.  We blew up ours, but that's OK (they don't have whitewater!).
We travelled to Florence to explore the music scene, which has been vibrant since the 1960's when Rick Hall opened FAME Recording Studios.
If you've heard
Aretha Franklin, Rod Stewart, Etta James, Traffic, the Rolling Stones, the Drive-By Truckers, St. Paul and the Broken Bones, the Civil Wars, or the Black Keys,
you have heard music that was made in Muscle Shoals (if you haven't seen the documentary "
Muscle Shoals
", released in 2012, watch it!).
My students and I are exploring the music of that region this semester, in my rock 'n roll class at CSU, and will be performing at
The Loft on 

April 13th
.  That was the real reason for the trip – to take the students to this fabled place — a tiny city tucked in the corner of Alabama, to experience the history that was made there as we play the music.
But as I pointed the front of the CSU van back towards Columbus and punched in the Schwob School of Music address, I caught some inspiration not from looking back, but from looking forward. 
Sure, Muscle Shoals has us beat on the music scene, at least in a general sense.  For now.  There's a lot of work to do, and we have more than a few people in town who are doing it. 
The voices and sounds of our city are growing louder and more focused every day.  It's inspiring (and a bit uncanny) to see what happened and what is still happening in Muscle Shoals, an area so similar to ours, with so many great stories. 
I know we're not Muscle Shoals though, and we shouldn't be — but bringing home the spirit and energy of that place and transforming it is critical.
So, here's my rallying cry:  Buy a local musician's CD.  Go to a concert.  Visit a recording studio.  Write a song.  Donate to the local nonprofits that are helping to build our cultural identity.
Eat and drink at local venues that support Columbus musicians.  Read the promo posters that advertise shows.  Click "Attending" on those Facebook invites and share the events.  We need your ears and eyes.
*Photos by Brad Strickland