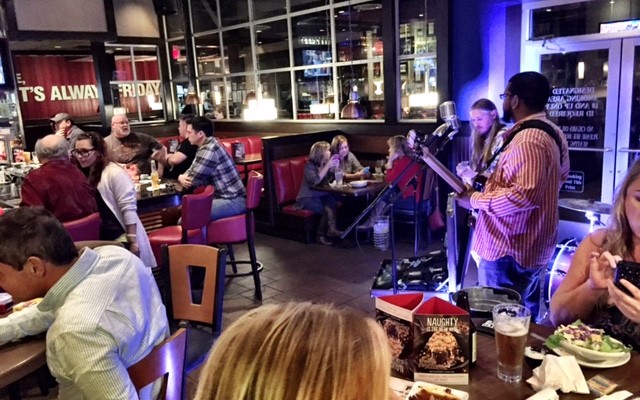 Dining/Drinking Experience
It's always Friday, here.
By
|
It's always Friday at TGIFriday's. Decorated with vibrant colors, hosting live, local music on Thursdays, and a separate smoking section for all of you (recent) social outcasts, this is a place you always feel welcome. Friendly bartenders are on hand, waitresses full of witty jokes, a General Manager, Jeff "Jay" Dunham, with an incredible heart for TGIFriday's community, and our community as whole, make you want to come back for more!
Jay's passion to connect with the community, create an inviting place for our town, and host local music every Thursday is in of itself enough to support this happy, fun spot. Some may argue it is a corporate chain, but the mentality and vibe here is all about supporting local.
Kenny Lewis, a gifted local, veteran musician explained, "I love playing here! Always a friendly, supportive atmosphere, and it's around the corner from my house!"
If you live on the Northside you know the live music scene is a little more limited, so you don't have to drive far to enjoy great live music, but for any of us looking for live music on Thursday there are not many options in Columbus, GA.
Plus, you can enjoy some of the best mojito shakers in town here! Not only are their shakers amazing, but fun and stress relieving for the whole family (21+) to shake up, down and all around!
We enjoyed their Double Berry Mojito Shaker with Bacardi Rum, fresh mint, lime & strawberries, raspberries, lemon juice, and pure cane sugar the most! There may or may not have been a mojito shaker dance we made up, and several mojitos to go with it for the whole table. We had a blast and we were burning calories! Even better, not one person in the full room seemed to think it was out of the ordinary, because it's always Friday, here.
Their dessert is what stood out the most to us, obviously with the whole Friday vibe who cares about healthy when it's Friday?! Bring on the Oreo Madness or the savory Fried Green Beans! However, the Grilled Chicken Cobb Salad is a good healthy option. They have a deconstructed version of the classic cobb salad with balsamic-marinated chicken breast fire-grilled and drizzled with balsamic glaze, served alongside sliced avocado, fresh grape tomatoes, hard-boiled egg, bacon, crumbled bleu cheese and chopped romaine lettuce. 
Also, their Japanese Hibachi Skewers stuck out to us as well. They are seasoned and marinated in their signature garlic & black pepper soy sauce, grilled and basted with a miso glaze, garnished with sesame seeds, served with grilled pita, and ginger-lime slaw. You have a choice of black angus sirloin or grilled chicken for the skewers too. Their Broccoli Cheese Soup is never a bad choice, either. 
I'll never forget the first time I went to TGIFriday's. They didn't have one here in Columbus yet, so it was in Atlanta. I was a teenager and had some sort of the normal angst going on, but the whole spirit of it was infectious and my spirits were genuinely lifted. I had a delicious hamburger, the music was great, the waitress was funny, and I wanted a TGIFriday's in Columbus, GA! I'm delighted we have one here with the same incredible energy that I encountered at my first TGIFriday's.
Next time you may be feeling down, or looking for live music on Thursday, a good vibe and a delicious drink, stop by where it's always Friday!
Photos by Luzana Flores, cover photo by Jacy Jenkins.