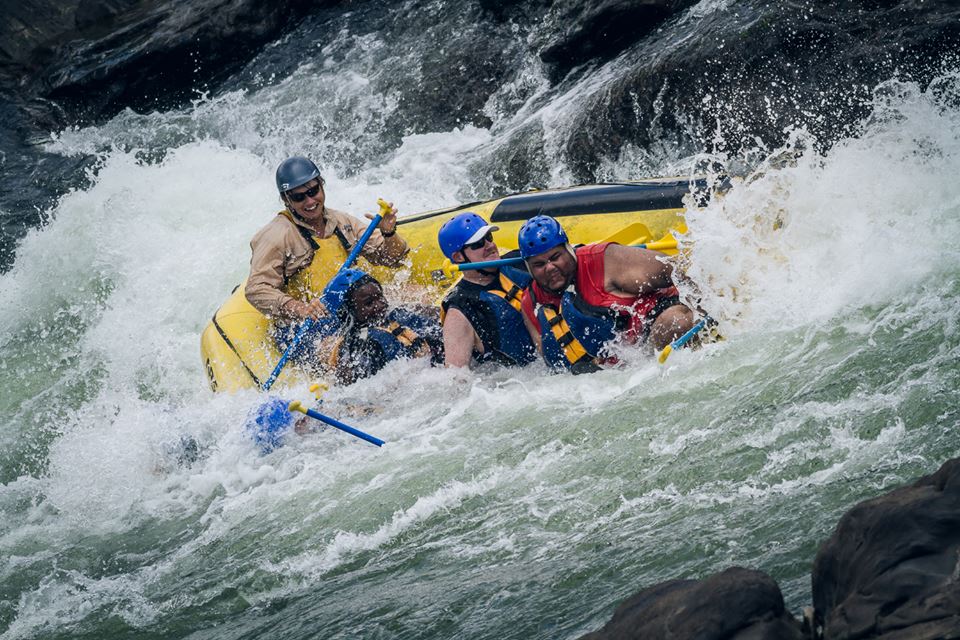 Insight
Just Do It Already
By
|
*Written by Brandon Jones
Years ago when my wife and I first heard rumors of the dam being opened to allow rapids we were beyond ecstatic. We are the faux outdoors couple in the fact that we own plenty of apparel worn by people who know what K2 is, go on precisely one camping trip every two years, have rafted and kayaked multiple rivers across the Great States. Yet, we don't know how to flip over a kayak while in the skirt, we hiked exactly half way down and back up the Grand Canyon instead of the entire hike, and have seen many National Parks all from the safety of our car window, or from well-marked and manicured trails. So the idea of being able to enjoy a rafting trip within a 20 minute drive from our front door was a big topic of conversation in our marriage.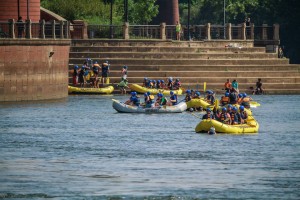 And so, brimming with anticipation, we sat around and waited for about 2 years before finally actually taking the trip. Somehow we even ended up taking a trip all the way up to the Ocoee during that time. Life is confusing.
Grandparents stepped in and claimed the three kiddos and off we went to experience the high water Challenge Course at Whitewater Express. Being the faux outdoors couple that I already said we are we showed up in Keens, North Face, etc. raring to go.
I'll get to the actual rapids in a minute but for now I'd like to focus on my other favorite part of rafting trips: the people.
Rafting trips are always a fun mixture of "too cool for school" raft guides and "exactly the right amount of cool for school" moms and dads. I have to give these non-raft guides credit that the official Whitewater Express e-mail does state, "Most guests choose to wear a pair of sneakers or sandals for river use to provide the best fit" but when someone shows up to go whitewater rafting wearing tennis shoes, tube socks, and denim shorts I have to wonder if their brain melts when they hit the first rapid. This isn't a proclamation about them being uncool, it's just an inquiry of how they haven't learned in all their time on earth that cotton and denim aren't the most comfortable of fabrics when wet. I always wonder the same thing when I go to Six Flags and people climb off of Thunder River wearing jeans. I mean, your entire day at the park is ruined once you're in wet denim. Plan people!
Ok, I'll move on. The other side of the coin is the raft guides. No matter where you are in the country the raft guides are the same bunch. I'm pretty sure as a raft guide your looks and attire are more important than when applying for a waitress job at Hooters. These guys are the nicest type of guy in the world. They'll take their shirt off their own back for you if needed. Literally. That's why they all guide their tours shirtless. At least that's what I tell myself.
But seriously, they are a fun group to spend a day with even if they aren't a very diverse group. The guides in town all have nicknames which was a fun topic of conversation amongst those in my boat. Oddly, our guide Harris just went by his given name but gave us the low down on some of the nicknames. Apparently Coldfeet is known as such because once upon a time he went rafting when the water was cold, and he had to go to the hospital because he had….wait for it….cold feet. It was very quaint and our group of non-raft guides felt more at ease knowing guys like Coldfeet and Toad would make sure we made it home safely.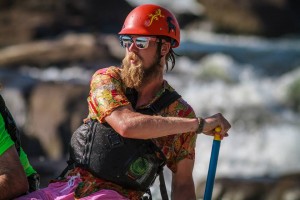 As for the rapids, they are legit. I'm not exactly sure how to review rapids. They were big and fast. Gnarly seems appropriate. The course is fairly quick, but you go twice, and they saved all the best for the second go round. Harris made the trip a blast by sharing the history of Columbus when were in the slow parts (I was surprised by how many on the trip weren't from Columbus) and doubling back on a few of the rapids to make sure we used up all of our adrenaline.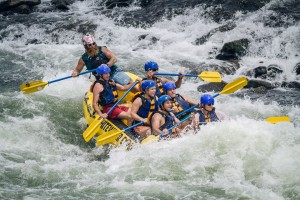 Another highlight was the swim portion where they let you out the raft to swim through a particularly gorgeous section of the river, although images of alligator gars flashing through my head almost ruined the experience.
And then there's Cutbait. This Class IV rapid is the pride and glory  of our whitewater park. The durn thing is so intense they had to close it down for a little while in 2013, which is honestly the best kind of publicity a rapid can get.
I've done a few Class IV rapids before, but this thing was on a whole different level. Normally falling out of the boat is a fairly fun prospect, but I wanted no part of falling out into this beast. One boat did flip and a guy came up near us with a look of sheer confusion and yelled his girlfriend's name over and over as apparently in his mind there was no way she survived the ordeal.
She was fine, but he continued to float on down the river still not seeming to be totally aware of where or who he was. Our guide, Harris, seemed tempted to get us to paddle back into Cutbait but after seeing what we'd just seen there was no convincing us.
Warm sun, cool water, big rapids, relaxing swim, cool people, and watching a guy think his loved one had died. All in all it was just a great day. Whitewater Express has done a great job of training their guides to give fun, engaging trips all while keeping everyone (fairly) safe.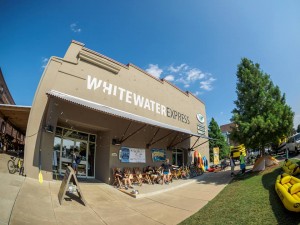 Kudos to Columbus for taking the big brave step to make all of this happen. My deepest apologies for being the typical resident who complains when there is nothing to do, then won't get up and support things once they come. So, if you haven't gone yet don't be a "Brandon". Get up and GO!
*Photos by William Brawley