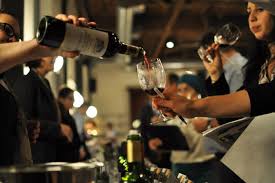 Dining/Drinking Experience
Last Friday's Wine Event You Cannot Miss Again
By
|
In order to truly combat need, one must care about the issues more than they care about the money. This message, spoken by Liz Dillard, the Director of Homeless Resource Network, quieted the large and echoing crowd from the center of the overflowing banquette hall at the Loft last Friday evening.
This crowd of Columbus leaders, lawyers and police officers, board directors, volunteers, doctors and teachers, as well as passersby,  were brought together by not only a passion for giving and improving community welfare, but for the open wine tasting that accompanied the cost of entry.
Arriving at the event I was concerned that the spontaneous torrential downpour that occurred about 30 minutes before the doors opened would scare away guests, but by 6:05 pm there was already a line of people, empty wine glasses in hand, lining up outside of the banquette doors waiting to get in. All of the money from the night went to helping Homeless Resource Network do the essential work that they do.
"We have an identification program, we help people with local transportation. We help with writing utility deposits. We have a place where people can store their personal belongings. People can also get their mail at our place and get access to medical services," said Dillard.
What I have learned about Columbus is that the people here take food and drink tasting events seriously, and that the people of this town know how to throw events that people want to be seen at. This fund raising event, thrown by Tanya Edwards Jones, Liz Dillard, and the entire Homeless Resource Network Team, was no exception. The cost of entry not only went to supporting the organization, but got you into this 2 hour event that included excellent jazz, a competitive silent auction, delicious heavy hors d'oeuvres, and my favorite part, unlimited wine tasting.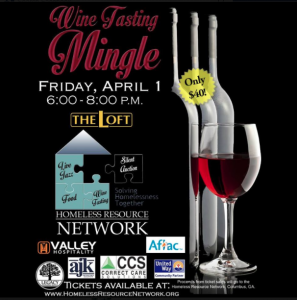 The guests of this event, like the people of this town in general, make my job too easy. I don't know that a person in Columbus has ever met a stranger. Throughout the event I moseyed around, listened to the jazz and ease dropped on what the people around me were saying, because as every human-interest writer should know, it is much easier to join the conversation, than to approach an existing one with a different agenda. The fact of the matter is that everything I wanted to know about the crowd, such as why they were attending the event, or how much they knew about local homelessness, they were already talking about.
Many of the people in attendance, like me, enjoy a good glass of wine, but the room was also filled with people passionate about the issues, people aware of the need for local intervention, and people actively trying to find a way to be more involved in improving the welfare of others.
As a writer with a background education in everything considered a social 'ism,' including classism, I was really impressed by not only the groups foundational knowledge, but also the heart that filled the room on this issue. People had not only come because it truly was a hot local event, but because people actually cared.
The best events to be a part of, and to be seen at, will always be the events geared at putting others before ourselves. If it comes with good wine, music, and comradery, even better. If there is one wine event to invest in and attend next year, it is this one. Not only did the price of the entry ticket deliver an excellent Friday night experience, but the funds go to helping a desperately underfunded local cause that benefits everyone. Mark your calendars for next year, because this event not only helps to meet a crucial local need, but is one of the must-attend events of next year.
Taylor Schwartz
Homelessness is cyclical in nature, poverty is incredibly hard to beat, and these issues are growing exponentially in our country each day. This is a pressing and immediate need in our community, that the hard-working team at the Homeless Resource Network are pouring their time and hearts into combating. To find out all the different ways you can use your gifts to help the cause, please visit the Homeless Resource Network website at homelessresourcenetwork.org.

*Cover photo taken by: http://www.newyorksocialnetwork.com/wp-content/uploads/2016/03/wine-tasting.jpg