Events
Let the Dream Live
By
|
As a child, I grew up in South Columbus. I listened to Michael Soul on Foxie 105, as I prepared for the long walk to St. Mary's Road Magnet Academy, each morning. I stopped at the corner store off Farr Road and St. Mary's Road on the way to school, shopped at the Piggly Wiggly on the weekends with my Grandmother, grabbed a fish plate from Wynnton Pit every Friday, and hung out with my cousins and great aunts in Oakland Park. I attended those hymn singing, hell fire and brimstone preaching African Methodist Episcopal and Baptist churches every Sunday.
No matter where I went, somehow we all knew each other—it was a silent code. That was my neighborhood, my family, and my church. That was my comfort zone.
Starting my fourth grade year, I was transported to St. Elmo's Center for the Gifted each Friday. There I had an epiphany: achievement is relative to your surroundings; if I wanted people to recognize me beyond South Columbus, my world had to expand and I had to make some tough decisions.  
My life became packed with orchestra and choir rehearsals, track and cross country practice, science and social studies fair projects, help the hooch river cleanup, game day parades, and of course traveling with my father to several churches.
My parents and mentors guided me towards servant leadership principles, an appreciation for the arts, and extracurricular activities. I learned from those experiences that comfort and growth do not exist in the same vessel.
Last Sunday, I sat in service to hear that very message ring clear to me yet again: comfort and growth do not exist in the same vessel. With all that is happening in our community, from the growth in our economy and changing landscape of our culture, to the increasing rate of violent and property crime, I believe we are standing at a crossroad.
We need to step out of our comfort zones—in our homes and places we choose to congregate: church, school, work, and leisure activities. A wider range of understanding and effectiveness does not come from places which are familiar to us. A lot of times it comes from uncomfortable moments that teach us lessons. Those moments never leave us.  
The moment I realized the world does not always look like my neighborhood, my church, or my family, I became bigger in my mind. In order to expand my perception, I had to step out of my comfort zone.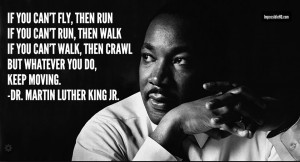 Seventy years ago, King vs. Chapman et al. successfully defeated the rationale behind Georgia's all white voting primaries because of a unified force right here in Columbus. Primus King, with others, attempted to vote in the Democratic Party's primary election and was turned away. When he turned the corner he went to a well-known attorney's office. For two years the challenge continued until the Supreme Court upheld the decision of the federal district court in Macon.
I cannot imagine the level of negativity and discomfort that ensued while trying to see this victory to fruition. Death threats were common and resources were often scarce. Had King succumbed to the opinions of others, the face of the nation would have been different. Had he stayed in his comfort zone—his neighborhood, his church, or his family, his effort would not have been successful. This case, along with one in Texas, became the precedent to defeat state and local barriers of voter registration for African Americans.
This weekend, as we celebrate the life of Dr. Martin Luther King, Jr., think about what his life genuinely represented.
We face similar, but different challenges that the Civil Rights Movement faced today. With every attempted stride, there is an abundance of negativity ready to drain collective efforts. I urge you to think outside of that. Take a moment to honestly reflect on what you consider your comfort zones and make a plan to step outside of them.
If our communities plan to overcome crime and poverty, it will take all sides walking in it together as a unified force.
Several communities are celebrating King's doctrines and life through a series of events this month. Take a moment to consider attending them:
The Dream Lives
Saturday, January 16 | 9:30 A.M.
One-Mile Run; 10 A.M. 5K Run; Noon Unity Processional Celebration
The Liberty Theatre Cultural Center
813 8th Ave
Columbus, GA 31901
Special Guest: Daymond John, ABC's "Shark Tank"
To honor the legacy of Dr. Martin Luther King, Jr., the Mayor and the Mayor's Commission on Unity, Diversity and Prosperity will host the Third Annual MLK: The Dream Lives Columbus Unity Commemoration.

Please register for this special event today at www.thedreamlivescolumbus.com. There is NO CHARGE for this event.
Columbus Community Orchestra's MLK, Jr. Legacy Concert
"People Get Ready: The Music of the Civil Rights Movement"
Sunday, January 18 | 7:30 P.M.
St. Mark UMC
6795 Whitesville Road
Unity Peace Walk
Saturday, January 30 | 3 P.M.
Macedonia Christian Ministries
3645 Cusseta Rd
Columbus, GA 31903
Unite with people who are concerned about the violence in our community and want to make our community a good place to live. We want 1,000 plus men, women, and youth to join us, as we begin a year-long campaign to make a difference and make our streets safe for all to live and prosper.
*COVER PHOTO BY SLATE.COM