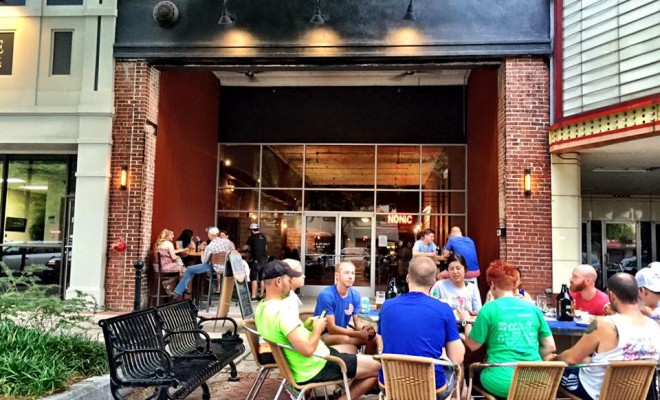 Dining/Drinking Experience
Nonic: In the Nic of Time
By
|
Written by Jenn Collins, Co-founder of The Dew Abides.
It's the start of a third successful week, and the menu at Nonic is still changing.
That's the point.
Picking up the new printout on the table, part-owner Robert Battle says, "This is nothing like the menu we had on opening day." Change invigorates head chef James Lackey and, Battle hopes, gives people a reason to come back week after week.
Nonic is a gastropub located at 1239 Broadway.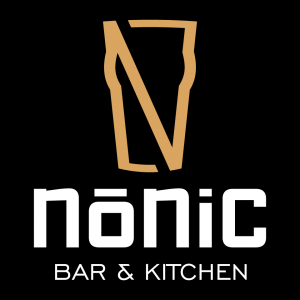 It's owned by Robert Battle, Miles Greathouse and Garrett Lawrence — the proprietors of Maltitude Craft Beer Market — and the emphasis is on "pub."
"We're a bar first. You should come here for that," Battle says, "but we have great food, too, like [Atlanta's] Wrecking Bar, Porter or Brick Store."
The names of 30 craft beers are written in chalk above the wooden-plank bar, testament to how frequently the libations are rotated as well. All are craft-made, and many are produced regionally. If this sounds off-putting or exclusive, Battle makes it clear that everyone is welcome, even those who favor the mass-produced stuff.
"We don't have Bud Light — we never will. But we can find you a drink you will enjoy in this place."
Nonic is obviously a beer-lover's paradise. Even its name — that's KNOW-nick — is a nod to the fat-bellied English pub glass designed to prevent chipping around the rim. But beer isn't the only thing flowing.
A small shelf of well-curated, mostly regional craft liquor hangs behind the bar, and mixed drinks aren't a typical dash-and-pour. Bar manager J.T. Sumpter spends as much as five minutes creating each one, bruising basil, blending egg whites, or smoking orange peel with a butane torch.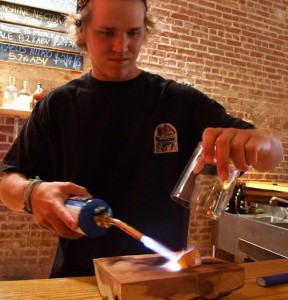 "Those flavors and textures are really important," Battle says.
****
With the changing menu, Nonic is hoping to shift the culture in Columbus to one that appreciates fresh, seasonal food — and one that is open to trying new things.
Specialties like ramen and miso are made daily and in finite quantities, and there are no substitutions when it comes to food or drink.
"The way I see it," says Battle, "if I go into your kitchen for a meal, I don't grab the salt and pepper and start changing it up. I want to be open to the way you've been cooking it for the last 20 years."
All ingredients are fresh, not frozen, and White Oak Pastures in Bluffton, Georgia provides Nonic's bone marrow, short ribs, beef tongue, and the meat for the menu's "donut burger," which tops a patty with bacon and egg — and places the whole thing on donuts for a bun.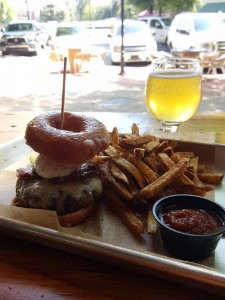 (Yes, donuts. High-quality doesn't necessarily mean healthy, as the menu's delicious poutine is a Canadian-style french fry variant that bathes the fries in gravy and cheese curd.)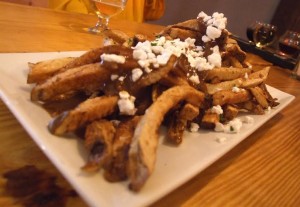 Was there concern about customers embracing the more unusual items?
"We worried about people in Columbus saying 'beef tongue?' but that didn't happen at all," Battle says. Beef tongue tacos sold out in just a few days. "People have been really receptive to our food and very adventurous. The marrow just flew out of here."
Seasonal fruit and vegetables are the next challenge. Both Battle and Greathouse subscribe to local CSAs (community supported agriculture) and are hoping to incorporate produce from area farms into their offerings. Herbs for the bar come from Battle's home garden and from friends and customers.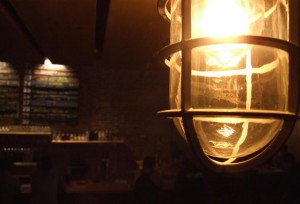 The ultimate goal is to grow much of what they need above the restaurant, Battle says. "We plan on reclaiming our roof and creating a rooftop garden. There's about 4,000 square feet of space up there."
****
Battle, Greathouse and Lawrence were hands-on with more than just the beer selection. They did the lion's share of renovation, even building furniture and serving pieces.
Greathouse made all the flight paddles out of scrap wood. "After he finished, he was mad when I looked up out how cheap they were to buy," Battle says, laughing, "but, at least, we didn't have any waste."
Contractors were hired for wiring and plumbing, but the rest fell to them. When asked how much of the construction Battle did himself, he says, "Well, I didn't put the glass in, and I didn't put the oven vent in."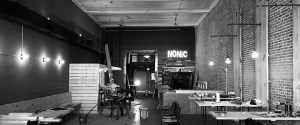 After years of looking for the right downtown property and five months of scheduled renovation that turned into twelve, Battle says it was all worth it.
"Yesterday was one year to the day since we started. All I can say is my wife is a very patient woman."
*Special thank you to The Dew Abides, a website devoted to simple, creative living.