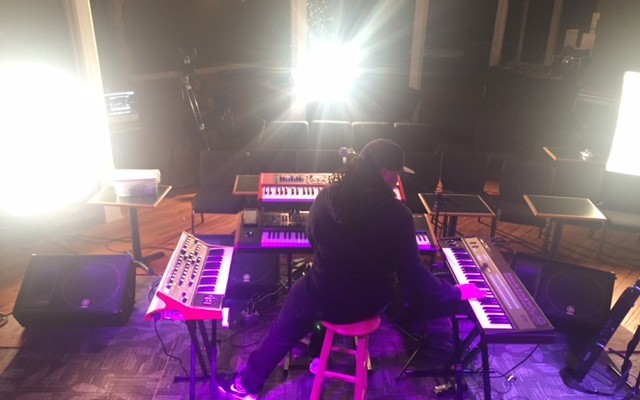 Events
Pop Up Show!
By
|
Monday night, the first of many pop up live music shows occured downtown at Fountain City Coffee.
The gig was planned within a day and presented by our newest partners, local label UnCommon Music Group, Steven Thompson's latest musical endeavor, and filmed by his multi media company, High Def Media Inc.
The Columbus Collective, the band led by Micheal Johnson (cover photo), warmed up with a couple of cover songs, then played an exciting 45 minute improv show from 9:15-10pm to an intimate, engaged, energetic crowd of over 20 people.
The pop up live music show was a platform to announce The Columbus Collective's upcoming album release, Neo-Soul Symphony, on March 12th at The Loft. The album is an impressive improvisational project, consisting of two incredible improvisational sessions: one being six minutes long and the other a 24 minute long jam, bringing about four different movements.
These local musicians, Steven Thompson, Micheal Johnson, Eric Rose, and Jeremiah Duhart (The Columbus Collective), are not just sitting around talking about making music, they are creating remarkable jam sessions on the spot!
Steven Thompson, 37 year old veteran musician since the age of 5, exclaims he has never seen anything like these recording sessions!
This exciting, inaugural pop up show is the beginning of a simple showcase that will host artists in various businesses around the city for an hour, and all show announcements are within 24 hours.
This artistic platform brings awareness to talented local artists, drives more business, and highlights places around our beautiful city of Columbus, GA.
Stay tuned here for future pop up show announcements.