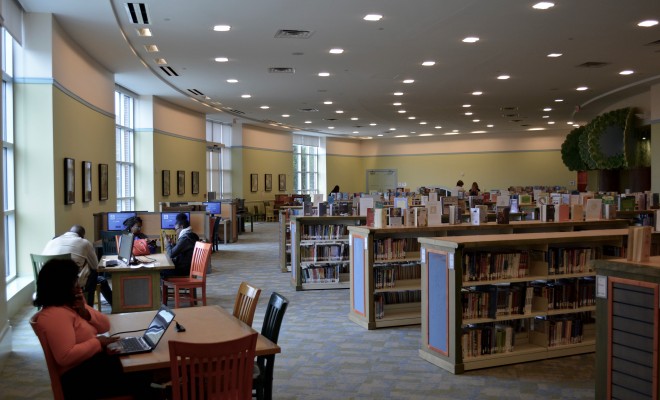 Jacy Jenkins
Insight
Print is NOT Dead, Neither is Our Library
By
|
"Analysts predicted that e-books would overtake print by 2015, digital sales have instead slowed sharply." Alexander Alter, The New York Times
There is something powerful about holding a key to another dimension, and going to a place that facilities such a mindful adventure.
There is something powerful happening at our Chattahoochee Valley Libraries. Visit one of the libraries and you will experience the long-lost student, and vivacious curious child within you, too.
Whether you want a physical book to check out (because you simply miss holding print or can't afford to purchase it), or wish to check out e-books for adults, e-books for kids, e-magazines, download music, etc. they are ALL FREE WITH YOUR LIBRARY CARD (which is also free for MC residents).
One of South Columbus Public Library's regular customers received his high school diploma this month with the help of his library card. The card gave him access to the internet, books for research, and he used computers to complete assignments. Staff gave him the gentle encouragement he needed to pursue his diploma. He now plans on pursuing a college degree in visual art.
A mother approached one of the Library Assistants and said it was her child's first time coming to the library after their pediatrician recommended he attend Story Times for socialization. She said her child had so much fun that he didn't want to leave and they planned to come back the next morning. Story Times are offered at each of the four local branches throughout the week and attendance totals average 300/week.
Did you know "2/3 of students who cannot read proficiently by the end of 4th grade will end up in jail or on welfare? Students who don't read proficiently by the 3rd grade are 4 times likelier to drop out of school, and 90% of high school dropouts are on welfare." DoSomething.com
Our libraries are continuing to be a force doing something for our kids and our society. Not only does our four public libraries supply a physical place to learn, but they impart extensive outreach to our community.
An incredible service provided by CV Libraries is BrainFuse. It is a free online homework help program available to all library card holders and all Muscogee County School District students. The service provides access to a real, live, certified and screened teacher who can provide help on a variety of subjects! I wish they would've had that when I was growing up here!
Children's librarians have reached 327 men and their families by bringing the Simple Steps program to the Father's Dorm of the Muscogee County Jail. The program teaches parents how to engage their children in books and encourage pre-reading skills by talking, singing, reading, writing and playing. Simple Steps is also presented at local housing authorities at no cost to parents/guardians and their children.
They have a Bookmobile! It visits 43 locations monthly, on a bi-weekly basis. It "brings the Library" to retirement centers, senior centers and nursing homes for people who are unable to travel to a local branch. Special evening visits are made to Muscogee County housing projects and after-school centers once a week as well as a monthly Sunday afternoon visit to three apartment complexes which house persons with disabilities.
Library staff visits each high school in Muscogee County to hold a lunch time book club. All are well attended and give the teens a chance to learn about other library programs created just for their age group.
The Forever Young Program, in which elders and youth tried using the "technology" of each other's generations, was a huge success. Youth were exposed to using a physical map, a phonebook, and card catalog; older adults used Google Maps, looked up a phone number online, and tested the library's online catalog.
Also, meeting rooms, both large and small, are used daily by social groups, small businesses, large corporations, and non-profits. The CB&T Synovus Rooms alone were used 785 times in 2015 (so far), with an estimated 25,000 in attendance!!! Free space for people to meet and collaborate, celebrate, learn, mingle, and grow!
Need help applying for jobs? One-on-one assistance is now available for job seekers. Drop by the study room during the open lab hours for resume prep, online application assistance and more!
Their special programs like Movies for Grown-Ups on Mondays, 7:00 – 9:00 PM in The Columbus Public Library at Auditorium with FREE admission are incredible! Also, the "Start Something New" series partnered with Art of Yoga to teach customers a Yoga 101 class. This series will continue throughout the fall with classes on music, money management, and photography tips.
You can even learn sign language and so much more!
Now are you ready to go to the library and help support it?
The Muscogee County Library Foundation will host a fundraiser on November 12th at 6:00 PM for the inaugural Wine Women & Shoes event at the Columbus Public Library. The event features a strolling wine and food tasting and boutique shopping experience with a live auction, opportunity drawing, and a high-energy fashion show that comes together for a few fabulous hours of fundraising, camaraderie, and shopping.
Tickets can be purchased by visiting Wine Women & Shoes, plus check out the local Sole Men fundraising and hosting.