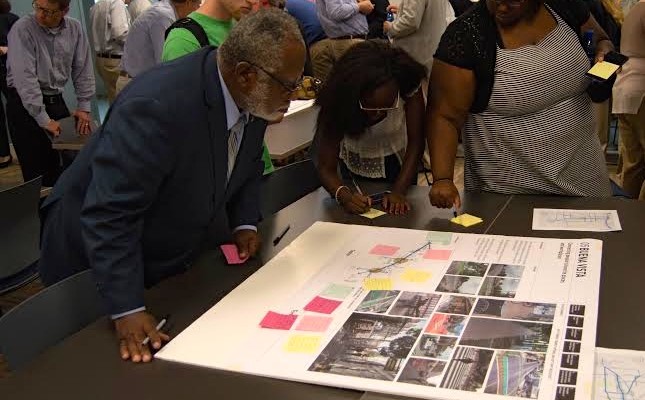 Insight
Remaking the City Streets
By
|
Remaking the City Streets: The Minimum Grid and the new transportation revolution.
By Scott Berson
  Columbus is in the midst of a revolution. In 1992, the Chattahoochee RiverWalk was first opened, and it became one of the most visible symbols for how much potential there was in the revitalization of downtown. The Fall Line Trace opened in 2011, and is now traveled by hundreds every day for recreation and commuting. Each time, there were skeptics; and each time, they've generally been proven wrong. For the Fall Line Trace, Mayor Tomlinson has said that the very people who opposed the trail during its construction were the ones who began complaining that there were too many people using it when it was opened!  Yes, the city is in a revolution, and it's one that we must embrace to continue the path of progress, optimism, and success that we have been lucky enough to experience these last few years.
   People want to live in walkable, condensed, vibrant cities. Well over half of millennials would prefer to live in a walkable or bikeable city, and nearly half of baby boomers do as well. Over 80% of millennials cite the ability to get around without a car as an important decision for where they decide to settle, according to a Transportation for America survey. How is Columbus going to attract or retain that talent? How do we make Columbus a desirable place for people to come live, to start businesses, to raise families?
  Projects like the Minimum Grid are a huge part of the solution- and the night of September 15th, we got to see just what kind of form they can take. We saw how passionate citizens can be in supporting these kinds of projects with their own ideas and initiative.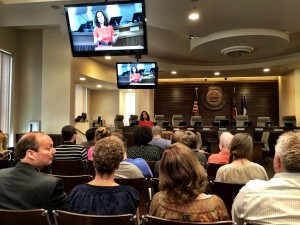 A quick refresher: The Minimum Grid project is the result of a competition held by the Knight Foundation last year. This foundation solicits ideas from citizens all over the country to think of ways to make their communities more successful. Out of over 7,000 entries nationwide, the Minimum Grid plan was one of only 32 winners, and received a $200,000 grant. Gehl Architects, a world famous urban design firm, was brought in to help carry out the plan.
The grid is envisioned as a mixture of trails, bike lanes, parks, and revitalization projects that will help connect the different parts of the community together. It will help people get where they want to go, how they want to get there.
  Gehl, with the help of volunteers, has been collecting survey data for the past few months, and finally released some preliminary ideas for what kind of shape the Minimum Grid could take at a public unveiling.
Anne King, Executive Director of Midtown, Inc., started the meeting by stating, "Columbus really is an ambitious city, and we are now poised to be a national model for medium sized cities all over the country."
Mayor Teresa Tomlinson noted the necessity for integrating alternative transportation into city life.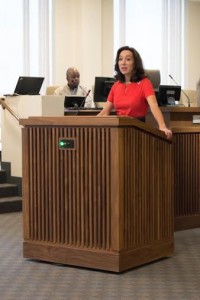 "This is the future," she exclaimed to an audience of about 100 people. "The days of looking at cycling and pedestrian access as some sort of oddity, or just for recreation, are long gone. The cities that thrive and are competitive will be those that have what we used to call an alternative transportation grid, but we are now calling a complete transportation grid."
  The urban planners then took the stage and went over some of what they had uncovered during the summer. They had looked at pedestrian, car and bicycle traffic and identified five key areas in need of development. Those areas were the Civic Commons (near the Columbus Public Library), the Columbus Museum, 13th Street, Buena Vista Road, and UpTown. All of these places were areas that people said they enjoyed going to, or had to travel through often.
  Gehl found that citizens had four general problems with the way the city is organized:
People want more options for how to get around, but don't see a good way to do so right now.
Places feel disconnected and difficult to navigate to without a car.
The third is that streets are not seen as public spaces, but merely as channels to get from one place to another.
The fourth is that people often don't feel welcome to be out and about without a car – but, on those occasions (like Market Days) when they do, they come in droves. 
  "We see that demand, then," said Gehl designer Andreas Røhl. "We see that desire to be with people, and to have these public spaces."
The demand is there, and the desire is there- but there's a lot of work left to be done. Although the planners had some ideas already, they invited those in attendance to head downstairs and break into small groups to brainstorm specific ideas for how to make those five key areas better. "You all live here, you know the place better than we do," Andreas said with a chuckle.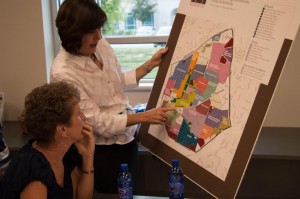 For about an hour, the attendees gathered around large maps of the five different "civic assets" and tried to think of solutions to the four problems Gehl identified.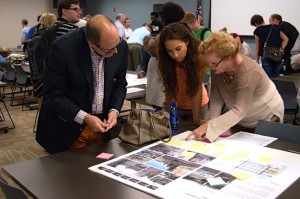 It was an incredible atmosphere to be in- dozens of people, all working together, and all thinking together about how to make the city better. It's something that I've valued in this town ever since I moved here. There's a culture of optimism and progress and excitement that you just don't find in a lot of other cities our size, and that night, it was displayed in full force.
  The process isn't done, of course. Gehl will look at the citizen suggestions and work out a final plan to present to the city sometime in October. But the very fact that projects like this, and like the network of trails proposed by the PATH foundation in July are on the road to reality, is portentous. It means that we are not running from the revolution or fighting it, we are a part of it, and that means our community is only going to see greater things in the future.
*We were honored to join our September Monthly Meeting of the Minds with this incredible group.