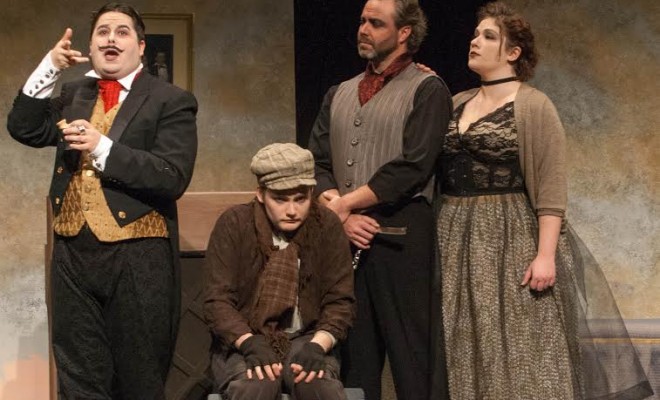 Events
Sweeney Todd // A Review of the Springer Opera House Rendition
By
|
Photos in this article taken by Scooter Macmillan.
Sweeney Todd: The Demon Barber of Fleet Street, is currently playing at the Springer Opera House. This award winning, chilling thriller was named third on the Top 10 Greatest Musical List by Entertainment Weekly, and is loved by millions. 
Let me make myself VERY clear, while I can appreciate the hard work and talent being a musician, and being in a musical takes, I really don't like musicals. It's okay, you can take a moment to let that sink in.
Truth be told, my favorite part about the movie version of Sweeney Todd is Johnny Depp, who I was semi in love with growing up.
I know, I know…there are a few readers out there gasping and reaching for stones to flog me with.
My dislike for musicals is based on my basic misunderstanding of why one would sing something they could easily say (which could really be said about all music), and was reinforced in my college days by a few really bad dates where the cliche', dinner and a movie date, ended with me stuck in the middle of a crowded aisle with a need to pee, people singing at me, and nowhere to go. It didn't help that the dates themselves were awkward.
Now for those of you who have read my previous reviews of shows at the Springer Opera House, you know that I have learned not to doubt their talent, but when they can wow me with a musical, a subset of entertainment I really don't care for, there is really something to be said about the production. The Springer's rendition of this dark and dearly beloved play was an absolute hit.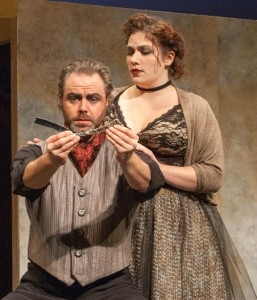 I can say a lot about this play, directed by the ever-talented Paul Pierce. Adam Clough (Sweeney Todd) and Kristen Metcalfe (Mrs. Lovett) both knocked their characters out of the water and brought the audience to the edge of their seats with their stage presence, chemistry, and musical talent. Scenic designer Jeffrey Weber, and costume designer Lindsay Schmeling, did an excellent job of capturing the cataclysmic and vengeful nature of the play, while still making the stage and the actors themselves stunningly beautiful.  One of the most notable and impressive parts of the entire production, designed by Jeffrey Weber, was the beautiful interactive platform that could be turned to change the scene on the stage, and included a slide for Sweeney's victims.
Of all the things I was most impressed by however was the collaborative work of Paul Pierce, (Director), Debbie Anderson (Musical Director), Michele Cook (Choreographer), Jeffrey Weber (Scenic designer), Krystal Kennel (Lighting Designer), Julianne Slaton (Sound Designer and Engineer), Rebecca Gusset (Stage Manager), and Patti Jo Fenzel (Property Designer). I was in awe of how fluidly the music, lighting, stage movements, and scenery all worked together. There was consistently a lot of movement on stage in addition to several setting changes, sometimes happening in the middle of a scene. The cast and crew accomplished this seamlessly, without distracting the audience. I was completely impressed by how many moving pieces constantly were in motion while remaining entirely in sync.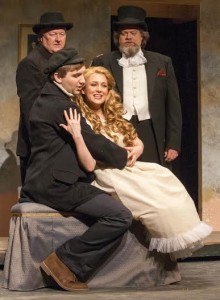 At intermission I took time to get a temperature reading from others taking a few moments to get a drink and use the restroom; because who doesn't want to be hunted down by a writer while trying to take a private moment alone? After shaking peoples hands and introducing myself, all the while receiving that all-to-familiar look of terror people give you when they think they know you but can't remember your name and don't want to be rude, I asked what people thought of Sweeney Todd. Across the board I consistently heard, 'We love it,' and 'this is our favorite version of this play yet.' Among the other comments I heard were, 'we just moved here and this has been such a treat,' and one girl even told me that her first date was going amazing, and she hoped he would ask her out to the Springer Opera House again. Among my favorite comments however, was from a group of young adults who were interest in buying their first set of season tickets. As a major supporter of local art and culture, I was happy to hear that not only were other young locals looking to invest in season tickets, but that Sweeney Todd is what had sold them on it.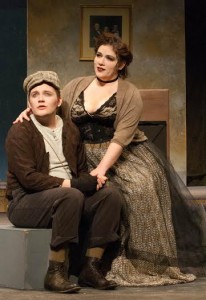 From a technical standpoint this play was flawless. It was evident by the standing applause and conversation during intermission that the audience, filled with all walks of life, gave this play two thumbs up. The cast, crew, and staff, not only worked together to pulled off an amazing performance, but each component of the play was a treat to the senses. It was clear the success of this play was founded on a hard work, heart, soul, vision, and an appreciation for even the finest details.
If you have not yet bought your tickets, you are truly missing out. The Springer Opera House has once again, made a musical pessimist into an appreciative viewer. Hop to it faithful readers, it's time to get your tickets to Sweeney Todd at the Springer Opera House.