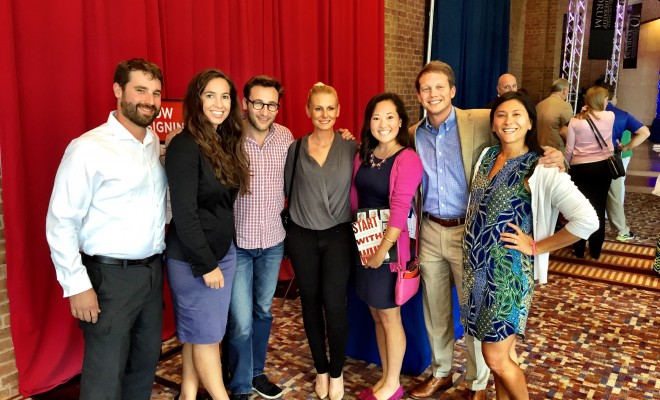 Events
The Truth About Leaders
By
|
The Leadership Institute at Columbus State University hosted the Tenth Annual Jim Blanchard Leadership Forum (JBLF) yesterday and today. This event, beginning with four speakers and 300 attendees, has evolved into the largest gathering of business and civic leaders in Georgia!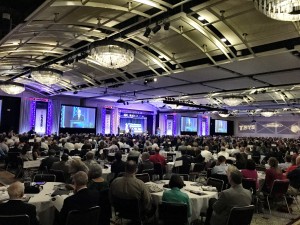 Hoping to inspire our town and region in leadership, Jim Blanchard's vision is "to bring the best and brightest minds in the world to Columbus, GA." This vision has resulted in JBLF being a catalyst to many leadership programs and enhancing existing leadership development initiatives, according to Ed Helton, Executive Director of Leadership Development at Columbus State University.
We were inspired.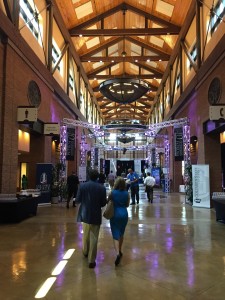 Tom Mullins, founder of Christ Fellowship Church of 40,000 people on seven campuses, spoke to us on how people don't want a boss who demands, but a coach who listens and communicates clearly. Coaches understand the power of affirmation and celebration, he explained. Tom challenged us all with the question: Who are you calling the champion out of?
Jim Blanchard shared a lot of the progressive history in Columbus, GA. He stated that many initiatives weren't assigned to people, but instead came from citizens who were passionate and wanted to help progress the city. "There are a thousand things you can do that doesn't take a public vote. Columbus depends on you. Don't relax. Speak in one voice and rise up, so we aren't left behind."  -Jim Blanchard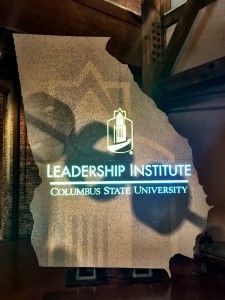 Doris Goodwin, Pulitzer Prize-winning author and world-renowned historian, shed light on common principles shared by some of our past Presidents. She explained the deep struggles Lincoln, FDR, and more had to work through, and how every leader has their crucible. She emphasized that the ability to motivate yourself in the midst of adversity is key in leadership. Goodwin shared a powerful quote, "The world breaks everyone, and afterward many are strong in the broken places," Ernest Hemingway.
Scott Harrison told his story of leading one of the most successful non-profits in the world, charity: water. In just six years, they have raised more than $93 million and funded more than eight thousand  water projects in 21 countries. charity: water uses radical transparency as a non-profit, and 100% of its public donations are used to fund clean water projects. Scott confronted us with the questions: "If not us, who? If not now, when?" You usually don't hear people crying at a leadership conference, especially not at 8 a.m., but you did this morning. We were glad the lights were low.
John Maxwell is a #1 New York Times best selling-author, has sold more than 24 million books, and is most often identified as America's leadership authority. John encouraged us to be intentional; simply having good intentions isn't enough. To be successful and grow, you have to be intentional. To truly live a significant life, we must intentionally add value to people's life daily. Selfishness and significance are incompatible, according to Maxwell.
There were more motivating speakers, and many more valuable lessons, but now we are going to focus on Simon Sinek.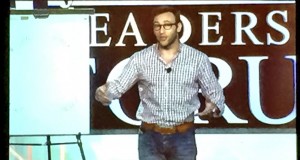 "If your actions inspire others to dream more, learn more, do more, and become more, you are a leader," Simon O. Sinek told us Tuesday afternoon.
Simon believes when we communicate our beliefs authentically that we can attract others to our cause, and form the bonds that will empower us to achieve truly great things. When we can articulate why we do something, instead of simply what or how we do something, we can inspire.
Simon's first TEDx Talk on "How Great Leaders Inspire Action" is the 3rd most viewed video on TED.com. His book, Start With Why: How Great Leaders Inspire Everyone to Take Action (2009), describes the naturally occurring pattern grounded in the biology of human decision-making, that explains why we are inspired by some people, leaders, messages and organizations over others.
He has commented for The New York Times, Wall Street Journal, The Washington Post, Houston Chronicle, FastCompany, CMO Magazine, NPR, and BusinessWeek, and is a regular contributor to The Huffington Post, BrandWeek, IncBizNet.
We were thrilled to hang out with Simon Sinek and ask him a couple of personal questions.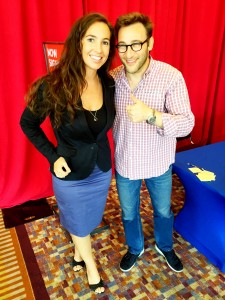 Motivated by John Maxwell's favorite question, we asked Simon the same question, "What is the best advice you've ever been given?"
"I was a real blow hard young guy, really eager to work and one day my boss and I left a meeting I was very knowledgable in, and she explained to me, "Three quarters of an answer is better than an answer and a half". Basically I needed to shut up and listen more. Every time I'm in a meeting now and think, 'oh I could add this or that,' I reconsider and make sure it's needed."
Next question, "What you do to motivate/inspire yourself?"
"Well, I eat, drink, sleep, and exercise to motivate myself. But I stay inspired by people who are willing to sacrifice themselves for good, like the soldiers that bravely stood up to that terrorist in France a couple of days ago. I had tears in my eyes when I read that story, it inspired me. My friends and mentors help inspire me so much too."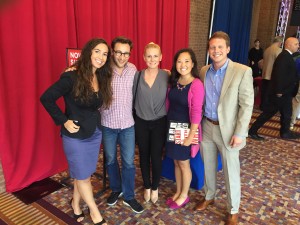 Rebecca Holman had a great last question, "What advice would you give your 25 year old self?"
"Um, that's a good question. Shut up and listen more. Get over yourself, other people can help. Be patient, take care of others. Okay I got it, you don't have to know all the answers, and you don't have to pretend that you do."
I added, "It takes true confidence and humility to do that though, doesn't it? That can be hard at 25, or any age."
"Yes, but it was and is so important." Simon Sinek
Humility, living an intentional life, plus genuinely listening and serving people, seemed to be common threads woven throughout the servant leadership conference. We were not only inspired, we were challenged. We can't wait until next year!
*Special thanks to Shana Young, Director for The Leadership Institute at CSU. Your unique gift of leadership shined throughout the conference, and especially during your talk on "Top 10 Lessons in Leadership". Thank you for  inviting us to the forum, and connecting us with Simon Sinek.