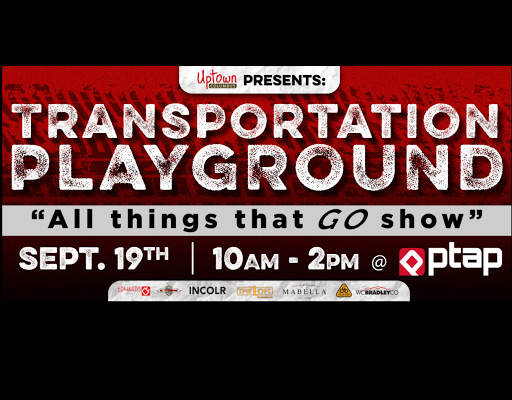 Events
Top 10 Things To Do Thursday-Saturday
By
|
Thursday
The Celebration of Hope Luncheon is Hope Harbour's biggest fundraiser, and the 7th Annual event will occur September 17, 2015, 11:30am-1pm at the Columbus Convention and Trade Center.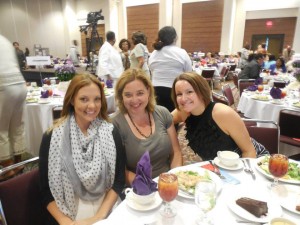 This year's keynote speaker is New York Times bestselling author, Harvard graduate, Leslie Morgan Steiner.  She will share her story of moving from a victim of domestic violence to a survivor. I've attended every year I can, and have always left inspired.  The event is open to the public, but reservations are required. Tickets can be purchased for $35 each or $280 for a table of eight.
I'm not a huge fan of raffles, but their plethora of large baskets you can win are filled with various wonderful items like wine, vacations, etc. and are always appealing.  For more information visit www.hopeharbour.org or please call Lindsey Reis at (706) 256-0238. Read more here.
Let's Talk! … with the Mayor is Thursday (9/17) 6:00-7:30 PM at St. Luke Ministry Center (301 11th Street).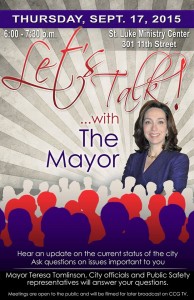 Do you have a complaint or concern? Ask questions and discuss your concerns with Mayor Teresa Tomlinson, other elected officials, city department heads, and public safety representatives. Everyone is invited and this helps unity among our community. Read more here.
River Raffle
Join The Historic Columbus Foundation for the 8th annual River Raffle on the 14th Street Bridge. It will be held on Thursday, September 17, 2015, from 6:30pm-9:30pm.
There will be an open bar, a variety of food by local restaurants like 11th and Bay, Pickled & Pecked, Iron Bank, Epic, The Social, The Ice Cream Girl, The Black Cow, The Cantina, and more. Also, live entertainment by Fellas and the Vine. Bring your singles (dollar bills) too; there will be "Sling the Hooch", "Growler Ring Toss" activities, and $10,000 in cash prizes!

A $75 ticket includes one entry for the cash prize and entrance for one to the party. Additional chances to win are available for purchase during the party. For more info, click here or call HCF at 706-322-0756.
Thanksgiving Delivered Fundraiser
 Chef Jamie Keating and Chef Jamie Gruber will be cooking an amazing meal with locally grown and sourced food on September 17th for a farm-to-table dinner. All proceeds will go to Thanksgiving Delivered (read more here) to help feed the less fortunate on Thanksgiving. The Farm to Table Dinner tickets are available here: https://buy.ticketstothecity.com/venue.php?org_id=321
Friday
The Uptown Friday Night Concert Series kicks off and will be rocking this fall with:
Friday, September 18, 2015 – The Grapevine
Friday, September 25, 2015 – Rock Candy
Friday, October 2, 2015 – River City Horns
Friday, October 9, 2015 – D. S. O. S.
Friday, October 16, 2015 – Tribute: A Celebration of the Allman Brothers Band
Friday, October 23, 2015 – Radiolucent
Bring your lawn chair, blanket and your family for a night of great music and fun! Outside food and beverages are allowed, however, outside glass containers and alcoholic beverages are prohibited. The concert will be 7PM to 10PM and is free. You won't be able to miss it on the 1000 block Of Broadway.
Movie Under the Stars will show Annie (PG) on Friday (9/18).
September 25th they will play Teenage Mutant Ninja Turtles (PG).
Bring your lawn chairs or blankets, but please leave pets at home. These events are open to the public, and although they allow coolers, they do not allow alcohol.  They do provide free popcorn, while supplies last, and refreshments will be available for purchase.  Youth, 17 and under, must be accompanied by a parent or guardian, 21 years or older, at all times. It will be held at Wetherby Field in Fort Benning, GA from 8:30pm to 10:30pm.
The Loft hosts The Pollies, Emily Stillwell, and Jazz with The And of Four.
The Pollies are headlining at 11pm, are a band that has been defying genres and stepping over boundaries since their first release in 2012. Their new album, "Not Here", hits on all the familiar topics— love, loss, triumph and regret— with an edge and ferocity. Simply put, these are compelling stories—and they have stepped into their own as gifted storytellers. This is the first release for Florence, AL's Single Lock Records (St.Paul and the Broken Bones record label) and it shows the band shedding their alt-country skin in favor of experimental noise and unadulterated risk.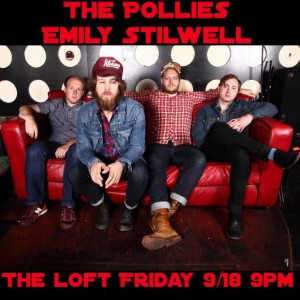 Emily Stillwell, front woman for Lady of the Lake, and Alex Bradshaw of Studio Le Bradshaw will be opening for The Pollies around 9:15pm. Jazz with The And of Four will kick off the night at 7pm to 9pm, with no cover charge until 8pm. The Loft is located at 1032 Broadway, Columbus, GA 31901.
Saturday
Live Healthy in Uptown Day is partnering with Uptown Columbus and Market Days to promote health and wellness in our community on Broadway 9am-1pm.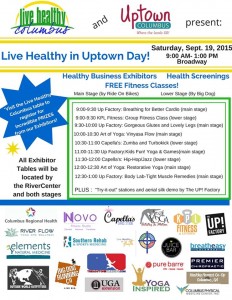 This progressive group wants to showcase our local businesses and organizations that can help us live healthy, with free health screenings! There will be activities and free workout classes on the main stage (in front of Ride on Bikes), and the lower stage (in front of Big Dog Running Co.) every 30 minutes.
There will also be prizes, so make sure to register at their table to win. As always, you may also enjoy Market Days 9am-12pm, while attending this event. For more information click here.
Transportation Playground is a unique fundraising event unlike any other in Columbus, GA. The second annual event will be held 10am-2pm at PTAP, 839 Veteran's Parkway.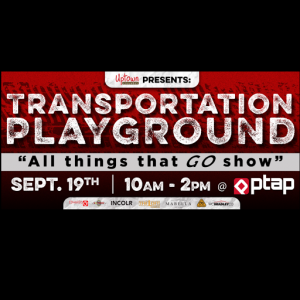 Come explore every mode of transportation and more! A plane, exotic cars, Monster truck, a horse and carriage, military vehicles, emergency vehicles, unique cycles, motorcycle stunts, a skateboarding competition, Kids Fun Zone, food, raffle, and more!
This is a FREE event!  We are raising money through raffle tickets, sponsorships, and donations to build a playground in Uptown Columbus. Come hungry, and enjoy one of Kevin Jones' grilled burgers or chicken wraps, and ice cream from the Ice Cream Girl!
2015 Columbus Children's Book Festival
The Third Annual Columbus Children's Book Festival comes to the Columbus Public Library with great authors and illustrators, fantastic entertainment, crafts, and a whole lot more! Children will meet their favorite author or illustrator, listen to author presentations, have a book (or two) autographed, or just have the opportunity to talk to them about their inspirations. The 2015 guests include, Meg Cabot, author of "The Princess Diaries", Jane Yolen best-selling children's author of "How Do Dinosaurs Say Goodnight?", and Georgia author, illustrator and all around fun guy, Eric Litwin. Also, writer and illustrator, Bryan Collier, a three time Caldecott honor recipient, and Johnathan Rand, the man behind the hugely popular, "American Chiller" books, will be there.
They will have Craft-O-Mania with tons of crafts. There will be a Galactic Quest Comics Tent with artists and creators in the tent all day. There will be a magician, a juggler, a storyteller, and animal tales. Columbus MakesIT will also share for all the community to enjoy. For more information click here.

As a bonus, if you are a fan of Fleetwood Mac, The Loft Legends will be honoring the legendary band with a local tribute assemble at The Loft 8pm Saturday, September 19th.
*Information and pictures received from each event.