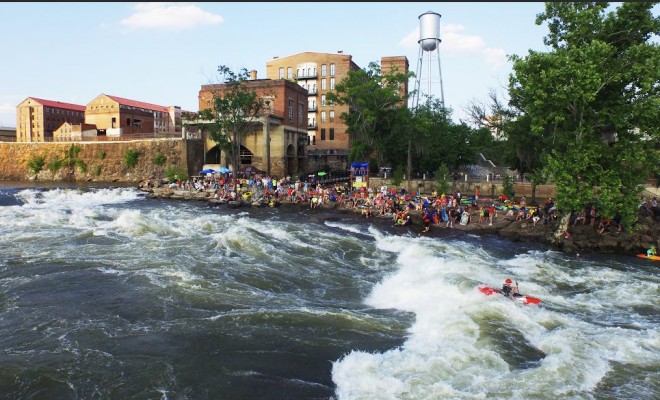 Events
Top 10 To Do This Weekend in Columbus, GA
By
|
Fall and all the beautiful weather are here, with an assortment of events that come with it.
Blues, Brews, & Q Weekend: Blues music, beer and barbecue lovers rejoice! Uptown Columbus and RiverCenter host Blues, Brews & Q weekend October 16 – 17, 2015 on the lawn of the RiverCenter. Blues, Brews & Q kicks off Friday, October 16th from 7pm-10pm and continues Saturday, October 17 from 1pm – 10pm, with People's Choice Tasting from 2pm -6pm; a tasting fee of $15. Starting Friday, October 16 at 7pm the Uptown Concert Series kicks off Blues, Brews & Q weekend, featuring Tribute a celebration of The Allman Brothers Band. The festivities continue Saturday, October 17th at 1pm with live music from Blues Artists from all over the Southeast. With an ice cold beverage in hand, BBQ lovers indulge in the smoky, savory taste of BBQ flavors from local backyard BBQ masters, all competing to perfect their craft in the People's Choice Cook-Off from 2pm-6pm. BBQ lovers can taste and vote for their favorite flavor in the People's Choice Cook-Off, a $15 tasting fee only, 1200 tickets will be sold. People's Choice tasting tickets may be purchased at the gate. 
Blues, Brews & Q Music Line Up:
Friday, October 16
7pm – Tribute a celebration of The Allman Brothers Band
Saturday, October 17
1pm – Nic Chavers
2pm – Kent DuChaine
3:30pm – Tim O'Brien, Lady V, Peggy Jenkins, Rev James
5:30 – Neal Lucas
7pm – Seth Walker
8:30pm – Jimi Prime Time Smith
For more information about Uptown's Blues, Brews & Q Festival, or to submit a backyard BBQ entry form visit www.uptowncolumbusga.com or call 706.596.0111.
JunkFest Howl-o-ween: October 17th, 2015, noon until late, a benefit for PAWS and Animal Ark at Gina's Junk Thrift & Antique Store, located at 6020 Buena Vista Road, Columbus, GA. We love to support local so at this event you'll find local vendor artists selling their crafts, local music, local food and local non-profits to include PAWS, Animal Ark, and ColumbusMakesIt! They encourage everybody to dress up in their favorite costume! They will have fun kids crafts, and some of the vendors will even be passing out treats to those dressed up! You can get your tickets now for $3, or at the gate for $5.
Here's the music schedule for JunkFest Howl-o-ween:
12:05-12:50 Terrible. Just terrible.
1:00-1:50 Travis Mackey
2:00-2:50 Sean Rox Trio
3:00-4:10 Rick Edwards Trio
4:20-5:30 Lady of the Lake
5:40-7:00 Wayne Minor Band
7:00 Candle vigil and drum circle
7:45-9:00 Junkyard Pickers
9:15-10:30 Shadowville Allstars
with sets in the Pickin' Coop from the BJ Holland Trio and Travis Mackey between mainstage sets.
Arts on the River: Will be located on the 11o Broadway block median and is always an interesting experience. Over 30 artists from all over the region will be set up 10am-4pm. Enjoy Market Days, then wonder over Saturday morning.
The Young Professional's Uptown Screen on the Green: Kicks us off into the weekend RIGHT on Thursday, October 15, 2015 at 6:00 pm join the party for the FIRST Uptown Idol & 7:30 pm for The Fast & Furious 7 Blockbuster movie. The Columbus, Georgia Young Professionals hosts this incredible, FREE and open to the public, annual event for the 6th time! Held at CSU RiverPark Campus, Corner of Bay Avenue and 10th Street, 190 West 10th Street Columbus, GA. Enjoy a movie, music and much more under the stars at the 6th annual Uptown Screen on the Green. Food and beverages will be available for purchase from local food vendors.

*Moviegoers can bring food and beverages, but glass containers and outside alcoholic beverages are not allowed. Attendees are asked to leave pets at home. Umbrellas, high-backed chairs and grills are prohibited. ID will be required to purchase and consume alcoholic beverages.
Hometown Throwdown: Whitewater Express announces the 2015 Hometown Throwdown Kayak Competition to be held on October 17th from 10:00a.m. – Until on RiverWalk Island, aka Waveshaper Island. The event is open to professional and amateur kayakers at a $20 early bird entry fee if purchased before day of event, and a $25 entry fee at day of the event. Late registration will be 8:00a.m. – 10:00a.m. on day of the event. Prizes will total over $2000. 
On October 17th, Whitewater Express hosts the 2015 Hometown Throwdown Kayak Competition. Spectators have the chance to watch professional and local kayakers compete in six different kayak events throughout the day. The kayak competition give competitors the opportunity to compete in Freestyle, 8-Ball Boatercross, SUP Race, Slalom Course, Great Pumpkin Chase and King of the Wave competitions.
Hometown Throwdown gives spectators the opportunity to watch one of the fastest growing sports in the World. Local outfitters will also give out information on how to learn and take part in the Columbus communities newest adventure sport!
The Greater Columbus Fair: Features a celebration for those near and far that showcases all that the county has to offer. Plenty of things to do and see for young and old such as children's activities, entertainment, food and merchandise vendors and much, much more. The fair kicked off on Tuesday and will be here until Sunday, October 18, 2015 at Columbus Civic Center, 400 Fourth Street Columbus, GA.
Columbus Botanical Garden Fall Festival & Plant Sale:  The Fall Festival and Plant Sale will be Saturday, Oct. 17, from 9 a.m. to 5 p.m. and it's FREE. This is a first-time event for the beautiful garden!
They will sell a wide variety of seasonal plants, a variety of craft and food vendors will be on hand, and there will be a unique lineup of activities for kids of all ages. Activities include: Sand Art and Plant Pounding, Cup Cake Walk, Go Fish, Frozen T-shirt, Face Painting/Tattoos, Rock Climbing Wall, Euro-Bungee, Hayride.
Some of the vendors will be: Broadway Jewelers, African Baskets, Herod Results, First Pres. Serve Shop, Bill Kess Ironworks, Liz Sabatino Ceramics, Bloomwoods, Mary Frances Flowers Jewelry, Delvecchio Nursery, Columbus Botanical Garden (selling seasonal flowers). Kenya Caters Barbecue will also be on hand, plus we'll have cotton candy and fried oreos.
CSU ART Open Studios at 941 Front Ave on Friday 5:30pm-7:30pm. Come explore and interact with CSU faculty, students and resident artist in the intimate setting of their studios. This is an opportunity to see the most recent works produced by their program at the site of their origin and to gain meaningful insight into their process of creation.
Mozart and the Clarinet: The ultimate chamber music experience for clarinet, strings, and piano. Program includes the Trio in Eb major, K. 498, and the Quintet in A Major, K. 581. Performers include Lisa Oberlander, Sergiu Schwartz, Earl Coleman, Zoran Jakovcic, Wendy Warner, and Alexander Kobrin. It will be held Sunday, October 18 at 4pm at Legacy Hall, RiverCenter for the Performing Arts with FREE admission!
Zombie Zip: Zombies Escape the Springer Opera House and Invade The Blue Heron Zip Line — Experience a Halloween adventure like no other in the Chattahoochee Valley!Whitewater Express and the Springer Opera House host the first-ever Zombie Zip during the month of October. Adventurers will have the thrill of a lifetime, zipping over the Chattahoochee River each Thursday, Friday, Saturday and Sunday, starting October 1st through October 31st at 8 p.m. Zombie Zippers will experience the dual zip line, treetop zip line and two towers full of terrors, for $40 per person. 10 percent of proceeds from each each participant will benefit The Springer Opera House and its performing arts community programs.Those brave enough for this zip line thrill will get an up-close-and-personal glimpse of the walking dead as they make their way through haunted towers, zip through the night and experience a haunted hay ride. The fright begins as guests enter the main tower-of-terror on the Blue Heron Zip Line. Zombies and creatures of the night haunt each of the four levels on the tower. Upon surviving all four levels, zippers will experience a thrilling night-ride across the Chattahoochee River. Zippers hold on tight as they land at the next tower full of creepy monsters and eerie goblins. An unforgettable adventure, guests experience a haunted hay ride down the RiverWalk and back to the main Whitewater Express outpost. For more information or to book your fright on the Zombie Zip please visit http://www.whitewaterexpress.com/blog/zombie-zip/ or call 706-321-4720.
Bonus: The Loft will be overflowing with talent all weekend! Fresh off an international tour with Alabama Shakes, Lloyd Buchanan plays with Cubed Roots, Big Saxy, Micheal Johnson & a lot of other friends on Friday starting at 9pm in The Green Room. Saturday CSU compiles an incredible line up for the monthly event, Loft Legends, that usually sells out, for The Led Zeppelin show at 8pm.
*All information and pictures provided by each event.