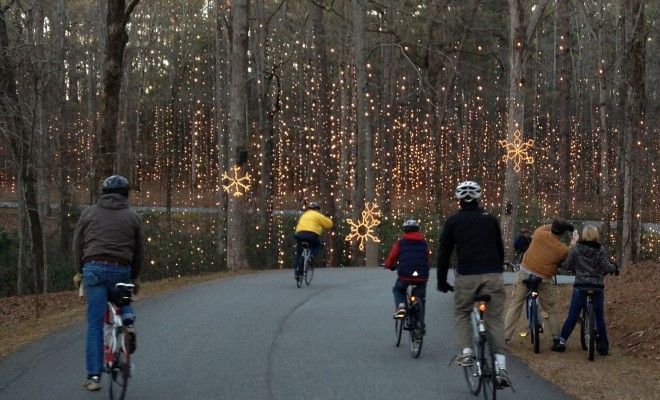 Events
Top 7 To Do This Weekend
By
|
The Holidays are creeping in, but we still have some fall functions left full of flavor and fun.
Wine Women & Shoes– The Muscogee County Library Foundation will host the inaugural, nationally known, Wine Women & Shoes event at the Columbus Public Library on November 12th at 6:00 PM. The event features a strolling wine and food tasting, a boutique shopping experience with a live auction, opportunity drawing, and a high-energy fashion show that comes together for a few fabulous hours of fundraising, camaraderie, and shopping. Unless you were asked to be a Sole Man, to raise funds (they've already raised over $37,000) and help host the night, then sorry fellas you have to stay home. Read more here on how vital our libraries are to our community.
Take the City, in coordination with 107.7 The Truth, are having a Thanksgiving Food Drive. They will pack food, then take it and deliver food to families all across the area.
If you would like to get involved with the Thanksgiving Food Drive there are three ways that you can help:
GIVE: Donate dry/ canned foods or $50 (Designate for Thanksgiving) – The drop off is Thursday November 12th at 5304 Hurst Drive, Columbus, GA.
PACK/ PRAY: Help fill bags with all the donated food. Pack up the food and pray together on Friday night November 13th at 7pm. (Meet at 5304 Hurst Dr, Columbus, GA)
GO!: Go out and give away the food to families. Meet on Saturday November 14th at 1pm. (Meet at 5304 Hurst Dr, Columbus, GA)
The Springer presents: A Closer Walk with Patsy Cline By Dean Regan
This upbeat musical reveals the emotional depth and vocal range of Patsy Cline, a singer whose career made history defining the term "crossover hit" by dominating country, blues, pop and gospel charts in the 1950s and early 1960s. A Closer Walk with Patsy Cline traces the late singer's footsteps from early honky-tonk and radio days to the Grand Ole Opry, Carnegie Hall and Las Vegas. Our phenomenal Patsy and a live band perform Cline's greatest hits including "Walkin' after Midnight," "Sweet Dreams," "I Fall to Pieces" and "Crazy."
Nov. 12, 13, 14, 19, 20, & 21 at 7:30 pm & Nov. 15, 22 at 2:30 pm
This production is a part of our Studio II Series located in McClure Theater at the Springer Opera House. The entrance to McClure Theater is located on 1st Avenue just around the corner from the main entrance to the Springer. Rated: G
Christmas in the South– Creativity abounds as hundreds of artists and craftsmen gather to demonstrate and sell their work at The Columbus Convention & Trade Center this weekend. Get a head start on your gift list and enjoy the Christmas shopping experience of the season. As Christmas time approaches what better way to get ready for the holiday season than strolling the aisles of hundreds of artists & master craftsmen at the 25th annual Christmas Made in the South in Columbus, GA? You will see ONE-OF-A-KIND ornaments, pottery, toys, jewelry, fine art, furniture metal sculptures, woven designs, art from glass, photography and even more!
Everything is unique and is the exhibitor's own work and designs (not commercially made or manufactured). The artists & craftsmen will be there to talk with you about their craft & share their stories.
Hours: Friday, Nov. 13 – 10am-8pm
Saturday, Nov. 14 – 10am-6pm
Sunday, Nov. 15 – 11am-5pm
Admission: Adults – $7.00 – Kids 12 & under are FREE (one admission good for all three days with handstamp). Check out all of their shows at www.MadeInTheSouthShows.com.
Bibb City Studios Open House– Bibb City Studios is a unique space developed by Architect, Hal Averett & Preservationist, Justin Krieg, with a vision to provide a space for small businesses and artists alike to work, all while restoring a small part of Columbus, GA. Join Bibb City Studios & Fiddleheads for its Open House November 13th -15th, Friday & Saturday: 10:00a.m.-6:00p.m. Sunday: Noon-4:00p.m. Local art, jewelry & other gift items will be available. Have the chance to meet the local artists and view their amazing studios! Taking a tour of the building is worth the trip, and a great local place for your Holiday gifts.
Food Truck Festival- Uptown Columbus and Atlanta Street Food Coalition are hosting the first ever Food Truck Festival in Columbus, Georgia! Join in on the eating, November 14th from 1-9pm as Woodruff Park transforms into a Food Truck and Football Tailgating Festival. 14 GOURMET FOOD TRUCKS will be coming to set up in our backyard! There will be multiple BIG SCREEN TVS to broadcast all the SEC football games! PLUS A BEER GARDEN!!!
Here is a list of all the yummy food trucks:
Tasting Maine – http://tastingmaine.com/
Gotta Have IT – http://ghifood.com/
Nana G's Chicken & Waffles – http://nanagchik-n-waffles.com/
One Love Jerk Grill – http://www.facebook.com/onelovegrill
Mix'd Up Burgers – http://www.mixdupfoods.com/
The Blaxican – http://www.blaxicanfood.com/
Five Finger Philly – http://www.fivefingerphilly.com/
The Muenster Truck – http://www.themuenstertruck.net/
That Pie Place – https://www.facebook.com/thatpieplacefoodtruck?fref=ts
Ces't Tout Bon 2 Eat – http://www.cesttoutbon2eat.biz/
Paradise by the River – http://paradisebytheriver.com/
Tracy's Tasties – http://www.tracystasties.com/
Pickled and Pecked – https://www.facebook.com/PickledandPecked/timeline
Planet Pops – http://www.planetpops.net/
Admission cost $5/person. Children 12 and younger are free.
WHAT? A COVER CHARGE and PAYING FOR FOOD?!
Yes, here is where your money is going:
1. Operational costs to run the event (table, chairs, tents, entertainment, lighting, sound, power, marketing, fencing, etc.).
2. Fundrasing for Uptown's year-round programming. Revenue earned will go directly back into bringing Columbus more FREE events be RiverFest, the Big To Do Friday Night Concert Series (spring & fall), Spooktacular, Broadway Holiday and so many more year-round. 
Pre-sale tickets are available at Springer Opera House, here, or you can purchase them at the gate on the day of the event.
Bicycle Night at Fantasy In Lights– Experience a brand new view and enjoy a magical night of pedaling your way through Fantasy In Lights at Callaway Gardens. Young families should try to go earlier and be sure to bring your bike light! For tickets, click on here or all 1.800.898.4868.
*Content and images provided by each event and their websites.