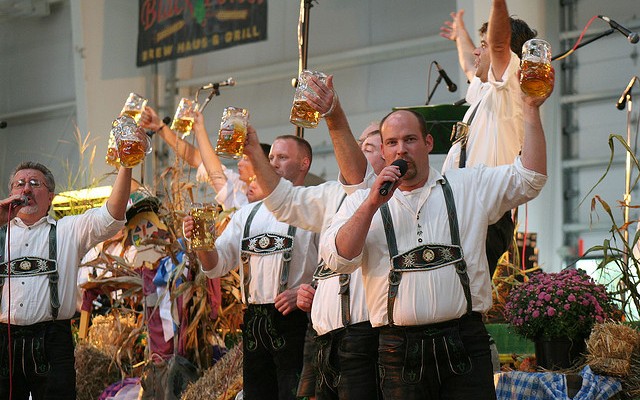 Events
Top 8 To Do This Weekend
By
|
It's going to be a beautiful weekend. We hope you go out there to enjoy it at some of these unique events.
Oktoberfest: You can throw back a beer, big deal. Can you throw a whole keg? This year's Oktoberfest, Oct 23-25, at Uchee Creek Campground and Marina will feature a keg tossing competition, a Dachshund Derby and stein hoisting contests. So when your dogs get tired, take a break and raise a glass of your favorite German brew… and hold it there just as long as you can.
This free event is fun for the whole family – and pet friendly! The funs starts at 4pm Friday, Oct 23, and ends at 10pm. The day includes fun for the kids, with inflatables and a petting zoo, with a ceremonial keg tapping at 6pm, performances by the Sonnenschein Express and yodelers, stein hoisting contests and more.
Saturday starts with the annual Oktoberfest 10K Cross Country Run (and a 5K) at 9am Oct. 24 at Uchee Creek. Register for $25 at Smith Fitness Center or www.active.com. On site, the fee increase to $30. The first 100 to register will receive a free t-shirt.
A family-friendly Volksmarch starts at about 10am (after the 10K runners have all cleared the gate.) Register on site for this free event.
Saturday events also include canine competitions (the Dachshund Derby, Best Dressed, Doggie Doppelgangers and Top Dog trick); hay rides, pony rides, petting zoo, inflatables, crafts, boat rides and pumpkin patch for the kids; a keg tossing competition, dancing and more music by the Sonnenschein Express, yodelers and the MCoE Band. We tap out at 10pm.
Sunday activities, from 10am-6pm, include more great music, performances by the SKIES Dance Team and more children's activities.
The Cottonmouth Snakes open their 20th hockey season at 7:30 p.m., Friday, October 23rd, at the Columbus Civic Center. Something special about tonight, "Two-time Olympic gold medalist Shannon Szabados arrived in Columbus in March 2014, entering her name in the Southern Professional Hockey League's history books as the league's first female player. Less than two years later, Szabados will take her place in net as Columbus Cottonmouths' No. 1 goalie." The Ledger-Enquirer. If you haven't gone to one of these games, grab a jacket, and be ready to shout with excitement, whether your mad about a call or thrilled about a play!
Radiolucent at The Big To Do Uptown Concert Series: Radiolucent will rock the stage tonight at 7PM & Broadway will be filled with great music all night. Bring your own chair, blanket and the whole family for a night of great music and fun! Please do not bring outside coolers. There are multiple dining and beverage options on Broadway and in Uptown Columbus. If you have any questions, call Uptown Columbus – 706.596.0111.
Take the City is a missional organization whose heart is to unify and mobilize the body of Christ to see a City revitalized. At this monthly event people from all over the area gather for worship, training and then go out to share the love of Jesus in the Valley area.
Release the River is Friday at 7:00pm, meeting for worship and prayer to prepare for Saturday. Take the City is Saturday at 1pm, they meet for training then go outreach to the community in several groups. Both of these events will be held at Teen Challenge, 5304 Hurst Dr, Columbus GA.
Pirate Festival: The Cursed Few is back to host Southern Pirate Festival another year at the National Civil War Naval Museum, Port Columbus, October 24th – 25th! The National Civil War Naval Museum, which tells the story of the Sailors, Soldiers, and Civilians, both Free and Enslaved as affected by the Navies of the American Civil War, is hosting The 2015 Southern Pirate Festival. The Festival returns with live entertainment by local and national acts, family activities, cannon firings and pirate reenacts. Patrons can expect storytellers, games, black powder weapons demonstrations, wild animal exhibitions, a pirate treasure hunt, face painting, and much more. Vendors will be on hand offering food, drink and pirate merchandise, and guests can also tour the museum as part of their festival admission.
When: 10 a.m.- 5 p.m. Sat. Oct. 24 and 12:30 p.m. – 5:00 pm Sun. Oct. 25th,
Cost: $7.50 for adults, $6 for children (ages 7-17). $5 for groups of 15 or more. Children (6 and under) are free. For groups that wish to attend, please reserve your discounted tickets in advance by calling 706-327-9798.
National Infantry Museum provides a giant outdoor movie screen on the lawn and it's FREE! This Saturday, 10/24, The Amazing Spiderman 2 will be playing. Pre-movie fun begins at 5:15PM with Spiderman temporary tattoos, inflatable amusements for the kids and plenty of green space to lay out your blankets/beach chairs to have a picnic. It's all FREE and fun for the entire family.

Out on a Limb for Trees! Hosted by Trees of Columbus: Saturday in the Broadway median, between 10th and 11th, from 9am-2pm go climb a tree, for free, no really! Trees of Columbus provide equipment including rope, helmet, and harness. Tree climbing is a legit, fun activity consisting of ascending and moving about in the crown of trees.  All experience levels are welcome and beginners are encouraged! Out on a Limb for Trees features a team of certified tree climbing instructors, and it's fun!
Beethoven's Ninth hosted by Columbus Symphony Orchestra at The RiverCenter, Saturday October 24th at 7:30pm. Beethoven and Mahler are juxtaposed in two masterpieces that explore the depths of the human soul, from deepest despair to triumphant joy. It's so powerful "the third movement might have magical healing powers. According to a group of fancy Oxford University scientists, listening to the third movement of Beethoven's No. 9 might actually lower your blood pressure and help fight heart disease." Seriously, click here to read, and hear, more.
This concert features a collaboration with Columbus State University, Auburn University, and LaGrange College. They will have performers from age 18-70-ish, with about 80 from the CSU Choral Union, and 40 or 50 from each school. It will be an impressive choir, with at least 150 on the stage!
*Bonus there will be fireworks on Saturday night provided by Columbus State University on the RiverWalk at 9pm.

Images and content provided by each event.