Events
Who Dunnit?
By
|
It's a beautiful relationship, art and food. There's no doubt they are one in the same on most occasions. As we continue to support both of these well-loved scenes in Columbus, we see more local restaurants and entertainment venues cultivate relationships with each other.
One of these beautiful pairings is Sherlock's Mystery Dinner Theatre and JK Culinary.
 Located at The RiverMill, Sherlock's Mystery Dinner Theatre offers the public an evening of solving a mystery through belly laughs and divine food. It is a VIP experience perfect for couples, friends and family alike.
Owners Kate and JJ Musgrove write the scripts, which differ each season. After choosing the professional actors, Columbus Symphony's Cameron Bean directs. You will also find Cameron acting occasionally, along with the impressive talents of Jim Pharr, Johanna Cabatingan, and Caroline Garcia.
Award winning Chef Jamie Keating recently came on to take the culinary caliber of the mystery dinner to new heights. He brought his five star restaurant, Epic.
Behind the stage, something cohesive is taking place. Everyone is prepping together- chefs and actors, all in one room. Every team member is passionate about executing an impeccable recipe of theater and food. Epics' staff constructs presentations of whipped, topped, saucy, encrusted goodness, while actors get saucy in their own respect, reciting the hilarious script, knowing that it won't go exactly as planned.
Part of the mystery lies in the audience performances. If you arrive there a few minutes early, you can opt to be a part of the show.
There's a unique, vibrant energy that comes from mixing a script with brand new personalities, and therefore, inevitable improv. You never know what accents or demeanor will emerge from the audience. It's a community coming together to celebrate, and it is completely delicious.
The ticket price covers dinner and the theater. A cash bar awaits through the double door entrance into the foyer. At $59 per ticket, it's a steal. Not only are you enjoying a meal well worth $60 alone, the ambiance of the gorgeous venue overlooking the river lends a lovely hand to the engaging show. So, whether you already Dunnit, or you've never Dunnit, see this season's show to catch Who Dunnit this time!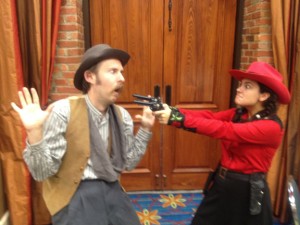 Written by Cora King
Pictures provided by Sherlock's Mystery Theatre