From a single gesture to a complex development, movement allows us
freedom to express and evolve. Electric currents harnessed through
energy are the source of this luxury we embody as individuals and as a whole.
Electric City Life is a collective movement to cultivate our culture,
increase connectedness, and build community in Columbus, GA.
Industrialists deemed us "The Electric City" during a serious test of
endurance, due to the aftermath of the Civil War. They persevered
with optimism, strengthening the economy, tremendously. Columbus was
highly regarded as one of the earliest and largest, southern, industrial
centers south of Richmond, Virginia. Electric City was a symbol of
resilience and unity for our town as we flourished through the Iron
Mill.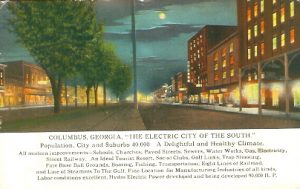 Over the course of the twentieth century, need for restoration and
innovation continued. In 1966, Downtown Historic Columbus branded us
"The Fountain City". This was a vital movement that led us into the
present day. We have since gained a fresh perspective on utilizing the
river to its fullest potential, and become a premier educational base
for the performing fine arts, among several other large developments.
Now, another cultural movement is upon us. Electric City Life
symbolizes a new wave of the rapid revitalization and development
occurring in our town. While building on our towns' successes, we aim to
uphold the legitimacy of our history and progress during the
Restoration Era, which reflect remarkable dynamism.
Our purpose is to connect as an influential voice, conversing and
engaging, while empowering our community to find its vibe. When we
begin facilitating cultivation, discussing our lifestyles, sharing
ideas for improvements, and highlighting how amazing it has become, we
create more synergy. Our culture is an expression of us, created by
our passion, creativity, and imagination. By welcoming diversity, we
begin to possess distinctive character and revitalize our perceptions.
To embody a thrilling, inspired lifestyle is quite appropriately,
electric.
Written by Cora King
Shared Vision of Co-founders Cora King and Jacy Jenkins