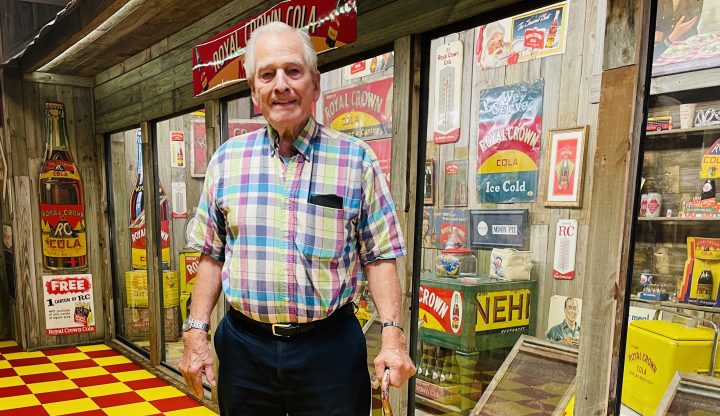 Creator of the the wacky/wonderful/world-famous Lunchbox Museum, noted local collector and historian Allen Woodall now aims to "preserve the history of Columbus, Georgia."
What inspired you to create The Lunchbox Museum? 

"Back in 1985, I was in an antique show in Atlanta, Georgia, and on one of the tables one of the vendors had a Green Hornet and a Dick Tracy lunchbox. When I saw those two boxes, it immediately reminded me of listening to the Green Hornet and Dick Tracey on the early radio serials back in the '40s.

It brought back great memories. I looked at them and I said, 'Hey, this is great pop art anyway.' So I went ahead and bought those two lunchboxes. 

By buying those, it gave me the energy and fortitude to say, 'I wonder how many more are really out there?' I started looking and looking, talking to a lot of people, and I ended up finding out there were over 700 different lunchboxes with what is considered the first collectible lunchbox in 1951, which was Hop Along Cassidy. He was on television back in 1951, that was about when it all started.

What happened is when Hop Along Cassidy got on a lunchbox, and the kids were taking that lunchbox to school, Gene Autry and Roy Rogers and everybody says, 'We got to get on lunchboxes, too. They're taking Hop Along Cassidy with them to school.' That started the craze of everybody on television wanting to be on lunchboxes.
That inspired me to collect as many as I could. It also inspired me to research and write a book, The Illustrated Encyclopedia of Metal Lunch Boxes which came out in 1990 and I revised it in 2000. We did the 1990 and it's just been a huge success. It's been unbelievable the number of people who've come to see the museum and where they've come from. We've had people from all over the world here to Columbus, Georgia really just to visit the Lunchbox Museum.

We had people from CBS Sunday morning in New York come down to Columbus, Georgia and spend 3 days down here. When we put out the book in1990, the Smithsonian in Washington called and wanted me to help them with their lunchbox collection. We brought the Smithsonian to Columbus. Not the Columbus Museum, not the Infantry Museum, but the Lunchbox Museum. They actually made two visits to me here while working on their collection.

So it's been a big success."

How many lunchboxes do you have in our collection?

"There are over 1,000 lunchboxes and there are probably over 1,000 thermoses that are in the Museum.

But everything related to lunchboxes like a TV tray. The same characters that were on lunchboxes, they put them on TV trays. So we have a big collection of those. Also little 45 record players. Even toys. Anything that has a superhero or one of those characters — we have it.

So we have over 5,000 pieces in the Museum."

Did you listen to Dick Tracey on WDAK?

"No [laughs] I actually listened to Dick Tracey on my grandparents radio in their living room in Social Circle, Georgia."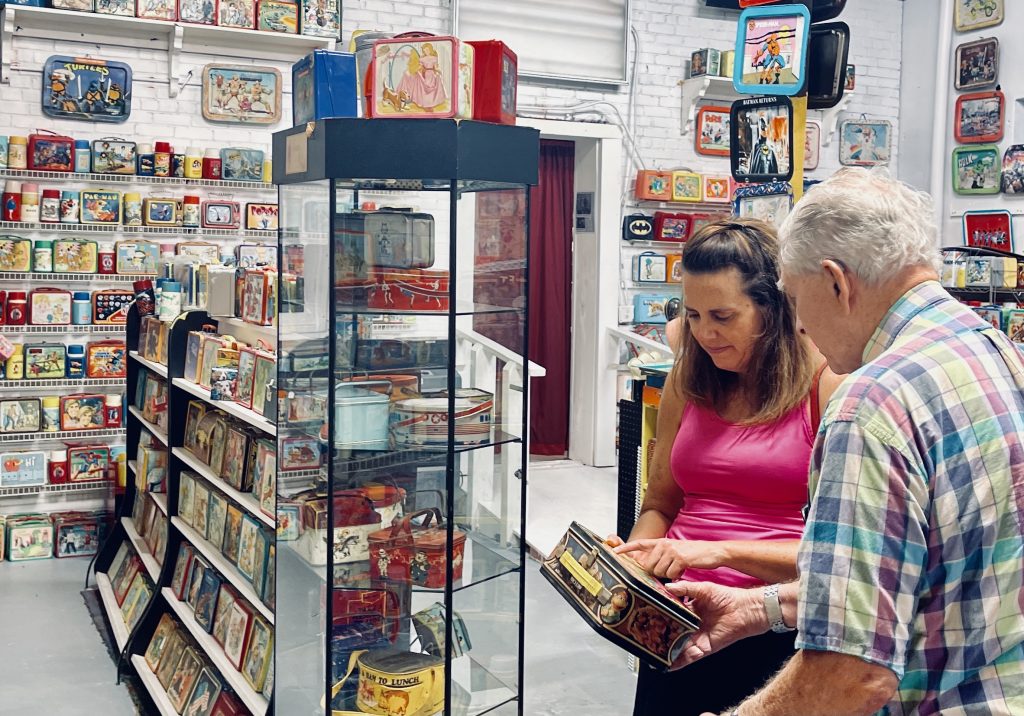 What inspired you to now create multiple museums with a Columbus focus with collections from Tom's Peanuts and RC?

"At 87, I consider myself kind of a historian. My grandfather, Mr. W.C. Woodall was a great historian. So I think it probably runs in the family. He had written 2 or 3 books and that inspired me.

I felt like we have to save the history of Royal Crown Cola. It started back in 1905. It has touched so many lives in Columbus and, really, not only in Columbus, but all over the world. Royal Crown Cola, Nehi, and Diet Rite — they ended up going all over the world.

We wanted to preserve that history so that's what we've done."

What kind of response have you seen to the new Columbus Collective Museums?
"It's been really exciting. So far, sInce we just opened this on July 10, we've had hundreds of people come to the new museums. I've talked to most of them; I'm here all day. Everybody is excited and they all love the museums and they think it's great for Columbus, Georgia to have these museums here."

Does telling the story of RC Cola and of Tom's Peanuts by extension tell the story of Columbus?

"Well, it tells a lot of the story of Columbus. Of course, there were other great, great big businesses here. The river and the railroad brought many businesses here since we settled in 1828."

What do you enjoy the most about doing this?

"What I enjoy the most honestly is seeing the smiles and satisfaction on the faces of people that come to the museums.

It brings back great memories. I've seen people get very emotional in the Lunchbox Museum. I've been to the Louvre; I've been to the Smithsonian. They are great museums but I never broke into tears there, and I never say anybody who did. But I've actually seen people in the Lunchbox Museum bringing back such memories that it brings tears to their eyes."

What does it take to be a good collector? To build a good collection?

"I think, really, the desire to do it. Somebody has to get that drive, that desire, and focus on whatever they want to collect. I think that's the key — the drive to do it."

Do you have a price tag on everything in this building? A total value for the entire collection?

"No, not really … Priceless.

I've seen a large collection of lunchboxes on eBay and the guy wants over $1 million for it. And I think we have a much better collection and display."

What do you envision for these museums in the long term?

"Long term, I hope it's with my family. We have a large family, and we have a lot of my family that's very interested in what we're doing in the museum. Even my grandkids, Kaitlynn and the others, they really like what we've done and they come over here and they love it."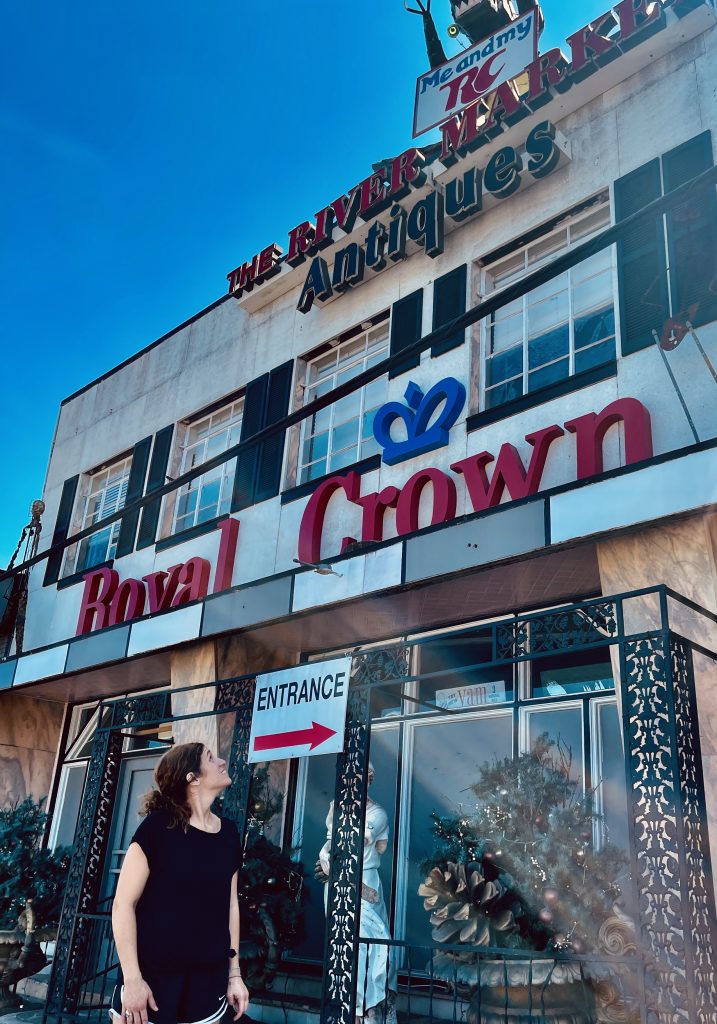 BONUS CONTENT: Listen to full-length interview by Electric City Editor Frank Etheridge with Allen Woodall at River Market Antiques, home to the Lunchbox Museum and now the Columbus Collective Museums recorded on 9.4.2021.
Age: 87

Education: Wynnton School; Columbus High School; University of Georgia, degree in Journalism from Grady School

Favorite local restaurant: J's Catch Market & Grill on 431 South in Phenix City

Most admired figure in local history: "Mr. Jim Woodruff, Sr. was one of the most interesting, I got to know him when i got out of college and was working with my radio station here. Mr. Jim Woodruff was already a self-made millionaire and quite an individual. I thought he was one of the most impressive business people in Columbus, Georgia in my lifetime."

Key to longevity: "Trusting in our Good Lord Jesus Christ. Eating right. Keeping our bodies in great shape. Here I am 87, and ever since I was 15, I go to the YMCA 3 days a week. I've never stopped working out."

Best change in Columbus over the past 50 years: "Whitewater Express. The longest urban white-water course in the world. I think it will go down in history as one of the best promotional things Columbus has to offer."

Worst change in Columbus over past 50 years: "The treatment of our military base, Fort Benning. They spent millions and millions of dollars there in previous years to simply abandon almost everything that's going out there.That's a shame."
Favorite building in Columbus: "Mine. [laughter] This was the original Allen Tile & Marble Co. building from the late '40s. It's a fabulous building which had a showroom rull of all the marble and terrazzoi tile they used.

My favorite building used to be the Elms on Buena Vista Road. Built in 1828, it is the second oldest home in Columbus. We put our radio stations in there for many years."

Favorite item in your collection: "I love them all."

The #1 thing you want people to know about these museums: "That we're preserving the history of Columbus, Georgia."