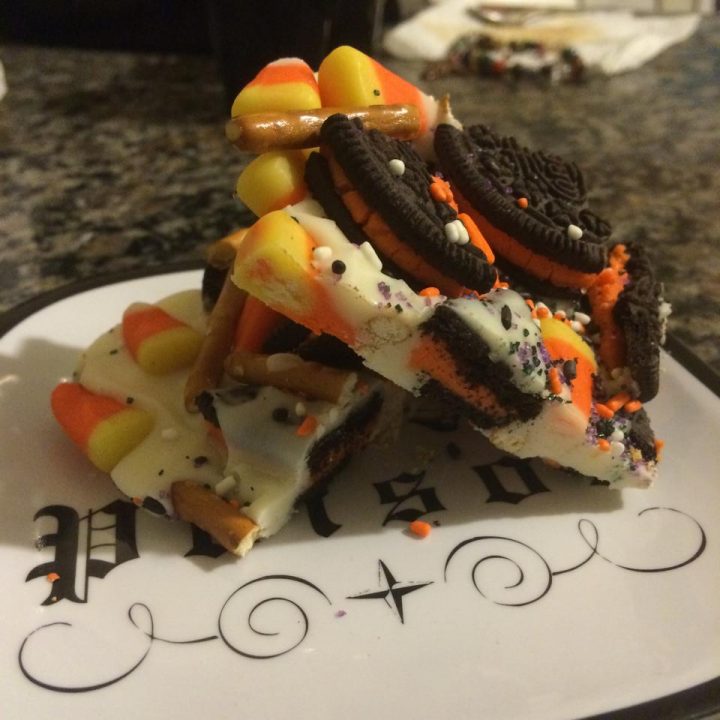 Among costumes and decorations, food is crucial to the creativity of Halloween. Thankfully, for some of us challenged bakers, Raechele Florcyk gives us methods to achieving delectable, creative treats. Raechele is a Le Cordon Bleu graduate who moved back to Columbus, GA after graduating. She's been working in the food industry and catering for 15 years. Raechele loves sharing the cooking experience with her 10 year old son. Poetic Pastries is her baking business. Click on the link to find out more, especially if you are overwhelmed with your party.
Here are 5 of her savory, Halloween creations:
1. Halloween Bark
Ingredients:
1 lb almond or white chocolate melts
Halloween sprinkles
1 1/2 c candy corn
1 c pretzels
15-20 Halloween Oreos
15-20 candy eyeballs
*Eyeballs can be found at Walmart and Party City.
Method:
1. Have the children break up the pretzel sticks and Oreos. They can complete this step while you are preparing the chocolate.


2. Use a double boiler to melt down the white chocolate. If necessary you can add 2 tbsp of heavy cream to help the melting process.
3. Let the children help arrange 1 c. of candy corn, the pretzels, and all but a few of the Oreos on a parchment-lined baking sheet no larger than 9×12.
4. As soon as the chocolate has reached a uniformed liquid consistency, pour over the arranged baking sheet. Immediately use a spatula to even out any inconsistencies.
5. Quickly use Halloween sprinkles all over the pan and the left over Oreos and candy corn to top.
6. Cover and cool for one hour in the refrigerator. Cut into squares after completely cooled.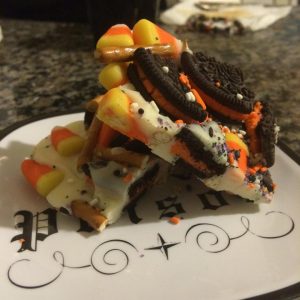 2. Caramel Apple Cupcakes 
Ingredients:
1 (18.25 ounce) package spice cake mix
1 1/3 cups water
1/3 cup vegetable oil
3 eggs
1 large Granny Smith apple, cored and chopped
35 caramels
1/4 cup evaporated milkMethod:
1.Preheat oven to 350 degrees F (175 degrees C).
2. Line 24 cupcake cups with paper liners.
3. Place cake mix into a large bowl, and pour in water, vegetable oil, and eggs.
4. With an electric mixer on low speed, beat until moistened and combined, about 30 seconds. Increase mixer speed to medium, and beat for 2 minutes.
5. Stir in the chopped apple, and fill the prepared cupcake cups about 2/3 full.
6. Bake in the preheated oven until lightly browned and a wooden toothpick inserted into the center of a cupcake comes out clean, about 20 minutes. Remove cupcake pans to a wire rack to cool.
7. When cupcakes have cooled, melt the caramels with evaporated milk in a saucepan over low heat, stirring constantly until smooth and combined, about 4 minutes.
8. Spread the caramel icing over the cupcakes. I like to finish with a raw caramel drizzle.
3. Witch Fingers
Ingredients:
Large size pretzel rods
Green chocolate melts
Almond slicesMethod:
1. Melt green chocolates as directed.
2. Dip pretzel rods.
3. Add almond slice to the end you dipped in chocolate to resemble a fingernail.
4. Use a toothpick to add wrinkles/ lines to your witches fingers.
4. White Chocolate Pumpkin Scones

Ingredients:
3 cups all-purpose flour
1/2 cup white sugar
5 teaspoons baking powder 1/2 teaspoon salt
3/4 cup butter
1 egg, beaten
1 cup half n half
1 c white chocolate chips
1 c pumpkinMethod:
1. Preheat oven to 400 degrees F (200 degrees C).
2. Lightly grease a baking sheet.
3. In a large bowl, combine flour, sugar, baking powder, and salt. Cut in butter.
4. Mix the egg and milk in a small bowl, and stir into flour mixture until moistened.
5. Add pumpkin and white chocolate. (Fold in)
6. Turn dough out onto a lightly floured surface, and knead briefly.
7. Roll dough out into a 1/2 inch thick round.
8. Cut into 8 wedges, and place on the prepared baking sheet.
9. Bake 12-15 minutes in the preheated oven, or until golden brown.
5. Glass Cupcakes (ADVANCED)
If you are up for the challenge try this one. You will absolutely need a candy thermometer.
Sugar glass is prepared a day in advance.
Ingredients:
Cake:
2 1/2 cups flour
1/2 cup unsweetened cocoa powder
1 teaspoon baking soda
1/2 teaspoon salt
1 cup butter, softened
2 cups sugar
4 eggs
1 cup sour cream
1/2 cup milk 1 (1 ounce) bottle Red Food Color
2 teaspoons Pure Vanilla ExtractCream cheese frosting:
1 c. Cream cheese
2 c. Powdered sugar
1/4 c. Butter
1/2 tsp vanilla extractSugar glass:
3 c. granulated sugar
1 c. light corn syrup
2 c. WaterRaspberry compote:
2 c. Fresh raspberries
4 tbsp.  granulated sugar
1/2 tsp. corn starch/  2 tbsp cool waterMethod:
Cake:
1. Preheat oven to 350 degrees F.
2. Mix flour, cocoa powder, baking soda and salt in medium bowl. Set aside.
3. Beat butter and sugar in large bowl with electric mixer on medium speed 5 minutes or until light and fluffy.
4. Beat in eggs, one at a time. Mix in sour cream, milk, food color and vanilla.
5. Gradually beat in flour mixture on low speed until just blended. Do not overheat. Spoon batter into 30 paper-lined muffin cups, filling each cup 2/3 full.
6. Bake 20 minutes, or until toothpick inserted into cupcake comes out clean. Cool in pans on wire rack 5 minutes. Remove from pans; cool completely. Frost with Vanilla Cream Cheese Frosting.Vanilla Cream Cheese Frosting:
1. Beat cream cheese, softened, butter, and Pure Vanilla Extract in large bowl until light and fluffy.
2. Gradually beat in confectioners' sugar until smooth.For the sugar glass:
This is best prepared the night before to ensure that the glass has set completely before breaking and placing.
1. Mix water, corn syrup, and sugar in pot.
2. Place candy thermometer in sauce pan without touching the bottom of the pan but so that it is emerged 2 inches in.
3. After about an hour, it will reach the goal temperature of 302.
4. Pour the mixture onto a greased (with cooking spray) baking pan and flatten out and push the bubbles out of the glass. It will begin to set quickly so time is precious.
5. After it is flattened cover with a second piece of parchment that has been sprayed with cooking spray. Let sit for at least 2 hours before using.
Raspberry compote:
1. Combine all ingredients listed above in saucepan and stir while cooking on med low.
2. When it reaches the desired consistency pull from the heat and let it cool completely before adding to cupcake.
Lastly, place sugar glass in center of frosted cupcake.
Finally, drizzle the raspberry compote over the glass to resemble blood/guts.
 Then enjoy all your hard work!