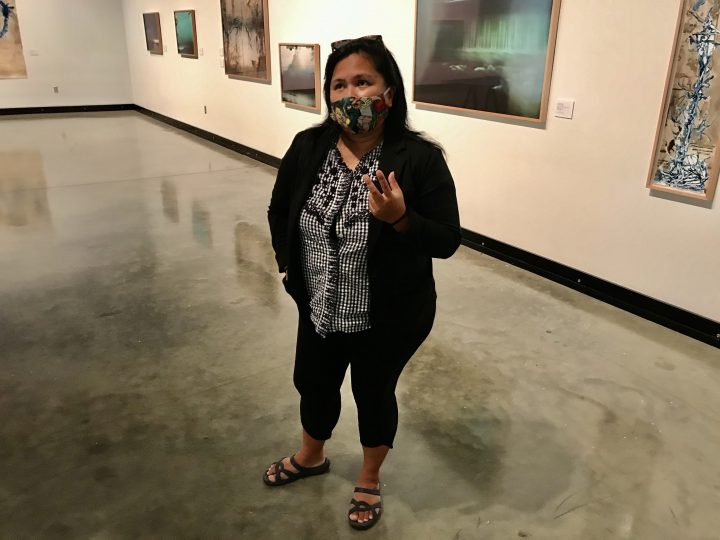 Director, Illges Gallery, and Professor of Art, Columbus State University
Advocate, We Cannot Walk Alone
What is We Cannot Walk Alone and what inspired it?
"We Cannot Walk Alone Is a group that got together sometime in June in response to the George Floyd incident. It has since grown into a much bigger discussion about social injustice, racism, and all the other issues that history has brought up.

One thing I thought that was interesting about this group is that it's multi-generational and it's multi-racial. People in the group are Latino, African-American, white. It's a pretty diverse group. We're all local artists, a lot of them are CSU alumni, and it all spun from them coming to me and asking, 'Can we create a voice that we can use art as advocacy for a response to what's happening?'

Based on all the things that've happened, this summer has been the most impactful thing that happened to me—and, I think, for Columbus."

What are the terms of the Memorandum of Understanding between Columbus Consolidated Government and CSU for this group's proposed public-art mural?
What was the reaction when y'all first pitched the idea to city elected officials?
"We had some really positive feedback from Mayor Henderson. He was excited about what he heard from us and how we're using art as a way to create change in our community. He was also excited for how this could be a start for others to follow. We were there to ask permission to use the wall to create a large-scale mural that is a response to social injustice.

We were received professionally. They asked some great questions, some that were logistical, but mostly about how long was the mural going to be up."

Where is the wall?
"The corner of Talbotton Road and 5th Avenue. It's the huge retaining wall underneath the Ronald McDonald House. Across from Piedmont. So that's a really major spot. It's city property so that's why we went to City Council to ask permission."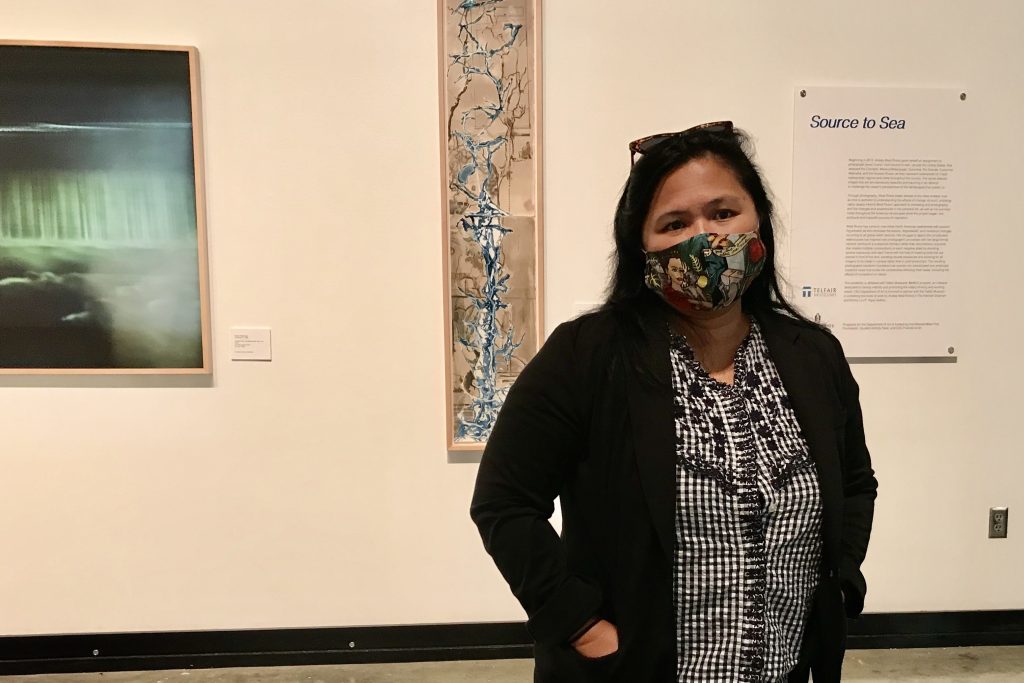 There's been a boom locally the last few years of large-scale public art murals. But is it fair to say they lack diversity?
"I don't know about that. You know, in 2007 ArtBeat came together to create a Sculpture Walk. From that, we eventually had the fabric piece hung from the Dillingham Bridge, "Swing & Sway," and then in 2012 we had the Hensky mural in the 1200 block of Broadway. That really changed the way people interacted with public art here. People were coming from out of town and doing Instagram videos in front of it.

The charge that led all this change happened in 2007 when CSU's arts moved downtown. We were all here as creatives plus the boom of the downtown-area business and that created a spark. From then on, we started seeing all the amazing connections that people have."

From what you see in the art students here at CSU, what's the future look like for diversity in the arts?
"I think the students now—they're more conscious. They know what's happening. And it means a lot to them. They're really involved and they recognize they can use their talents to create a voice and make changes. Part of that is technology making us more aware of what's happening. Also, they're using it to reach each other—someone in France, someone in Australia. It's really connecting them.

Look at us now—we're in a challenging time teaching with the pandemic and we just had one of our highest enrollments. Students are eager to come back and try to make the best of the circumstances. And they don't want to lose their studio!"

What can you tell us about the new We Cannot Walk Alone exhibition along the Riverwalk?
"The show was created out of hundreds of submissions we received when we put out the call for original artworks created in response to the police killings of George Floyd and Breonna Taylor. We received images and photographs of the marches from all over Columbus and other places. We also got written responses with themes of justice, peace, and unity.

We are partnering on this project with Dragonfly Trails and Becca Zajac has been just amazing; she's on the forefront on this. Sherricka Day, been an amazing advocate.

This exhibition is all about responding visually to what is happening. These are the things people need to be aware of as to what's happening all over town, not just in the Uptown area.
We Cannot Walk Alone is paying attention to sectors of our community that maybe are underrepresented. We're also doing this project with shipping containers that go to different spots in Columbus. Art Container is a 20-feet gallery in a shipping container. We'll open it for programs, exhibitions and performances inside and use the shell as a mural platform. Sammie Saxon has also been a big part of the leadership in this. Even though I think we're all leaders."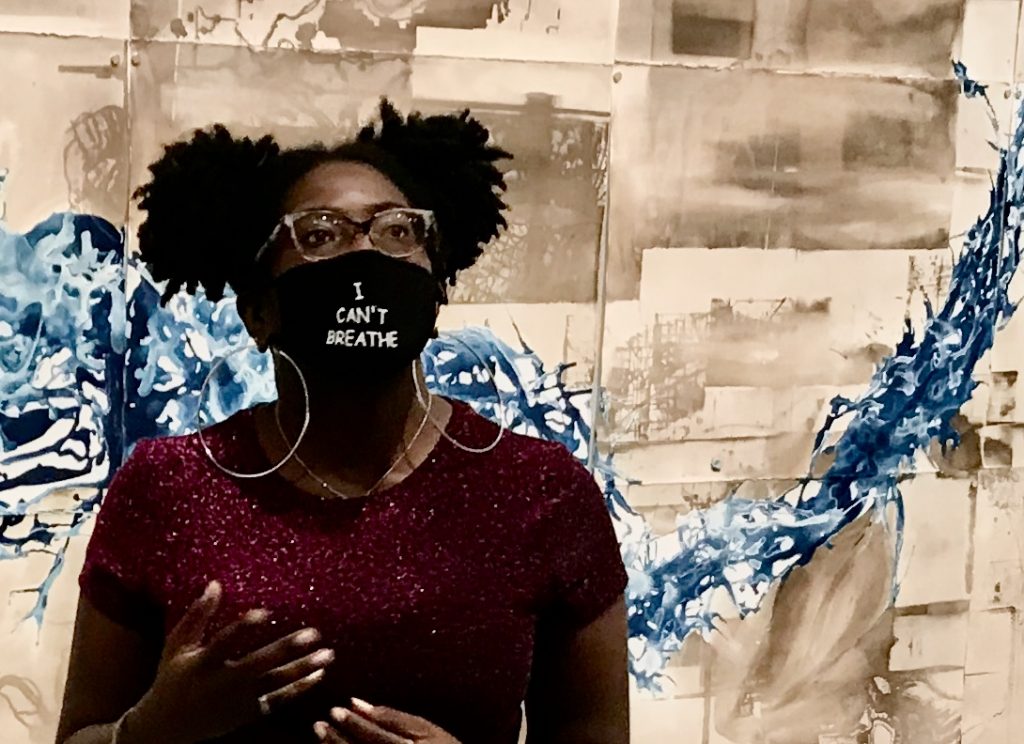 What kind of impact can public art have on a community's collective conscience?

It's big. That's been proven across cities—how public art not only educates us but also changes our perception of our environment.

It also depends on what type of public you have. Years ago, we did a project: the "Before I Die" wall. It was controversial—mostly the works some people were using language not community-minded. But a lot of people really responded seriously. Being in a military town was a heavy question. That question alone—can you imagine if we had that up right now.

I think we need public art. It's a platform where you can invite artists to voice their ideas but also to reflect on what's happening in the community. As far as the public audience's response: They can take it and learn from it, or they can take it and start a conversation. It doesn't matter whether it's a positive or negative conversation. As long as it does create a dialogue."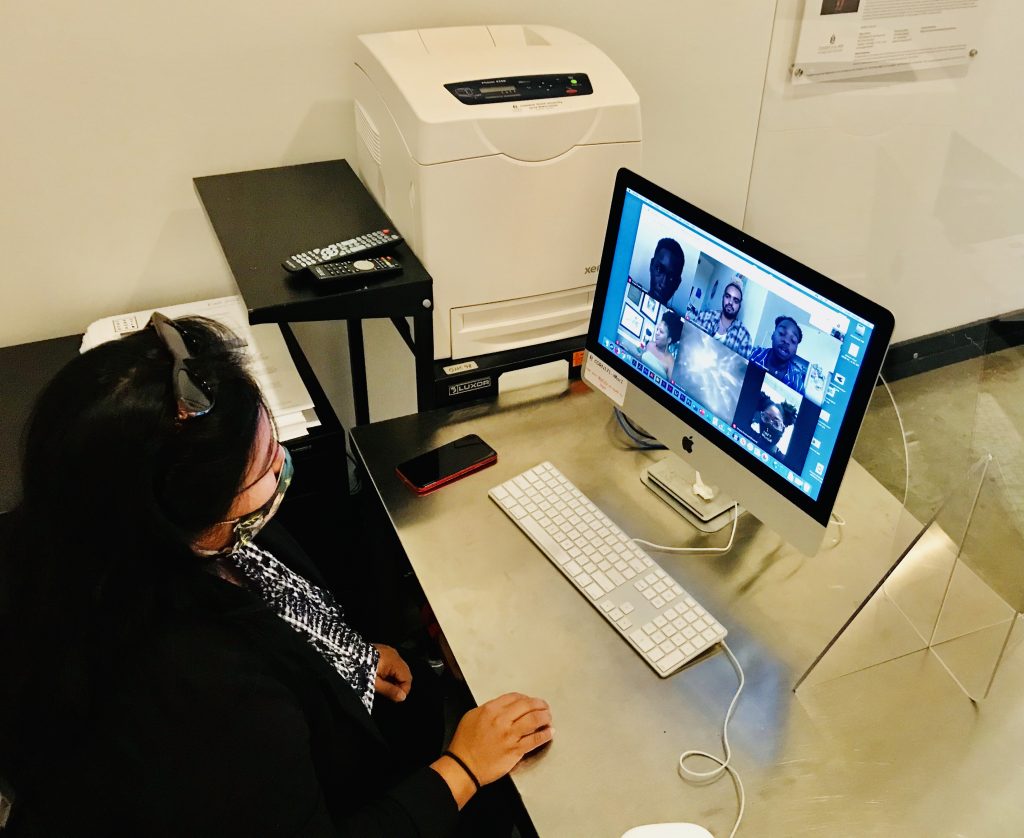 Age: 47
Education: Master of Fine Arts in Sculpture
Hometown: "I was raised in Pittsburgh but I've been here in Columbus almost 17 years now. So I feel like it's Columbus." 
Artistic Mediums: sculpture, drawing
Favorite artist: Ann Hamilton
What's the typical reaction first-time visitors have when first discovering the Illges Gallery at CSU here in the Corn Visual Arts Center? "They're always surprised by what they encounter in the gallery because we always have major contemporary artists passing through. People are also surprised by how contemporary our building is and how it's an art school they didn't expect here with these facilities." 
Favorite exhibit from your time here as Gallery Director: "As an educator, the annual BFA exhibitions are my favorite. To see what they come up with at the end of their collegiate career. It's all fresh ideas: the works are a response to that age of innocence, a response to the history of art, a response to what's happening now."