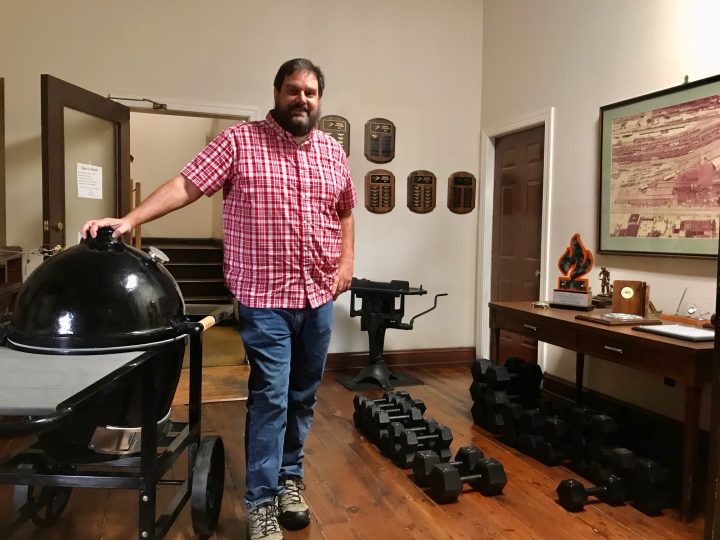 Plant Manager, Goldens' Foundry & Machine Co.
After Golden's filed for bankruptcy back in 2009, what changed as far as your business model to foster the type of success the company has today?
"Not really anything changed as far as our business model.
To go back a little further, in 2001 we made a massive investment in the Columbus plant. We put in a brand-new molding operation that was going to catapult us to the next level. Then 2001 hit. Post-9/11, the economy tanked. We came within a frog's hair of not making it at that time. But the foundry business, like most manufacturing, is cyclical. You have to ride the good times, hang in there in the low times.
Then we made a huge investment in Cordele and everything was going boom. Things were going fantastic. Then within a year and a half of us starting operations in Cordele, the Great Recession hit. At that point, that huge investment, it didn't have enough time to get up on its legs before the bottom fell out. So that's what ultimately crunched us. It was too much. But we had really good partners that helped usher us through it.
We were fortunate enough to keep operating. Every time, in the foundry business, there's always this pent-up demand, pent-up energy. It's going to come back, and when it does, are we going to be ready?
A lot of the foundry/manufacturing sector didn't come back after the Great Recession. We were fortunate enough that, within two years of the end of the Great Recession, we had a fantastic, state-of-the-art foundry down in Cordele and a really well-managed foundry here in Columbus. }

And basically business took off. The demand came back. And, like a lot of businesses, demand solves a lot of problems. Orders cure a lot of things. We were set up well to be successful."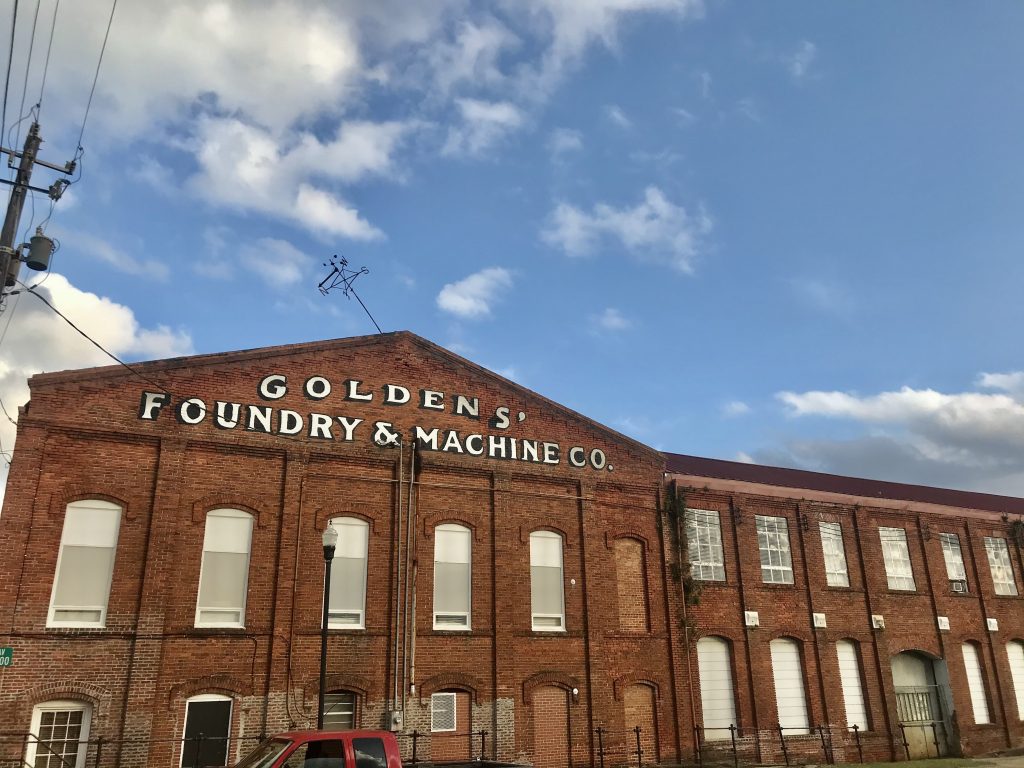 Going back to before the pandemic, there was a lot of optimism as far as American manufacturing.
"We were feeling the benefits of rejuvenated sectors of business. We had, over the last 3-4 years, a lot of new inquiries, picking up a lot of new domestic customers, and we expanded out our international business as well. Because of the pandemic now, all of that has become much more constrictive.
We're now sending a lot of stuff down to Mexico.We're actually sending parts over to Asia, spending parts to Europe.
Over the years, we've gone from a foundry designed to supply the textile industry here on the Fall Line to being a regional Southern agricultural company to then expanding into more of an East Coast manufacturing company. We've now positioned ourselves as a global supplier."
And now with the kettle bells, you are manufacturing niche products.
"This isn't our first foray into doing niche stuff. Obviously, we got the kettlebells and the dumbbells going—that's been Five years ago, we started doing the Goldens Cast-Iron Cooker line. Which was a crazy idea. Why in the world would we try that? The answer is that is because we could. That led to us doing the fire pits and adding in some accessory items.
If you go back, during World War II, like many manufacturers, we converted 100% of our manufacturing over to supporting the war effort. We poured castings for the U.S. Navy and built the Liberty ships. We did that for 3 and a half years.
If you go back 20 years before that, we had our own line of cane-mill products. Golden's, we had our own line, we published this annual catalogue—here's all the cane mills we make, here are the accessory parts we make that go along with making syrup.
It was definitely different for this generation to do something new, but there was this sense of, 'Hey, we've done this before.' This was our chance to try and do that."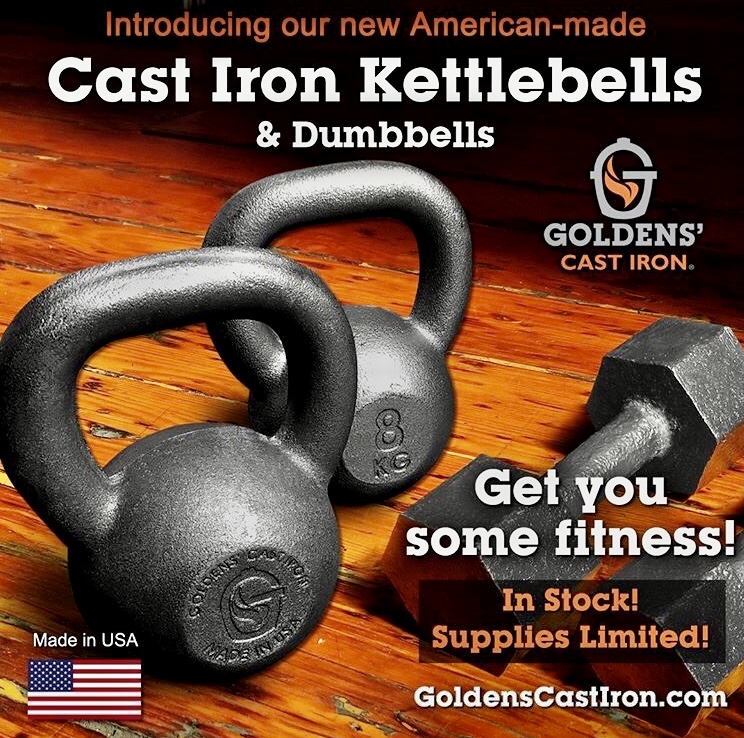 How has the pandemic affected business?

"It has created challenges for us. We started requiring masks very early on. We started doing temperature checks. We've ridden the wave of the latest news of what we need to do.
As the Midwest started shutting down—a lot of our customers are in Illinois, Indiana—we slowed down, too. In February, we were rocking and rolling. Then that slowly went away. But we haven't stopped working."
Do you think the pandemic shows the need for more American manufacturing?
"Well, I certainly do. I'm not an economist, I don't understand all the machinations of what makes all the wheels turn. I think a lot of people, when there was the run on toilet paper, were awakened to the susceptibility of a global supply chain. All of a sudden, you couldn't buy electronics—all of a sudden, you couldn't get ear buds.
American manufacturing competing in a global market is a bare-knuckle business. The headwinds we face to just stay current with our existing domestic customers are significant everyday. Because there are so many threats from low-cost countries to come in and steal the work. And I mean literally steal the work. They can produce the casting, take it through finishing, put it on a boat for 3 months, and ship all the way to Tulsa, Oklahoma for a third of my cost to do it.
For my customer, the main motivator is, 'How can I spend less money?' So it is a challenge. What we've slowly seen, things are starting to level out. The true cost of a product now is not some accountant in a 15th floor office with a spreadsheet saying, 'Hey I can save 38 cents a pound on this,.' Because that doesn't take into account the true cost of the entire supply chain.
We're ambassadors for American manufacturing. We're our own preachers, just to reinforce the idea that, 'We're making it safely. We're taking care of our employees. We can respond quickly if there is an issue. We've had to inject a lot more flexibility into how we operate in order to be successful. And we've been successful."
Is there a sense of pride of being successful in doing that here in our community?
"I believe strongly that one of the most important things for our company is to stay relevant in our community. When times are slow, we're still supporting 250 families. When things are busy, busy for us, we can be supporting as many as 600 families. We're supporting careers that are white-colllar, high level, but also supporting jobs to folks that don't have the education, skills, or training to do the job.
I feel like we've been a big part of that industrial history of Columbus. The problem is so many businesses have moved away, so the pool of available jobs has shrunk.
We're generational—the Boyds and the Goldens. But there are dozens of people here who are also generational. I can't tell you how many people working here had a father work here, an uncle, a grandfather who worked here in the '30s. I hope that means a lot to Columbus."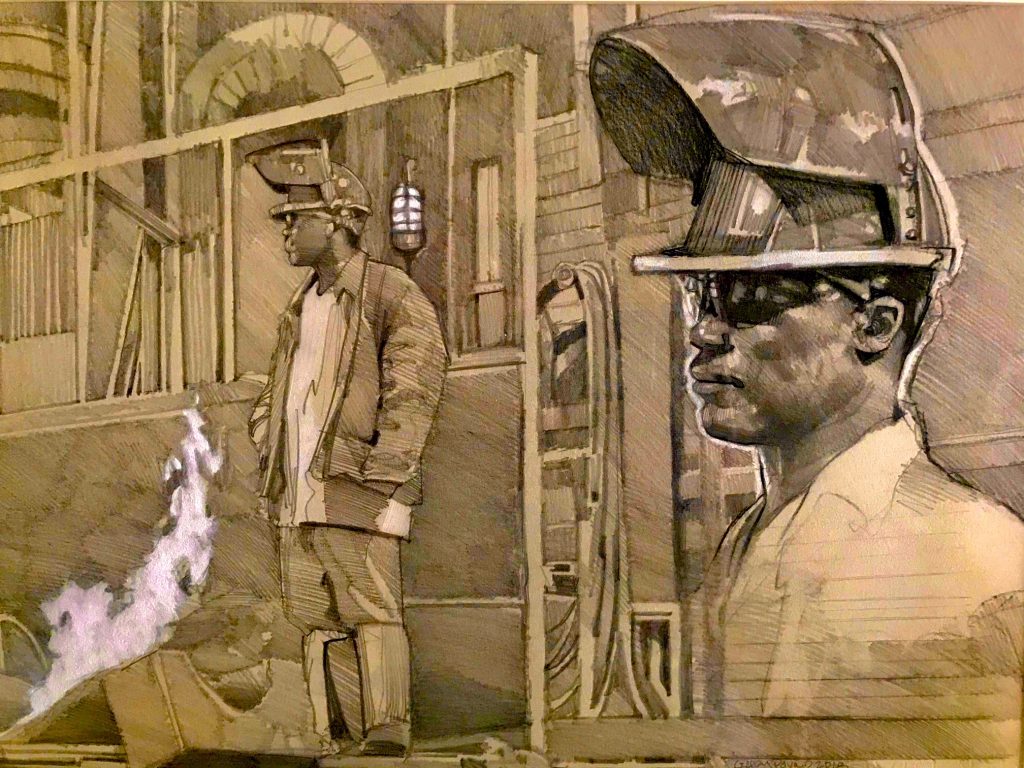 Age: 43
Family: Wife, Jennifer, 3 daughters

Education: Pacelli High School, Class of 1995; Auburn University, degree in journalism, Class of 2000

Number of Golden's employees: "It fluctuates, but right now,175."
How hot does it get in here in August?: "There's no place hotter than a foundry in the summertime. And there's no place colder than a foundry in the wintertime. And the reason is we have a bunch of open bays."
What all products does Golden's manufacture:"We make a wide variety of castings that support agriculture equipment, construction, oil fields, water pipes, airport parts, roller-coaster parts. We're so diversified. Mostly, we pour iron into that mold, two days later we're putting a finished part in a box and that part is going to OEM [Original Equipment Manufacturers], providing assembly-line ready parts for manufacturers of goods."
You're a musician. What instruments do you play: "Guitar, banjo, mandolin. String stuff."
Is there a unique set of challenges to running a family-owned business? "There is. We're a family first. We're close—3 brothers and daddy's still here. I get a chance to hang out with my dad everyday. Now as he's getting up in age, and I'm getting older, that's become something I've realized is a real special gift. This is a tough business. We're all 3 pretty strong-willed individuals. We trust each other. None of us have any sense there's any maneuvering, any backstabbing, going on. There's no race to the top here. That's the positives. The challenge is, we're brothers. All the relationship dynamics that were made back in the '80s are still around."