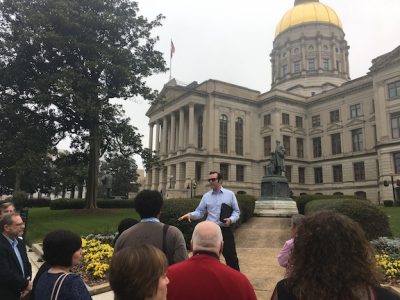 Morning fog had lifted from Georgia's gold-domed state capitol yesterday by the time Cameron Bean addressed at its front steps the group he assembled on behalf of the Columbus Cultural Arts Alliance.
"Our trip here has a three-fold purpose, Bean, executive director of development at CSU, said of Arts Day activities:

"Big" check presentation in the rotunda
Lunch & Learn tourism industry meet-and-greet
Meeting with local elected officials in the Georgia General Assembly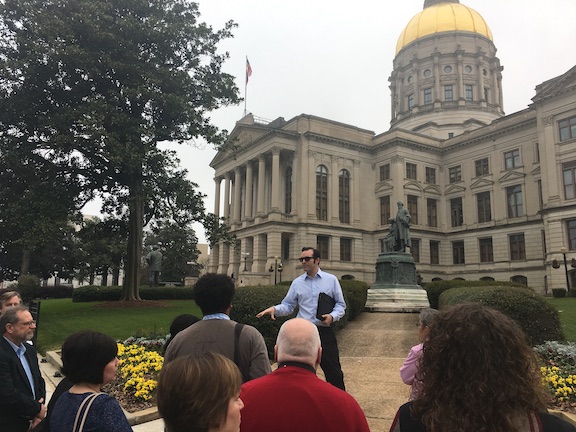 Inside, the capitol buzzed with people. Hectic enough with humans to snag a cup of coffee from a side-room breakfast serving a bunch of judges, the friendly swarm of groups including: Alzheimer Association reps in "We're turning Georgia Purple" purple t-shirts, pharmacists in white lab coats, Girl Scouts, and some rodeo-star looking dudes tall and proud in white Stetsons.

Glimpses inside the august political body in full swing on the ninth day of the 2019 session included surreal scenes of:

Code-word negotiations in a men's room choked with poor ventilation to the point you think it might blust loose with the bacteria juice in a scene found in Columbus' own Government Center but SURELY not under the Gold Dome.
Girl Scout cookie boxes being placed on state senators' desks as one member speaks against partial-birth abortions
Gov. Brian Kemp spoke during the check-presentation ceremony for the $3.2 billion in state and local tax revenue generated in 2018 by the state's tourism industry. He talked of a Georgia where "job rates are up, incarceration rates are down" and began most paragraphs with "Tourism …" The arts industry, which like tourism falls under the Dept. of Economic Development, was not specifically addressed.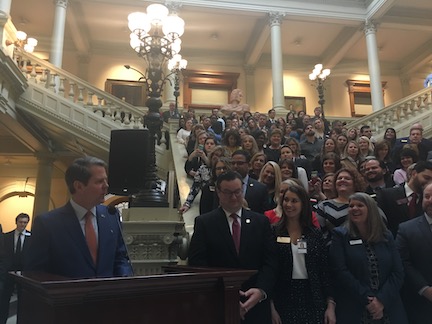 Next up, Lunch & Learn was on the 15th floor of the "Slappy" Floyd Building across Martin Luther King, Jr. Drive. It was hosted by the Dept. of Tourism, engineer of a record-breaking $63.1 billion economic impact last year. There, the arts delegation was again joined by Visit Columbus GA staff and executives to talk tourism efforts such as ExploreGeorgia.org and market development.

The few-dozen local Arts Day attendees filled the seats lining the walls of the room reserved for the 2 p.m. meeting with Columbus-area legislators.
Around the table at the room's center. seats for the state officials sat empty and the room got stuffy. Each place at the table was provided a sheet from Columbus Cultural Arts Alliance on what its members deliver for Muscogee County in a year:
$75.1 million total economic impact
350,000 event attendance events in Columbus
$7 million-plus spent by those audiences, generating
$700,000-plus in state and local tax revenue
Rep. Calvin Smyre entered the room and was introduce to each visitor. He spoke of his steadfast advocacy of the arts in Columbus during his 30-plus years in office (including help securing the RiverCenter) for its economic benefits but, more importantly, for "the way of life" arts engenders society. The Synovus executed then emphasized the need for those assembled in the room "to elevate" the arts in Columbus.
The ever-gracious Smyre was soon joined by Sen. Ed Harbison. Rep. Debbie Buckner did not attend. Sen. Randy Robertson did not attend, either, but did individually greet individuals earlier and gave group tours of the senate's stunning chamber. Robertson's wife Teresa Garcia Robertson, who recently left Outdoor Events to launch a marketing firm, talked at length with several local Arts Day attendees.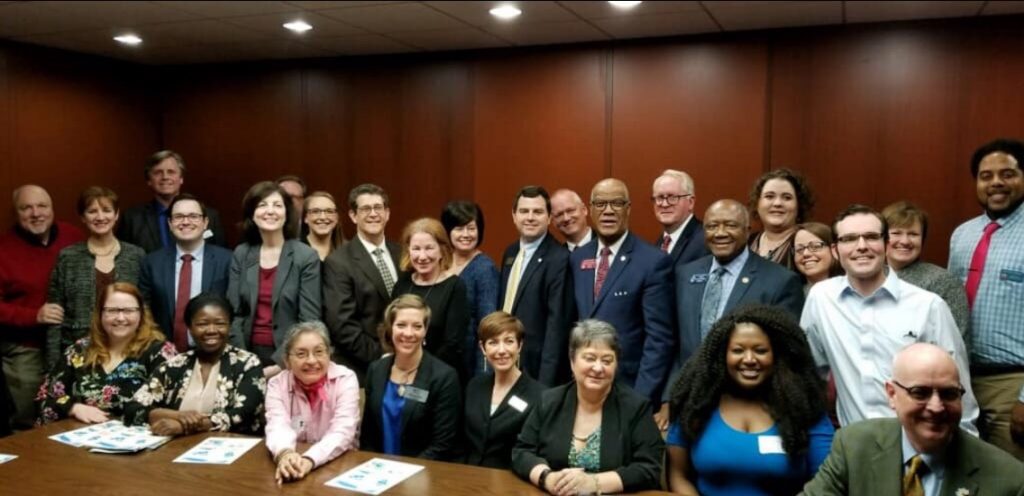 At the meeting's close, Bean offered up the only stated request: to restore the annual amount in grants money  available through the Georgia Council for the Arts to its pre-Recession level of $4.5 million. The agency's annual awards dropped as low as $500,000 but is now back up around $1 million.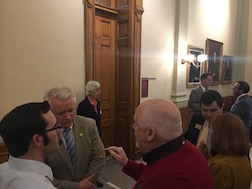 Like his friend Symre, Springer Opera House Producing Artistic Director Paul Pierce is widely recognized as a venerable dean by his peers. Pierce was able to make direct appeals to continue a sales-tax exemption for theaters for tickets and construction (largely to help with Atlanta Theatre Alliance's upgrade at the Woodruff Arts Complex in 2018).
Pierce ran into a peer at Lunch & Learn in Lisa Love, Tourism Division Director in the Georgia Dept. of Revenue, hailed for her decades promoting Georgia music.
"The whole world's been turned on its head," Love said in a quick chat with Pierce about the Digital Age's new frontiers. "But once you accept that and adapt to that new model, then you open up for so many new options and opportunities."

On the bus ride back to Columbus, Stephanie Payne was asked her thoughts on Arts Day as both an arts-industry leader (as executive director of Columbus Youth Orchestra) and performing artist playing wind instruments for hip Irish folk group Wolf & Clover.
"I think it's imperative to show up to our elected officials and show them what's important to us," Payne says. "It's the first time since I've been in Columbus that a collective group has gone to the capitol. It's an important step in the right direction and I'm glad the Cultural Arts Alliance supported our advocacy. I hope that it makes a difference."
She says that performing artists are removed from such "macrolevel" views of the arts unless they're connected to an institution in some way.
"I'd love to find a way to activate other local musicians for this type of advocacy," says Payne. "I think they'd be a powerful force for the better."