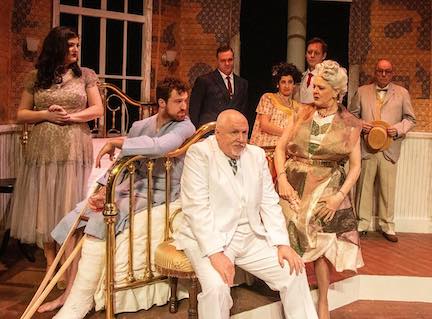 Big Daddy's plantation comes to Paul Pierce's farm
"I can really relate to Big Daddy," Paul Pierce says of the first leading role to lure him back on the Springer Opera House in decades.
Sitting in the Springer's lobby Tuesday afternoon, he then explains the parallel he discovered between Big Daddy, the central character in Tennessee Williams' superb Southern Gothic dark comedy Cat on a Hot Tin Roof, and his real-life role as Producing Artistic Director after 30 triumphant years leading the venerable institution.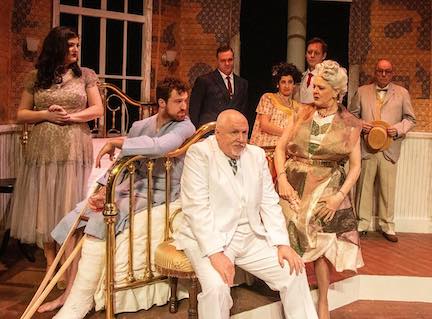 "I am the head of a big farm here," Pierce says, casting his hands around the Springer from his seat in the lobby Tuesday afternoon. "There are a lot of different parts and different people on the farm—each and all with needs, which change constantly. What I've learned is that the boss can't just be the boss. The boss has to be persuasive. The boss has to know what they're doing. Big Daddy understands the force of will and persuasion required to keep this thing moving forward."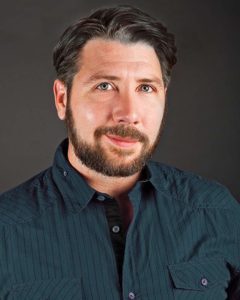 *Springer Opera House

* 7:30 p.m. Thur.-Sat. 1.24-26, 1.31-2.2, 2:30 p.m. Sun. 1.27, 2.3|

* Tickets $17-$38
His last starring role at the Springer coming in the '90s (as Charlie Baker in The Foreigner), Pierce is best recognized by local theater-goers as the Springer's public face and the man who makes it all happen from behind the scenes.
"When I was young, all I did was act," he recalls. "But never roles like Big Daddy or King Lear—the characters raging against the dying of the light. But here I am, just turned 66. Big Daddy just turned 65. I'm the right age for a good perspective on who he is and what drives him. Much of that is legacy. He's feeling like he could die pretty soon. So, naturally, his focus turns to, 'What will be the legacy of my life?'"
Seated in a lobby chair across from Pierce, Atlanta-based show director Topher Payne adds that this idea of legacy arrives atop family schemes to inherit Big Daddy's $10 million farm. "We calculated that to be about $97 million in today's money," Pierce says.
"Big Daddy is one of the greats," says Payne. "He is the Southern King Lear. One of the mountains actors dream of climbing."
For his inspiration in taking charge as director, Payne cites his native Mississippi. "That means I've seen a lot of bad Tennessee Williams," he adds with a laugh."I've spent my entire directing career wanting to get my hands on a Tennessee Williams piece. I love his delicious use of language—as if that's somehow separate from the way Southerners talk. We have the gift of gab and love to hear ourselves tell a story."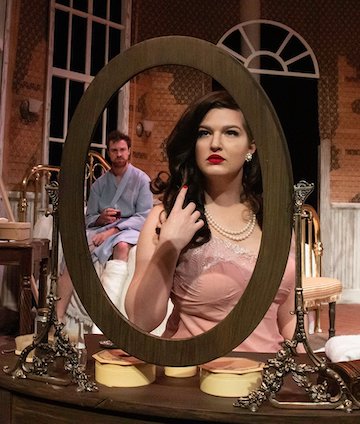 The story of Cat on a Hot Tin Roof unfolds fast and furious as the Pollitt family gathers and plots a path to Big Daddy's amassed fortune. "When there's that amount of money on the table," Payne quips, "it's going to bring out the worst in people."
Artistic partners and friends for 10 years, Pierce and Payne's copacetic collaborations at the Springer include acting together in A Tuna Christmas and staging Payne's national award-winning original comedies Lakebottom Proper, Lakebottom Prime, and Perfect Arrangement.
"We've worked together for a long-time," says Pierce, who directed Payne in Frost Nixon in 2012. "This was the last item on the checklist, for Topher to direct me. Really amazing that it turns out to be Cat on a Hot Tin Roof. We both fit in quite well with Tennessee Williams. The quirky stuff people say and do, we're sponges for that."