You moved down here from your native North Carolina for this position in August. What are your impressions of Columbus so far?
"I love it. It reminds me a lot of my hometown of Winston-Salem, North Carolina. Similar size. Similar demographics. It's hot and humid and I prefer a tropical climate. My family is very happy to be here. My son [Jackson] is in first grade at Clubview. My wife [Stephanie] enjoys it here and we're making friends and integrating into the community. Things are going well."
How does need change from one community to the next?
"Every community has its own set of assets as well as its own set of challenges. It's about building on the assets that exist and leveraging partnerships and relationships to better address the challenges that are here in Columbus.
Poverty is something that is not specific to a certain community. It exists almost everywhere. But we have a high poverty rate here in Columbus—22%. Addressing those issues of inner-generational poverty is paramount to what we're doing here."
One thing that strikes me about the United Way of the Chattahoochee Valley is that, each year, it sets the bar higher and higher as far as the goal for its annual giving campaign. And it always reaches that goal. Why is that?
"It's the community—the spirit of philanthropy that exists here. The corporate citizenry is incredible and that filters down from the leaders to their staff. It's a long tradition here that started with many of the families that built Columbus. It's just an incredible, generous place."
What's the key to getting your message out to people to inspire them to donate?
"It's relationship-based, always. Just like everything else in life. It's getting out in the community and finding out—in real time, on the ground, face-to-face—what those needs are and how people can support causes they care about right here at home."
Have you identified specific needs that you'd like to tackle in our community?
It's a little early for me to identify specific needs. I've talked to a lot of folks who've told me about their hopes and dreams for the future of Columbus. And let me be clear: It's not just Columbus—it's the entire Chattahoochee Valley. We represent 8 counties in both Georgia and Alabama.
The one that really jumps out to me is iner-generational poverty. We have 22% percent in this area living in poverty. That's not a sustainable number for growth. The largest drain on Gross Domestic Product in the United States overall is childhood poverty. It's up to 28% of our GDP. That's an enormous number—it's over $3 trillion a year.
Addressing those issues is not only a humanitarian issue, but it also makes good business sense. Every dollar spent addressing issues related to childhood poverty will bring back $7 to a community that effectively addresses those issues.
What have you seen so far on the Impact Tours that the United Sway is conducting?
"The Impact Tour is way for me, my staff, our board, and our donors to get out and visit the 26 partner agencies to see their work in action. These agencies are all amazing places serving high numbers of underserved folks who otherwise wouldn't be reached if there wasn't United Way funding to help these agencies.

You recently visited SafeHouse Ministries, which helps people recently incarcerated, as part of the United Way's Impact Tours.

What a great program. If you're coming out of prison, you have a lot of needs. It's about helping folks get back on their feet that have had that kind of event. Last thing we want to have is recidivism and see they come right back into the criminal-justice system. After a certain amount of time caught up in that cycle, your stint in jail is going to be that much longer and it's going to be that much harder to reform into a productive member of society.
High rates of recidivism is a very expensive thing for the state and for municipalities to deal with. Retraining is a huge thing and something that needs to be focused on. Chaplain Neil Richardson and SafeHouse are doing a great job with that."
It seems you're able to make your case on both moral as well as financial grounds.
"Absolutely. The moral case is the one that we're really focused on here. But making that business case for shy investing in the United Way is a good use of personal and corporate dollars, is huge. There are limited resources out there, so people who are giving want to know they're making a difference. If you invest your hard-earned dollar in United Way, you're goign to get a return that's above that amount of money. It's a collective impact because you're combining your dollar with with those donated from 15,000 other local residents to support agencies that are working toward a collective impact together. Trying to inspire that collaboration between individuals, corporations, and partner agencies is a major part of what we do."
Looking forward, how would you ultimately like your tenure here to be defined?
"Having been in this position for just two months, defining my tenure is not something I've yet to think about.

It's not about me, first of all. We have a lot of leaders on this staff. I'm the CEO but we have leaders in every department. I encourage our staff to be leaders in in their role, top to bottom, on a daily basis.
But if had to say something, I would say, I would like to be remembered as a humanitarian first. That i was efficient with people's dollars. And I brought a level of innovation to our organization as well as the broader community."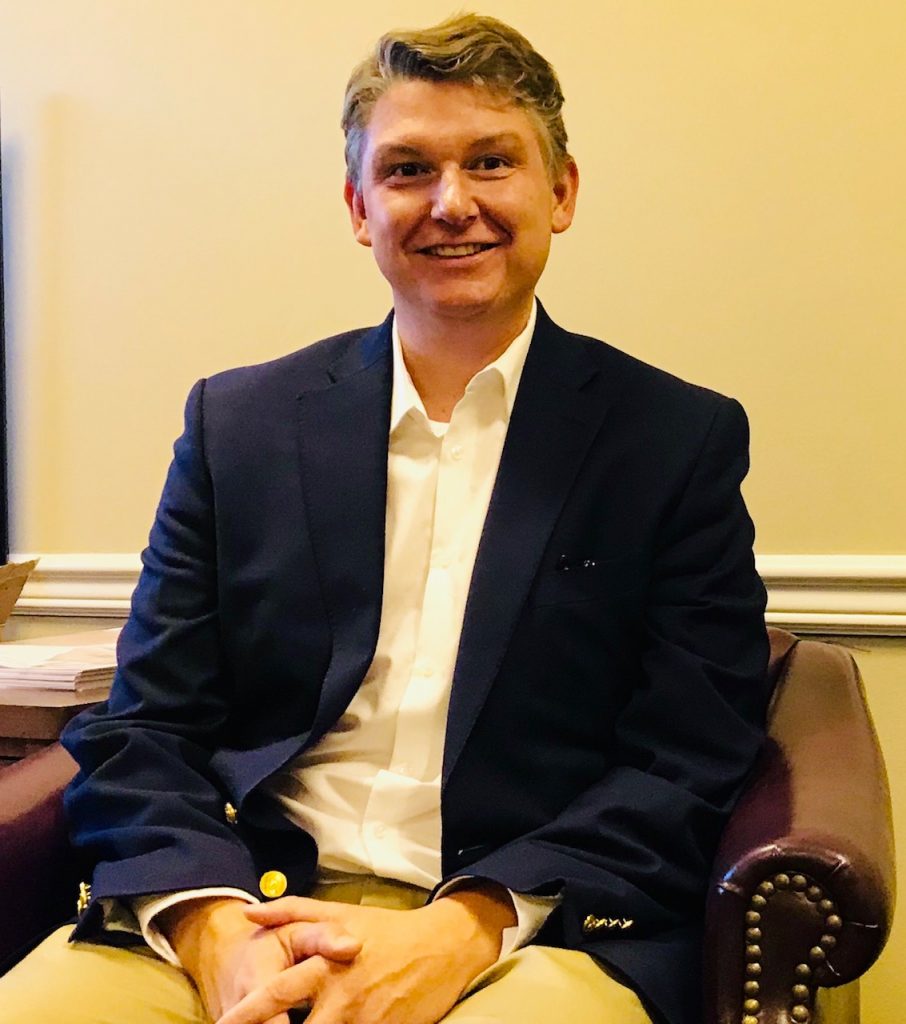 Age: 44
Education: Bachelor of Arts, History, University of North Carolina-Chapel Hill; Juris Doctor, practiced corporate law in New York City for 10 years before joining United Way in North Carolina
Individual who inspires you: "My great uncle [Robert Huntley] has inspired me the most in the way I've gone about developing my career. He was Dean of the Law School and then President of Washington & Lee University. When he became took over, they were deeply in debt. Over his tenure, they built up a $600 million endowment. Having a figure like that in the family was a real inspiration, especially when learning about fundraising. We were able to share a lot of conversation late in his life. He had a lot of practical life lessons and was a beacon for what you can achieve if you put your mind to it."
TV Show: "I've been watching a series on Netflix about [Microsoft founder] Bill Gates. What a fascinating story about the impact one individual can have on an entire society.

What I've taken away from this is that we may have a Bill Gates—a genius of that level—right here growing up in South Columbus, in Phenix City, in the Mill District, who may not have that chance. Gates came from a well-to-do family, so he had a leg up in life.
So ensuring everyone has a equitable opportunity for success is a real passion for me. To help those kids get what they need out of their educational experience, their home life, to become a success. Every individual has the ability to make a difference and it's the goal of the United Way to step in and make sure they have what they need to get there."
Most challenging aspect of your job: "All the various things that go along with being a new CEO. Prioritization of things of what's now a 24/7 job. Our technology systems need some updating .I need to get out in the community and meeting as many people as possible, but I also need to find the time to process all the information I'm getting.

For the standpoint of United Way overall, it's workplace giving. The trend of workplace giving is headed downward nationwide. We're fortunate not to have that trend come to the Chattahoochee Valley yet, but I have to be thinking of ways to get ahead of that curve."
Most enjoyable aspect of your job: "The relationships. Learning about people's lives that we serve. And getting to know our staff more and more each day. Just making a difference, really, and seeing all the ways this organization has made a difference for 70 years and strategizing how to make an even bigger impact in the future."
#1 Reason People Should Donate to the United Way: "There is huge need in our community. In order to meet our need, folks should support based on the need level identified on our assessments. Give to support the work that our board and broader community has identified as needing to be done.

Giving to the United Way is a wonderful way to give across the community in a process that is completely transparent. We vet every dollar is spent. So you can feel good about giving because it's going directly toward needs we have identified and are committed to serve."