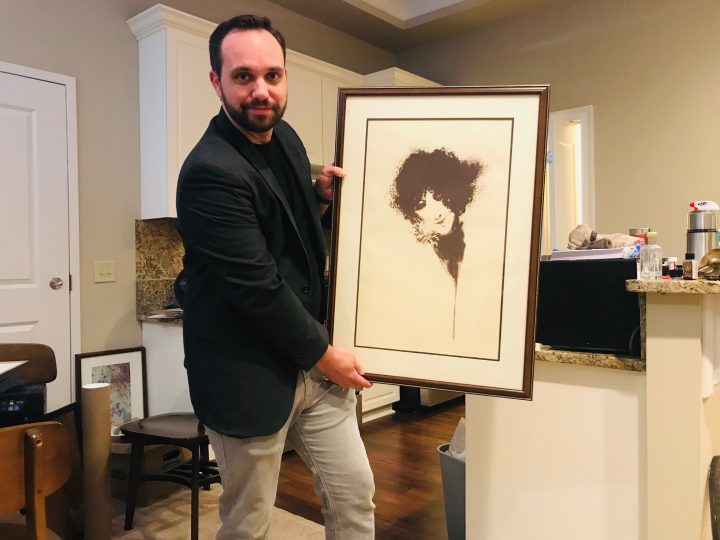 Columbus native and New Orleans resident Seth Howard III reflects back on the retrospective exhibition "Thirty two / Fifty two" he curated of works by his late father, beloved CSU art professor Jamie Howard, which was on display in October in the Illges Gallery at CSU's Corn Center for the Visual Arts.
Your father really traded a painting for his house at 530 Broadway?
"The reason he was able to do that is because it was closer toward Veterans and it was rundown. He feels like he got the sour end of the deal. He felt the painting was in better shape than the house, and said he had to spend the same amount of money to buy a house as he did to re-do that one.

Hobos had been staying there and setting fires on the floors. No women were there, but there were 32 pairs of women's shoes in the closets. Strange things. He took all the wood off, stripped it bare, and started fresh. He had some architect friends come and design things how he wanted them."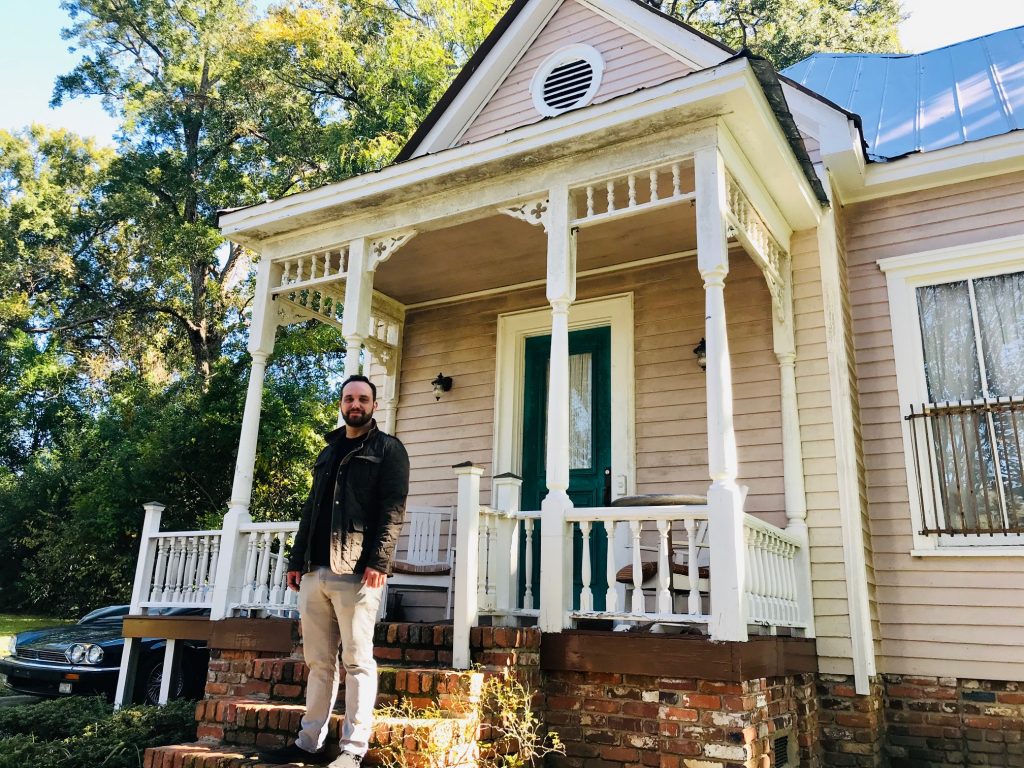 How does a kid from Jordan High end up in the often-elitist art world?
"My father was an artist here for 52 years. He taught at CSU for 32 years—CSU offered him the most  when they were starting up the Art Department. That's how I ended up being born here and how I ended up following in his footsteps. I'd go to the studio with him every day. It was on 2nd Avenue, in the schoolhouse building.
My grandfather, Richard Foster Howard, was a Museum Director. During World War II, he was a Colonel, and then after the war was Chief of the Monuments Men, which was charged with returning the artifacts that were stolen by the Nazis. My grandfather went to Harvard, Yale, and Cornell for Art History. So he was a genius for that; he spoke 8 languages, he could read hieroglyphics.  

He sought to find places that didn't have a museum, especially in the South, and help establish one. He did that in  Dallas, Texas, before the war, and after the war founded the Birmingham Museum of Art in Alabama. My grandmother, Helen Boswell, was a painter in New York City.Her family was James Boswell, who wrote what's considered the first biography, The Life of Samuel Johnson. My great-uncle helped start "Art News" and "Art Digest." 
Art has always been a part of my life from Day 1. It's just something that I'm very passionate about and it's the family business. I always knew I was going to do something with it."
You've started an arts-marketing company, Arundel Arts. What's the successful strategy for marketing art?
"Arundel Arts is still being developed. I'm doing a lot of research and testing out ideas, new ways of doing it with my father's art. My father's work is exceptional—it has everything going for it except that it's not well-known. So I'm testing things out with it so that I can provide those services to other artists. Having an exhibition like this was very informative, how to reach people, how to get things out there. 
People have to think about art when they purchase it. They have to go home and think about how it's going to work in their home.

Of course, a lot of things are done online now.There's this 50-page report every year published on the art market and that's what it says: people are slowly moving away from buying art in traditional brick-and-mortar galleries. People purchase things online now, just like they do with everything. How you see things on Etsy, and Artsy, and sites like that."
Aside from the fact it was your late father's work, what was your process for putting together a retrospective to span an entire life's work?
"A lot of people had seen my father's work when they went to his house, went to his studio. They only saw a few things at a time. I saw 30 years of things getting made, I saw works in people's homes. So I was able to paint this complete picture. People would come to the show, look around, and say, "I didn't know his work was like this' while they were standing there in the exhibition.
My father wrote a little novella in 1988 called "The Day of the  Wedding and Part of the Night Before." The story takes place in this magical setting. Everything is created by the characters. One character does the oil painting. One character does the watercolors. Another character does sculpture. He ties it all together in this narrative set in this imaginary place. The watercolors illustrate that place.

I set it up like that, like there were different artists involved. Four walls, with one all watercolors, one all oil paintings, one all sculpture, one with mono-prints. You could walk in there and think, 'This is the work of 4 people.' But, no, it's all 1 person."
Now considering it was your late father's work, What was it like curating his retrospective?
"It was really fulfilling, really healing, and I feel really good about it. Because his work is so unique and there's nothing like it. And it was all done in Columbus—that's why I wanted to do pe this show here, so people here would know about it.

He spent a somewhat reclusive life. He wanted to work on his work and make exceptional things. And he wanted to spend time with me. If he had just made his work and promoted his work, he could've been one of the most famous artists of the 20th century.
But he was good at promoting—he had 47 shows on 4 continents. So he was able to get his work out there. There's a of his work out there all around the world and I'm trying to track it all down. Now that he's deceased I promised him I would keep his work alive and keep it going and it wouldn't be forgotten."
Is it okay to connect emotionally while working on such a project?
"Yes. Because it's a human thing. And it's for people. And it's a personal thing that somebody made and it's personal for me to share. And it's personal for people to connect with these things. I've seen a lot of people connect with these things." 
How would you describe your father's work?
"Well, it's tricky, because each thing is in its own category.
The watercolors are bright and airy and beautiful. The mono-prints and the oil paintings are a little bit more serious.

Everything is so well made. His technique in the sculptures with the precise, perfect lines. Then the fact that it's tied together in its own story—it's its own thing. It can't be compared to anything else."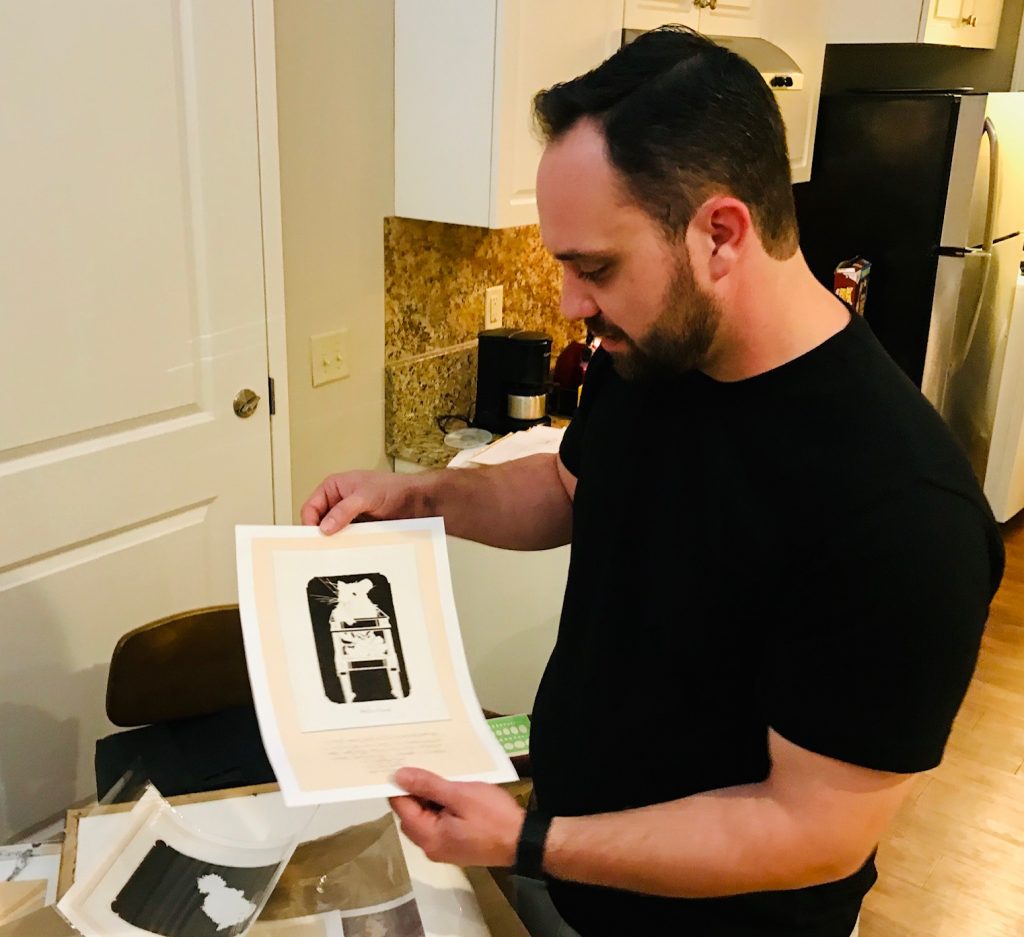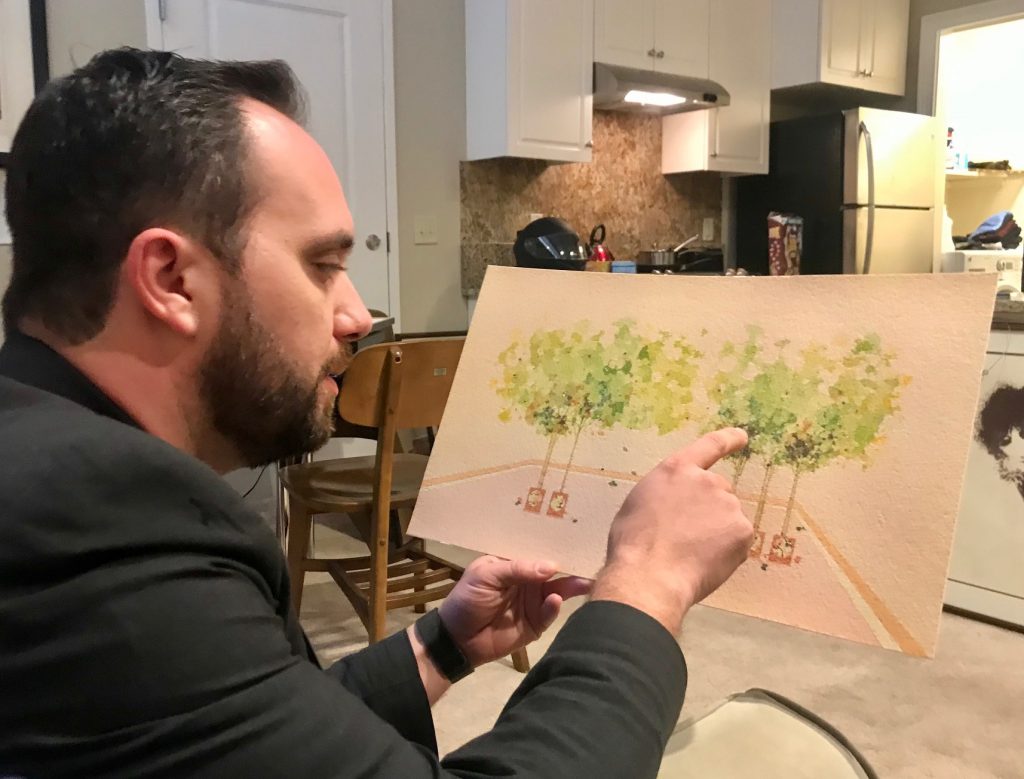 Age: 29
Education: "Jordan Vocational High School—I learned a lot of great things there, especially how to do things with my hands, which has really pad off. I studied at CSU for a while—philosophy with a art history minor. This was before CSU had an Art History major.

I ended up dropping out. I remember thinking it would be this tough, tricky conversation—here was my father, who was an educator for decades, but it was fine. I told him I didn't think it was for me. That I knew what I wanted to do. I wanted to sell art and promote art and I've always known that." 
Book now reading: The Value of Art
Best concert ever been to: The "Emperor Concerto" (Beethoven's No. 5) right here at the RiverCenter, featuring the pianist Antonio Pompa Baldi, who had just won the Van Clyburn Competition
Coffee or wine: "Both—but at different times of the day."

Way in which Columbus, Georgia and New Orleans, Louisiana are similar: "There's a big river and a lot of humidity."
Way in which  Columbus, Georgia and New Orleans, Louisiana are different: "They're both cities with small-town feels. How everyone knows one another. But New Orleans you can go to a new place every day—there's so much to it and always so much going on all the time."

1 thing you hope viewers of the "Thirty two / Fifty two"  exhibition took away from it: "I hope people saw something that was a real treasure that was made in Columbus. Most of those things were made here. So I hope they saw something they appreciate and that one day it'll be a part of Columbus' history."