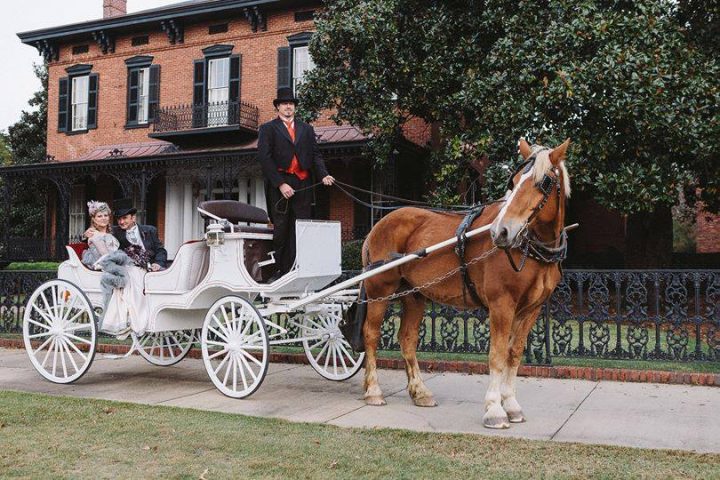 Need some creativity to celebrate your loved one? Here is a list of things to do this weekend, in the honor of love.
Start off your Valentine's Day the night before with Mellow Mushroom. They are throwing a party for you (whether you've been scorned or are madly in love) called, "The Lovers and Haters Ball". A super band was created with members from Common Rival and Stereomonster who will be playing your favorite "Love Sucks" songs accompanied by sweet, romantic melody mixes. There will be a balloon drop, photo booth, food and drink specials. Mellow Mushroom gets weird (sometimes) and we like it.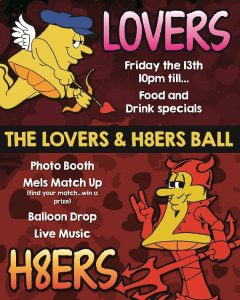 Sherlock's Mystery Dinner Theatre will be kicking off "An Invitation to Murder" this weekend. The Saturday show is already sold out, but there are some slots left for Friday. However, if you miss your opportunity this weekend, their show will be running every Friday and Saturday night through March 21st. They perform at the Downtown Historic Marriott Hotel.

Ice skating is something cool to do in south Georgia and usually romantic, or simply fun for setting your chill weekend. This Friday ice skate from 4-9pm at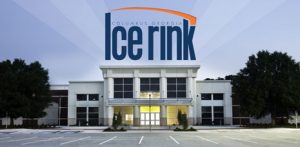 which is located next to the Civic Center. Columbus Ice Rink rates: Adults $7.00/Seniors 62+ & Kids 10 & under $5.00/Skates $3.00. After ice skating, jump next door and enjoy the pros at the Cottonmouths Hockey Game. You may even win a dozen roses, or gift cards.

Need something cheap? Callaway Gardens has free admission on Friday. (This continues Monday-Friday until Feb. 27th)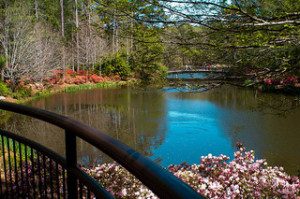 Make it a getaway with the "Love Is In the Air" overnight package. Explore their world-renowned Gardens by day, then enjoy an elegant, four-course dinner at The Gardens Restaurant before retiring to a cozy Inn room, Cottage or Villa. If you do stay the night, Saturday will bring: 9:30am Foundations in DSLR Photography II: Creative Photography Beyond the Auto Mode workshop. 12:30pm Free-Flight Birds of Prey Shows — Discover the majesty of owls, hawks and other raptors in our daily indoor and outdoor shows. 2pm Organ Concerts — Marvel as the majestic sounds of custom-built Möller pipe organ ring out from this iconic building overlooking Falls Creek Lake.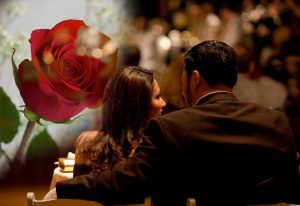 Family Theatre, located on 2100 Hamilton Road, has two performances left on February 13 & 14 at 7:30pm for Our Miss Brooks. "Miss Brooks has plenty of teacher troubles and her escape is in dreaming about her vacation. She has travel folders on several Caribbean cruises which she discusses with the athletic coach who owns his own little sailboat. Miss Brooks suddenly sees that perhaps he's "the man" for her. She's glad she isn't putting on the school play this year so she won't have to fight him for use of the gym. Then the play is thrust upon her! A battle royal develops." $12.00 Adults/$10.00 Seniors, Military & Students.
Country music's hottest singer-songwriters perform with the Columbus Symphony Orchestra on Valentine's. Singer songwriters for Lady Antebellum, Kenny Chesney, Rascal Flatts will perform with the Columbus Symphony Orchestra as they present Music City Hit-Makers Pop Concert at RiverCenter for the Performing Arts @ 7:30pm. Buy your tickets at http://csoga.org. CSO will also be announcing their 2015-16 concert season and season tickets will be available for purchase on Saturday night at special EARLY BIRD pricing.

What is more romantic than a Broadway Carriage ride?? You may have seen one their beautiful carriages at The Landings during Christmas, but have you taken a private ride? They do historic tours, weddings, birthdays, special events, and joy rides! They have two carriages to choose from and a wagonette that can seat up to 12 adults. Call 706.289.1302 for availability and options.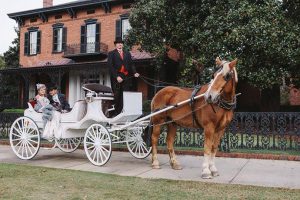 The Loft will be taking dining reservations downstairs, but not upstairs. Live music starts @ 8pm with Mudcat, a 6 piece band playing an array of instruments and fronted by an internationally known gospel/bluesman, for $10. (If you are thinking about trying Buddy and Tom's newest restaurant, Mabella, they booked up last week, don't count on it.)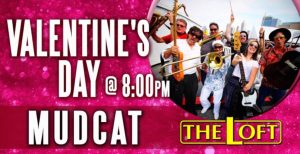 Romantically Ride 3: A Very Vulgar Valentine's @ Oluree Studios, 3908 Hamilton Road, 10pm-3am, "We are going all out with a Valentine's Day bash that will be talked about for years to come – we are bringing incredible DJs, dancers, performers, environmental theming, and more! This party will have 3 separate environments of music: Heaven, Hell, and the Garden of Eden. As soon as you step in the door you will be fully immersed in a magical fairy tale world that has to be seen to believe. This party is for everyone – whether you are single or in a loving relationship – come celebrate Valentine's with hundreds of others! Get there early – if you were at Romantically Rude 2 last year you already know how big the crowd was! Plus you pay less at the door before 11pm. You don't want to be left outside when it sells out! 1 night, 2 floors and 3 environments. Alcohol will be served on site. Must be 21+ to drink and 18+ to party. Ployd from Atlanta, GA, along with local support from CobraMagick, DJ Hennessey, Crude Carter, Shaddex, and P!ko."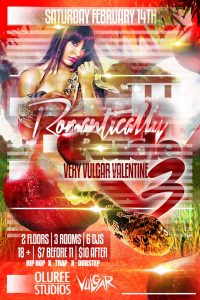 River Flow Yoga and Wellness Studios is hosting a partner yoga workshop with Kristina and husband Nicolas. Bring a spouse, a friend, or a family member and start your Valentine's Day off right.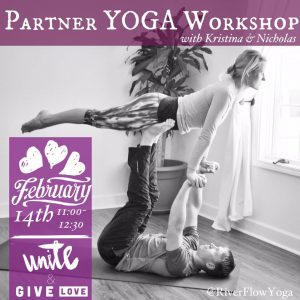 The Tavern on Main Street will host local, good time rockers, Buddy Harden Band, @ 9pm Valentine's night. Have you been here lately? This place has stepped it up since new ownership, complete renovation, better food, and a plethora of various entertainment options every night of the week but Sunday.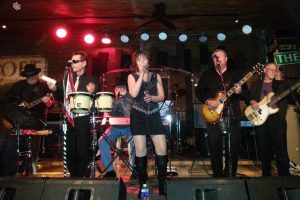 Celebrate your relationship with Midtown Coffee House. Bring your date, purchase a sandwich or salad, and receive 15% off your date's order. Also, be serenaded by special guests Hannah Burton and Nathan Greene from 7:30-9:30pm.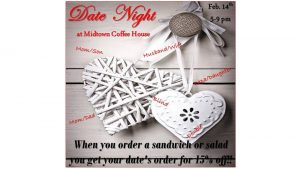 Second Saturday's at St. Nicholas Episcopal Church series kicks off February 14th with Caroline Herring in Hamilton , GA @ 7pm. (It will continue March 14th with Kate Campbell and April 11th with Andy Gullahornin.)  This monthly concert will showcase some of the Southeast's best singer-songwriters. All shows are at 7:00pm and the doors open at 6:15pm, $20 admission price.
Want some adventure? Let love soar on the 14th & 15th: one person zips for free per group of two or more on the Blue Heron Zip Line through Whitewater Express.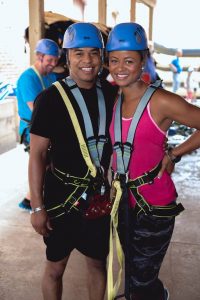 Laughlin at Buck Wild Saloon, or the best music venue in East Alabama,  is calling all of you love birds. Put on your dancing shoes and head out to Smiths Station, AL for this sweet couple and their amazing band.
If you want to be all Bonnie and Clyde, head over to The Columbus Gun and Knife Show on Feb 14th – 15th, 2015 at the Ironworks Convention and Trade Center. With over 20 years of experience you will be able to enjoy the highest quality gun shows. There will be a large amount of guns and knives available to buy, sell and trade.
Last but not least, reserve your candle lit dinner at Waffle House! I confirmed one location that is doing it here at 6751 Veterans Pkwy, but there may be more. The offer takes place during 5-9pm.
Since Father John Misty's newest album, "I Love You, Honeybear", released Tuesday is all about love, I will share my favorite song (at the moment) from it:
Written by Jacy Jenkins
Pictures provided by each event or venue