Though established by an act of the state legislature in 1931, the Poet Laureate of Alabama has no specified official duties.
"People have done different things with it," Jennifer Horne, honored with the four-year designation last November, says of the position. "In general, it's been developed to be the public face of literature for the state, one that strives to show how important the literary arts are. Through my work, I've gotten a pretty good sense of all the different literary activities in the state— from spoken-word communities to MFA programs—and so I am to be a catalyst and connector for things already going on among a
really rich literary community here in Alabama."
Speaking by phone from her Tuscaloosa-area home earlier this week, Horne is preparing for one of several public appearances as Alabama's poet laureate: her "Write What You Have Learned" master class to be taught as part of the 12th annual Chattahoochee Valley Writers Conference.
To be held at multiple venues Friday-Saturday, September 28-29, the conference "brings together lovers of the literary arts," according to organizers, highlighted by a poetry reading and wine-and-cheese reception at the Rothschild-Pound House Inn, writing contests, a keynote address of the creative process, networking opportunities, and master classes held at the Springer Opera House. New this year, the conference will conclude with a dinner theater showcase Saturday night at The Loft, where the top three one-act plays from the conference's 2017 contest will be staged.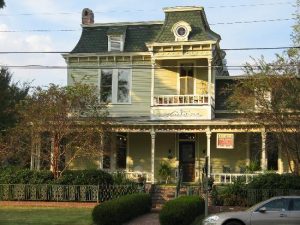 "It's designed to be something poets and fiction writers alike can benefit from," Horne says of her "What You Have Learned" workshop. "From the crafting of a poem to helping generate material, I want to help attendees grow as a writer, to have a bigger sphere in which to write to draw from. Writers always hear the advice 'write what you know,' but many people say their life has been boring, there's nothing to write about. Nobody's life is boring and there's plenty of material to provide for rich writing in everyone."
A native of Little Rock, Arkansas, Horne's life has centered around the written expression and poetry since childhood. "I grew up in a word-rich, book-rich environment and began writing poetry around the age of seven," she recalls, noting encouragement from her attorney father and poet/English teacher mother. "When we heard a word at the supper table we didn't recognize, we'd go look it up in the dictionary. I was taught to think in a creative way and I am very lucky to have a family that valued and supported my writing."
Horne has lived in Alabama since 1986, when she began her MFA studies at the University of Alabama, and counts as a blessing the fact that her father was able to see her installed as the state's poet laureate before he died in January.
Also an educator and editor, Horne's work is known for insightful captures in prose of the Southern experience. She compiled the anthology Working the Dirt: An Anthology of Southern Poets for Montgomery-based publisher New South Books and released Bottle Tree' and Tell the World You're a Wildflower—both collections of her poems focused on the unique worldview and strong, soul-stirring voice of Southern women.
"That's the million-dollar question, isn't it?" Horne replies when asked what makes the Southern voice such a leading light in American literature. "It's important to keep in mind there are lots of different Southern voices—the South is not a monolithic culture. It changes geographically, ethnically, rural versus urban, working-class versus high society. We have a mixture of those cultures and that's partly why we've produced both the Civil War and the Civil Rights Movement in our history. In many Southern cities—take Montgomery for insance—you have major events of both violent horror and great bravery that took place blocks away from each other. It's a rich stew of history. I hope that my voice has a consciousness of all that history, even though it's just me—one person trying to figure out their way in the world and writing as a way to respond to it."
Event information and tickets for the 12th annual Chattahoochee Valley Writers Conference can be found here. Register for the Master Classes here.
Learn more about Jennifer Horne and follow her literary journey by visiting her A Map of the World blog.