"I've written one song off Reflections of a Golden Eye from the passage where the main guy takes his wife's horse out riding," Aimee Bobruk says of a songwriting process that led the Austin, Texas musician to where she sat Tuesday night, sipping wine on the front porch of  Carson McCullers' childhood home.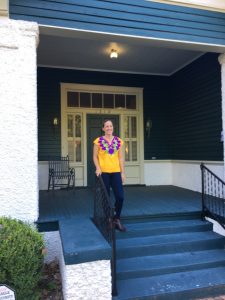 "He's riding, loses control and finds his bliss," she continues, talking during a quick break from the welcoming reception in her honor inside. "Then he retracts from that bliss and this violence comes out. That passage gave me goosebumps. So I'm re-reading her works and watch for when I get goosebumps. Then I pick up my guitar and see what comes out."
Though the 13th artist granted residency in the house that's now CSU's Carson McCullers Center for Writers and Musicians, Bobruk is the first musician. Her winning application for this  Marguerite and Lamar Smith Writing Fellowship included the Reflections of a Golden Eye-inspired tune and a song lifted from the pages of The Heart is a Lonely Hunter.
"I recorded those two for a six-song EP I've started," Bobruk—who's shared the stage with the likes of Dr. John, had a debut album rank top-6 in the state by Texas Music magazine, and described as "nothing short of a work of art"  by Performing Songwriter— says. "I'm going to write the remainder of that here. I'm recording my demos here inside the house and doing some videos of solo performances here. My process depends on what shapes the songs take—some will be collaborations with bands and artists here in town."
Now in this fourth year as director of the center, Nick Norwood says the writing program's connection to music is a natural fit.
"Carson McCullers herself was a musician and she originally wanted to be a concert pianist," Norwood, CSU's professor of creative writing, explains during the reception. "We're thrilled to have our first singer-songwriter, especially one working on songs based on Carson's work."
He adds that he's "very hopeful" for the collaboration potential with local musicians such as CSU faculty Matthew McCabe (Wolf & Clover) and Andrew Zohn blues-guitar ace Neal Lucas. Norwood notes with audible excitement that the new writing fellow's final presentation will be a concert in November.  
After a tough first year in school in North Carolina where she left an acting conservatory, Bobruk found salvation in the twisted Southern Gothic reality in McCullers' work.
"It was my age and where I was in my life that really allowed these books to strike a chord," she says a few moments before leaving her seat on the front porch to re-join the reception.
"Now that I'm re-visiting them, I can't tell if I subconsciously absorbed the themes and lived them out in my 20s. Or vice versa—if it just stayed with me that much."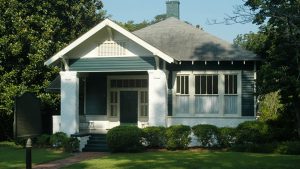 Admitting she "was a little bit spooked" her first night in the Stark Ave. house in Midtown, Bobruk has already found her favorite place to read with the covered white couch in the parlor. She drives around town some to spot inspiration but thus far she's mostly in the house "marking down passages that get me going musically."

"When you ask most artists about a process, they'll often say it's not that certain—it can shift," Bobruk explains. "I write down passages that really get to me, watch my reaction to characters. I put them on a note card and sift through the note cards to give me an idea for lyrics or a sound."
She too is excited about collaborations with Columbus musicians (working with a composer on arrangements on a piece for classical piano is one idea) and is "grateful for the opportunity" to live and create at the McCullers Center.
"I think it's a gift for artists," Bobruk says of her fellowship, but also for the community here, too. To bring people here to their town and hopefully leave a mark on it."
Do you have any letters from the life and work of Carson McCullers? The international search for letters related to the Columbus, Georgia native is on!
Carlos Dews, the world's foremost McCullers scholar and founding director of CSU's McCullers Center, recently signed a deal with Houghton Mifflin publishers to edit a volume of letters of the literary lioness. Anyone who might know of the whereabouts of any letters written by or to McCullers are encouraged to write to Professor Dews at cdews@johncabot.edu.