"Columbus taught me everything," Rachel Joy Baribeau says of a hometown that will never drop that Joy, no matter how much her remarkable success works to streamline a given name.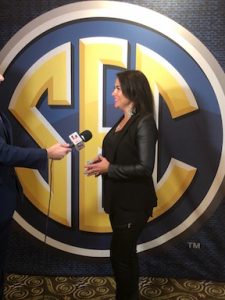 "Columbus taught me hustle and grind, dreams and passion," Baribeau continues, speaking by phone during a break for from taping her ESPNU show on SiriusXM that reaches up to 10 million listeners. "It taught me to not curse my struggles even as a girl growing up on Hawthorne Drive in South Columbus. All of that is integral to what I do today."
Now a resident of Nashville, Tennessee, Baribeau returns home tonight to co-host the Gridiron Girls Kickoff Caravan event already well-established in a trailblazing career as a female working in the (once) boys-only broadcast-sports clubhouse. Hailed by CBS Sports as "respected by coaches, sports and the media," she has for the past two years created a platform—one that incorporates her talents as a motivational speaker and drive as survivor of violence from the hands of a man—to seeks nothing less than to change the masochistic culture so prevalent in college-football programs..
Troubled by rampant reports of rape and assault by players on campuses all across the country, Baribeau in June 2016 penned the revealing personal essay "College Football is Breaking My Heart" for Gridiron Now. Not content in using just her considerable voice as a media personality (on TV every fall Saturday for both the ACC and SEC networks), she then formed  the nonprofit Changing the Narrative
and now delivers its message to brighten the way these young men view the women in t their lives.    
"Football is a violent game and we're never going to get away from that," Baribeau says.
Changing the Narrative's efforts examine mental-health issues, including those related to chronic traumatic encephalopathy CTE), a  condition found in the brains of 87% football players at levels from high school up to the NFL.
And there's some debate as to whether these reports are in part the byproduct of a  incessant, instantaneous news stream eager to spread salacious stories. "We consume media so fast now," explains Baribeau, who has TED Talks guest and Heisman Trophy voter on her stellar resume. "It's to the point I have a phobia of turning off my phone because I'm scared I'll miss something."

However, the culture surrounding football isn't the only problem.
"You'll find our culture's music, magazines and movies all telling these young me to hit it and quit it," Baribeau explains. "Telling them, 'Who gives a f—k? Do what makes you feel good.'  So there's no sense of accountability. I'm calling them to something greater."
With millions of social-media hits, visits to more than 30 big-time programs (from LSU to Tennessee), and award presented in collaboration with the NCAA, Baribeau's call for Changing the Narrative is being heard.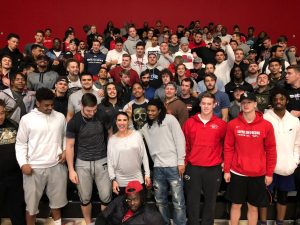 Tonight, her powerful message will be heard at the Idle Hour Community Center, where she'll appear in a program co-hosted by Phil Savager, color commentator for the University of Alabama.    
"It's a feel-good girls' night out," Baribeau says of the third stop of the caravan's  tour, which hit the bigger markets of Birmingham and Nashville this past week. "For $30, you get food, alcohol and our program, which alternates between Phil's football know-how and my Changing the Narrative talk. So hopefully ladies will leave fired up for football season, touched emotionally, and talking about the difference between Cover 1 and  Cover 2 strategies on defense."