Home sweet home; the place where we are most intimate, most vulnerable, and most comfortable; where we are able to truly express ourselves. However, those who don't have this amenity usually feel it's impossible to find a place of solace, and expression is stunted.
In 2009, artist Stacy Underwood founded HeARTworks in Jackson Mississippi. HeARTworks is a non-profit, ministry program for the homeless to fellowship and build self-confidence through artistic expression. 
Stacy has helped implement this concept into Columbus, GA, with the assistance of Jan Miller (an independent consultant working with the Bo Bartlett Center to develop educational and outreach programs), Marina Savashynskaya Dunbar (Program Director), and a small group of artists/volunteers.
A pilot run was put into action last Thursday. Over 20 people met at Rosehill United Methodist Church to have breakfast and food for the soul.
Home Is Where the Art Is provides people a place to connect with others and their inner artist.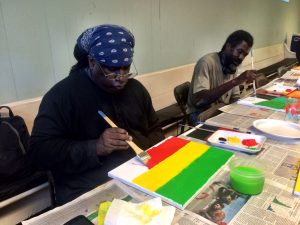 Our community needs safe places to process and celebrate life, while eliminating creative control. There is no right or wrong way to create art. As this pro-imagination mentality is encouraged, the sense of empowerment that circulates is invaluable.
Reverend Neil Richardson, Chaplain of the Muscogee County's Sheriff Office, was delighted to welcome such a great turnout. "It was incredible to see men and women who swore they had no talent bring empty canvasses to life. Quiet and reserved people began to smile and talk with the volunteers and each other. Techniques were tried, colors were mixed and ART HAPPENED. Art can be a key to the soul and many souls were opened this morning. It was an honor to watch and appreciate the beauty that was created this morning."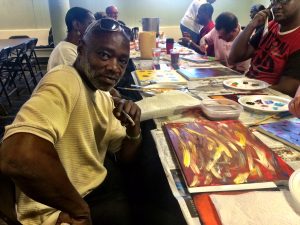 The group also had the honor of fellowshipping and learning from the pros,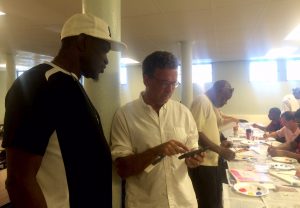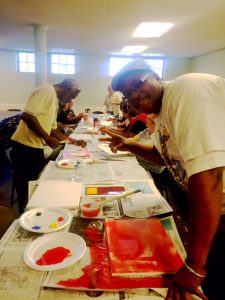 Helen Brooks, and Stacy Underwood.
We are creatures, and exist to create. Sadly, many of us are turned off from focusing on our creative health, and lack the opportunity to experience therapeutic, artistic expression.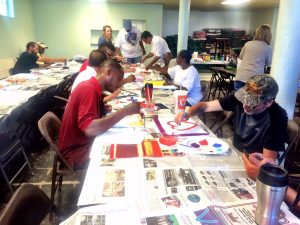 For those who find verbal or written expression a challenge, art can provide a worry-free zone from saying, or spelling something wrong. This program can fill major gaps in communication. Defenses come down and self-worth takes over.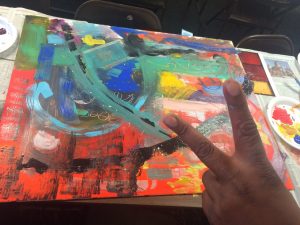 "I think Columbus is the perfect place for this program. This is an artistic community and these are people who long for creative outlets. The most amazing part is how well this program was received by the participants- they were happy to be there and asked us to come back next week. Going forward, I hope the program will help create a sense of acceptance and support among those who find themselves homeless."
-Marina Savashynskaya Dunbar, Program Director
Home Is Where the Art Is will now be every Thursday morning at Rosehill United Methodist Church. Donations are greatly appreciated. If you are interested in volunteering, please contact Marina at assist@bobartlett.com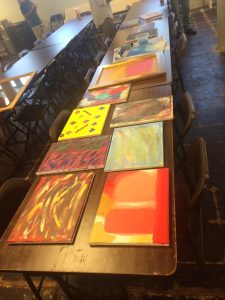 Written by Cora King