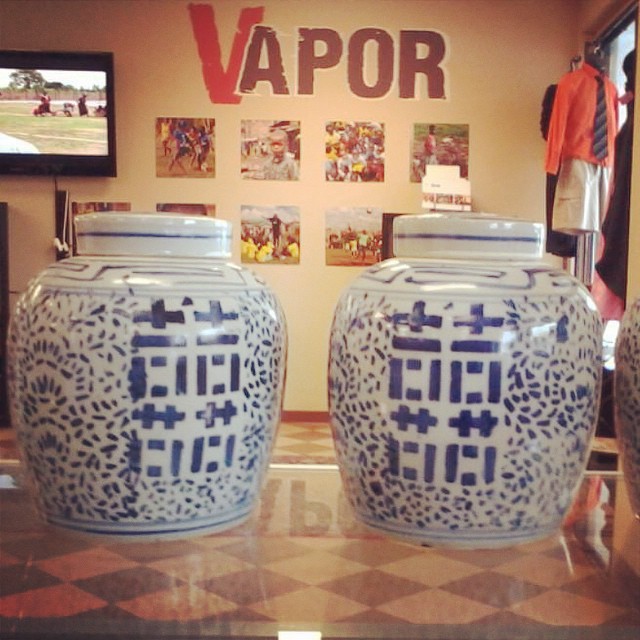 1. Proceeds from your purchases are vital to local and international charities.
When you donate unwanted items or make a purchase at a local thrift store, you are providing for various local and international charities through our community. Valley Rescue Mission has been helping the people of Columbus and the valley since 1963.   A purchase at our local Habitat ReStore could help build homes for local families. A purchase at Vapor Thrift Store could help a needy child in a developing country access clean drinking water!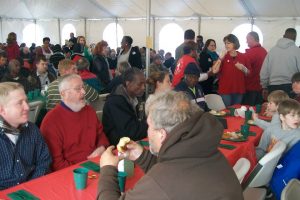 2. Buying used stuff is better for the Earth, ya dig?
When you buy a used item, you keep it from going into a landfill, AND prevent new throwaway pieces from being consumed.  (Great job, you!)
3. Older furniture was made better!
Buying a vintage, solid, wood piece of furniture is a better investment for your home than some particle board, like Flurgnergborg from IKEA. It can also be MUCH less expensive.  My mid century pieces were made to last, and, having accompanied me on 83 moves across the country, have needed only minimal repair/occasional painting.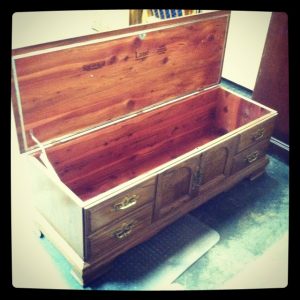 4. Your piece will be one-of-a-kind.
Buying antique or vintage furniture means you'll add something original and unique to your home and space.  You'll find one-of-a-kind pieces, and your friends and family will say, "Your home is so impossibly original and chic! May I come live under your Mid-Century dining table so I can bear witness to your bon vivance?"
*Not actual  quotes from my friends and family.
Here are a few of my favorite, local thrift stores, and resources for vintage and antique home decor:
"Vapor engages some of the world's poorest places and establishes centers for poverty alleviation and disciple making. Partnering with local faith communities, we build fields, set up leagues and initiate organized humanitarian projects. We design our centers so that each can become indigenously led, financially independent, and self-perpetuating. [Our] three main goals: equipping the unequipped, alleviating poverty and multiplying disciples." -Vapor Website
Vapor is best when looking for: Furniture and housewares. They also have a huge selection of great books.  I love to style my tables with big art and photography books, and many are just $2 each.  They also carry clothing, shoes, toys, sporting goods, and lots of glassware and dishes. The prices are very reasonable and they have daily, 50% off and 99¢ tag sales.
5377 Veterans Parkway Columbus, GA 31904
Goodwill's mission is twofold, as it's retail stores serve to offer vocational rehabilitation to people with disabilities.  Funds from purchases help people find jobs and prepare for interviews, and provide vouchers for individuals and families in need.  In 2012, our local Goodwill stores helped 3,057 people find jobs in our area!
Best when looking for: Everything!  Goodwill is the best place to shop for new and vintage clothing, and everything in between.  It is one of the few places to find clothes and accessories from the 50s to the 90s.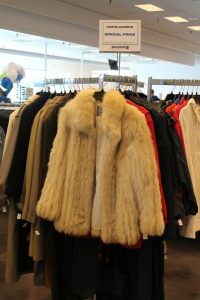 They have a great furniture section that gets new pieces everyday, as well as a good selection of books, records, sporting goods, and toys.  Seriously, they have anything you are looking for, and a very friendly staff.  This should be a first stop for someone looking to furnish their first apartment or dorm room.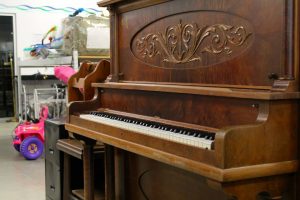 Columbus East Store: 6707 Flat Rock Court Midland, GA 31820
Columbus Midtown: 3201 Macon Road Suite 255B Columbus, GA 31906
Columbus North Store: 6499 Veterans Parkway Columbus, GA 31909
"In 1963, a group of Christian businessmen in the Chattahoochee Valley saw a need in the community to help the numerous men on the streets due to homelessness and addiction. These men put together a plan to start a rescue mission. With vision, faith, and help from the community, an old church and three shotgun houses were purchased on Second Avenue in Columbus, Georgia. On September 6, 1963, Valley Rescue Mission, Inc. became a fulfilled vision; the first and only rescue mission in the Chattahoochee Valley." -VRM website
Your purchases/donations go toward clothing the homeless and needy each year (through clothing vouchers), work therapy for clients, and community service work opportunities to individuals who receive government services through DFACS. Items are sold at affordable prices to help those on limited budgets.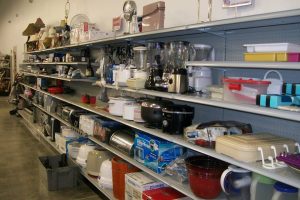 Best when looking for: Larger pieces of furniture, artwork, mirrors, and interesting housewares.  They have a large section with great vintage clothing and shoes, as well.
Bargain Center: 101-B 30th Street Columbus, GA 31904
Donation & Retail Center: 7553 N. Veterans Parkway Columbus, GA
Many of us are familiar with Habitat for Humanity because they build homes for families in need, BUT they also have a retail store locally with various items and can help with our own building projects!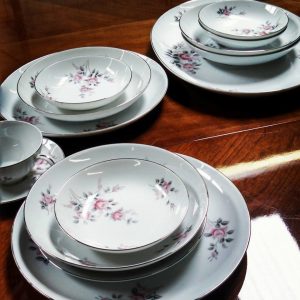 Best when looking for: This is an incredible resource for building supplies, materials and more! It is sure to save you lots of cash when tackling home repair/restoration projects.  The items are often new, in original packages, and less than half the retail price.  The staff is beyond  helpful. I always stop in to see if they have what I need before visiting the big-box, chain stores.  It is a DIYers dream, no matter your skill level, or budget.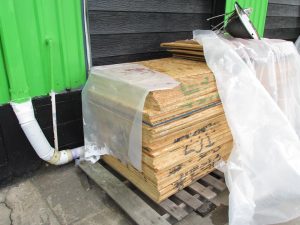 1080 Martin Luther King Blvd Columbus, GA
Oh, Craig.  I'll never quit you.  I admit that my constant craigslist perusal may be out of hand. My friends can attest to the constant barrage of craigslist furniture ads I forward, (which I think are perfection) but cannot fit into my house (due to totally normal, non-hoarding reasons).  There are a lot of tips and tricks out there. I have used multiple email personas, phone calls, and texts, but what I have found works the best is old-fashioned voodoo, and checking back several times a day.  You may find the piece that will compliment -NAY, complete your living room, or your life!  I found a $500 vintage Franco Albini chair for $50, because I check often and respond quickly.  The pair of campaign dressers I wanted for years took 4 emails before I got a response from the lady. However, I ended up getting drunk texts from her for several months (totally worth it for my glamorous dressers, by the way).
It's important to have vision when shopping for your home, because sometimes tedious painting or a miracle product I use called Restorafinish, are the only things that can totally transform a piece.  I keep a notebook with a list of items I'm looking for, my home's measurements, fabric and paint swatches, plus a measuring tape.
What are some of the great scores you've made, searching for antique and vintage pieces?
Written by Alia Azhar
Edited by Cora King
Pictures provided by Vapor, Goodwill, Valley Rescue, Habitat Restore and Craigslist