Sometimes it all starts over a drink.
"Jamie Gruber and I were talking one night over a drink, and we both wanted to give back to our community. He wanted to do something for the less fortunate on Thanksgiving, and we both ran with it." Ashley Woitena
A couple of more drinks down, and the two devised a plan, not only to prepare, but to deliver a complete Thanksgiving dinner. That night in 2007, Thanksgiving Delivered was born. Leaders like Nancy Crew, Ryan Phaneuf, and Rob Folk, began to step and help raise funds and organize food, servers, drivers and chefs (led by Jamie), on their Thanksgiving holiday!
Can you imagine not being able to afford Thanksgiving or not being able to leave your house to enjoy it?
Ashley works to find these needy families through many great organizations, like Open Door Community Home, Columbus Regional Source, River Valley Area Agency on Aging, SACVET (Homeless Veterans), and Farrfield Manor.
For several years, Jamie Gruber owned and operated a restaurant whom many enjoyed, called The Market. The Market was the kitchen and launching point for Thanksgiving Delivered.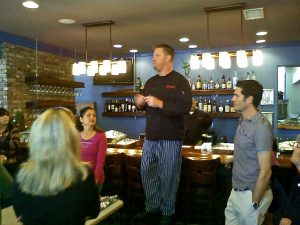 Last year, with the closing of the Market, Jamie was uncertain of where the outreach would be based. He contacted Jamie Keating at the Rivermill Event Center, and was welcomed with open arms. Jamie Keating literally gave Jamie Gruber the keys to the building. Talk about a great community!
This is what Thanksgiving is all about: community and serving/sharing food with your neighbor. This group of servants have rallied and continued the remarkable tradition for 6 years. This Thursday will be their 7th year! These amazing volunteers have helped feed 1000's of people who would not otherwise have a Thanksgiving meal.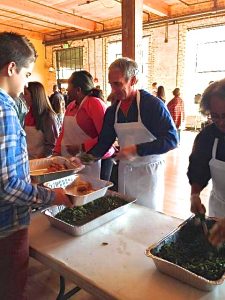 Want to start your holiday off right and help cook? Show up at 6 a.m. at Rivermill Event Center.
Want to help serve or drive? Show up at 8:45 a.m.
Check out their website for more information on volunteering or donating. 
Written by Jacy Jenkins
Photos provided by Thanksgiving, DELIVERED!