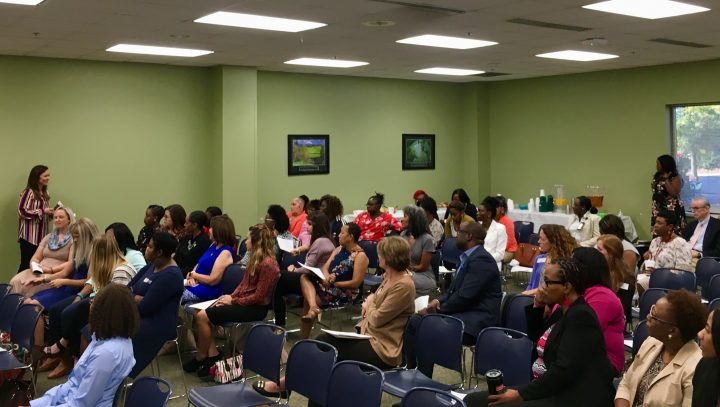 Two-thirds of the way through a commanding performance that served as her introduction to the community, Jena Jones asked an audience to close their eyes and listen as she tells the story of two children.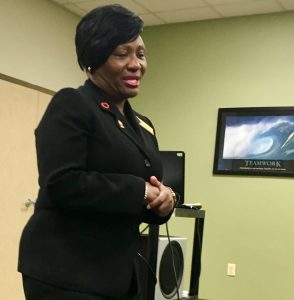 Recently installed as Director of Muscogee County's Dept. of Family and Children Services, Jones held her 100-plus audience rapt as she introduced two siblings—the boy Malachi and girl Susie Mae—whose mother smoked weed and snorted coke all day then told the state she couldn't take care of her kids.
"They were sent to a foster home," Jones says in her fictional, yet all-too-real, account. "Then, in the middle of the night, the foster parent decides they won't take Susie Mae to her school anymore because it's out the way. Susie Mae's sent to another foster home, separated from her brother, separated from her brother, her mother, neighbors and family that's all she's ever known. She's now completely alone."
Jones acknowledged it was a heavy story to drop before 10 a.m. on the eyes-back- open crowd. "I did that to show you the seriousness of the work we show up to do every day," she explains.
Billed on Facebook events as "Meet the New DFCS Director," guests mingled over coffee, juice (apple and orange), and delicious donuts, inside the state agency's glass-and-brick tower, tucked between the Piedmont Columbus Regional complex and Talbotton Road.
"We now have DFCS 1 and DFCS 2 here," Jones—who stepped in as interim director in 2014-15 to stabilize operations following a scandal-ridden, tumultuous time in Muscogee DFCS, says. "DFCS 1 is where you go for Medicaid and SNAP benefits and DFCS 2 is here. We're excited because DFCS 2 now offers a lot of assistance for veteran homelessness. We've beefed up our team of counselors to heal the trauma these children have. This is part of our new focus on mental-health awareness and treatments to reach them younger before those unresolved issues lead the to a life pattern of drugs an crime. When there's counseling, there's hope."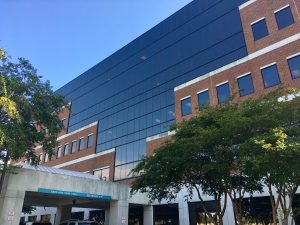 Next, Jones threw the crowd a curveball and followed the agenda spelled in a sheet that labeled the meeting "Collaborative Community: Building Partnerships within the Community."
"You thought this was just all about me introducing me," Jones says. "But I'm all about one team, one effort, one Muscogee. So for a surprise I'm going to go around the room and ask y'all to stand and introduce yourselves. You are the stakeholders in this community for providing protection for the most vulnerable of our citizens."
She then called on new City Councilman John House (citywide Dist. 10), who admitted, "We're very worried right now," following a recent presentation by Jones before the council regarding the steep challenges the city's DFCS staff faces.
Next, Jones recognized Sheriff Donna Tompkins who affirmed her respect and support for DFCS efforts, "for the safety and well-being of children."
Everyone that stood for an introduction voiced strong praise for Jones work done during her time as interim director. These relationships include nonprofit groups present at the meting, including Chattahoochee CASA (which provides legal help and representation to children caught in the system) and Treehouse, whose efforts on the front-line of this fight create the tragic need to have a sexual-assault nurse examiner on staff.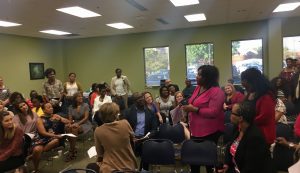 Poverty is likely for the 26,000 youth aging out of foster care in the United States each year:
* 42% won't graduate high school
* 97% will not earn a college degree
* 50% will be unemployed by age 24
* 71% of girls will be single moms before age 21
* 64% of boys will be incarcerated
* 25% will experience homelessness
Jones provided the crowd numbers of 441 children currently in foster care in Muscogee County, the fifth-highest rate in the state.
However, she was proud of local "Yes We KIN" approach that puts Columbus as best in Georgia for placement within family at 70%.
She continued to note there are currently 77 foster homes registered in Muscogee, with headway on plans to push that total above 100.
With DFCS for 16 years, Jones comes to Columbus after a five-year run as director in Crisp and Dooly counties in her native southeast Georgia. She speaks warmly of her childhood being raised by aunts and uncles all living as neighbors with her four brothers—and with their very young mother, so young they didn't know she was mama until much older.
"They whupped us pretty good," Jones says with a joking smile of the family's discipline style standard practice in that place and time a nodding crowd recalling pretty much the same. "But, then again, we were bad kids."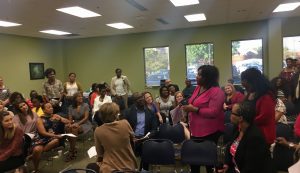 The topic then switched from Jones' "Blueprint for Change" to a presentation on the new Georgia State of Hope initiative that invites community groups to become part of the Hope Ecosystem—a network for building partnerships, sharing ideas and accessing resources.
"We need you and we want you to be part of the State of Hope," Jones tells the crowd. "We want collaborations and partnerships with you."
The Georgia State of Hope effort would assist Jones' mission to avoid forcing children into the foster-care system with alternative solutions tailored to them.
"I've never met a parent that didn't love their child," Jones says. "Just not able to take care of them. The last thing we want to do is remove a child from their parent. So we want to work with parents to make things better for them, too: 'How can we help you to be more stable?' Drug free? Live with less domestic violence?' Because you build healthy communities one family, one child at a time."