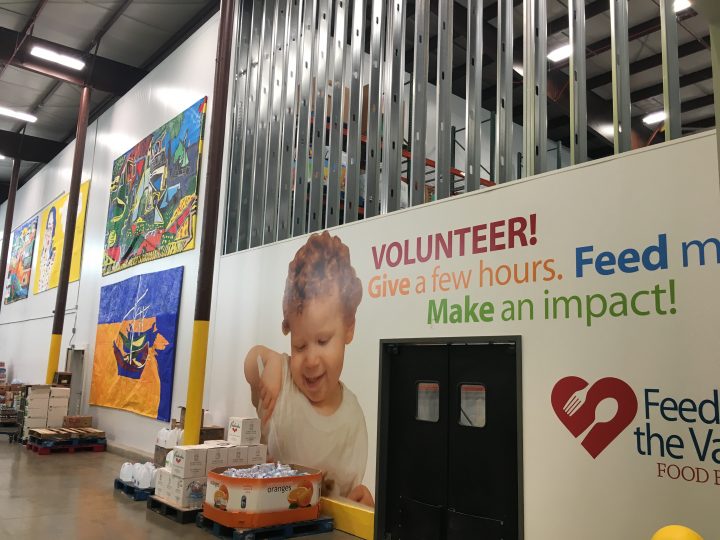 "It's a struggle to keep a supply of food at home," Marion Mitchell explains of why she picked up three bags of groceries from the Uptown Food Pantry earlier this month.
A personal-care nurse dressed in her red medical scrubs, Mitchell calls the food—frozen meat, cereal, fresh produce, bread, butter, eggs and more—"a blessing donated out of the goodness of people in  Columbus' hearts." Having moved to town recently from her native Sumter County, Mitchell says her son is going through "some ordeals" and that she now takes care of his three children (ages 6, 9, and 11).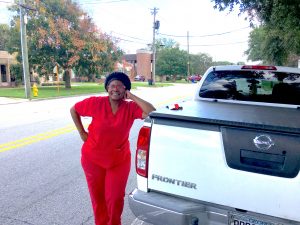 "Human community is what this is all about," she says of the food-assistance program. "Columbus is home to a lot of luxuries, but there are so many people here struggling to have basic food and shelter. Education is needed in all aspects to solve these problems. People need to know that anxieties in the home about not having enough food to feed your family are transferred to the child. And that affects their schoolwork, their behavior, their future. So I feel no shame in coming here for help bringing food home—especially when you consider how wasteful our nation is."
Indeed, a landmark 2012-2017 study by the National Resources Defense Council entitled "Wasted" revealed that up to 40% of food in America goes uneaten. That gluttony equates to an average of 400 pounds of food per American wasted each year, totaling $218 billion lost and costing a family of four $1,800.
According to Feeding America, 1 in 7 Americans—and 1 of 5 children—are considered "food insecure" as defined by the U.S. Dept. of Agriculture. In Georgia, it's closer to 1 in 4 children, placing the state fourth-from-bottom nationally for the amount of children facing food insecurity.  
"I saw a strong demand and need for food assistance in our community," Uptown Food Pantry Director Wes Driver says of why he volunteers 30-40 hours a week to lead a program started 26 years ago in joint effort by First Presbyterian, St. Luke United Methodist and Trinity Episcopal churches. "This is a way for me to give back and help out."
A retired Lt. Commander in the U.S. Coast Guard and commercial realtor for W. C. Bradley Co., Driver buys and/or collects the food the Uptown Food Pantry hands out four times a week (Monday and Friday afternoons, twice on Wednesday). The program's designed to accommodate 20 visitors each time, though Driver says it's at his discretion whether they can handle more. Those in need may come once every 30 days, 10 times a year, and must arrive on time.
"In 2017, we gave out more than 390,00 lbs. of food," he says. "In August, we helped 282 families, 722 individuals. In July, we had 334 families, 833 individuals."
During the holiday months of November and December, Driver works to ensure frozen hams and turkeys are packed in the white plastic Aldi bags handed to visitors as they walk (after a consultation and prayer) onto Second Avenue.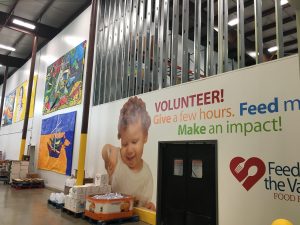 The Uptown Food Pantry's distribution of 390,000 lbs. of food last year is part of the 8.6 million lbs. provided by the Feeding the Valley Food Bank, the region's Feeding America affiliate that serves 285 such agencies "as a centralized source of churches and non-profits." Now celebrating its 35th anniversary year, Feeding the Valley states its mission is "to gather food and feed the hungry" with core values of "compassion, good stewardship, dedication, urgency, and inclusiveness."
 In March 2017, Feeding the Valley opened its new home on Flat Rock Road after being located on Coca Cola Boulevard for 25 years. Through the years the organization has been known as the Inter-Faith Action Food Bank and Second Harvest since its founding.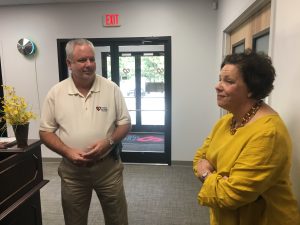 "It was 1983 when churches and community leaders came together because they felt there should be a central place for food for those in need," Feeding the Valley Fund Development Administrator Carleen Frokjer says before a recent morning tour of the impressive 31,000 square foot facility.

Crediting St. Thomas Episcopal Church and Vicky Partin, retired executive director of Chattahoochee Valley Episcopal Ministry, as key players in launching what would become (in 2008) Feeding the Valley, Frokjer says the agency now serves 14 counties: Troup, Meriwether, Harris, Talbot, Muscogee, Chattahoochee, Schley, Stewart, Webster, Quitman, Randolph, and  Clay in Georgia and Russell in Alabama. This region is home to 437,000 people—87,000 of them considered food insecure, of which 35,000 are under age 18.

"Some areas to the north like Troup and Meriwether have relative wealth," she says, "but the counties to the south are among the poorest in the state and even in the country. They're not highly populated. Stewart County doesn't even have a grocery store."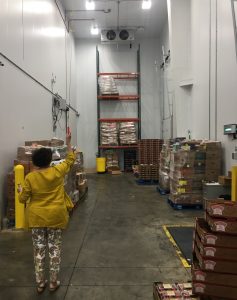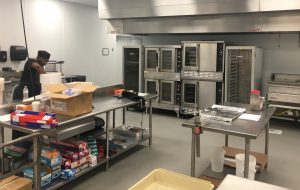 "We don't give our food directly to the public—we're part of the delivery channel," explains Frokjer, one of 28 Feeding the Valley employees, 10 of them part-time like her, having joined after 19 years in corporate communications with Synovus. "The food is donated by grocery stores such as Winn-Dixie, Walmart, and Publix. Many of these retailers also provide grant funding for our fleet needs. Food manufacturers like Tyson and Smucker's donate through Feeding America partnerships. We try to promote healthier options and, in the summer, host pop-up markets and distribute fresh produce."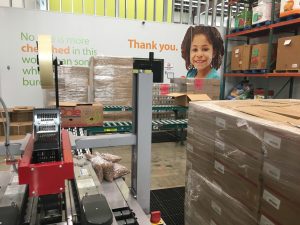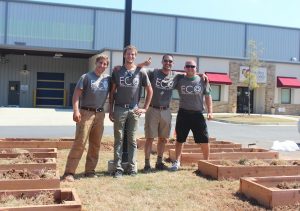 The on-site Giving Garden produces a variety of tomatoes, peppers, cucumbers, squash and herbs to add to the 115 meals provided daily through the Senior Meal Program. That's one of several Feeding the Valley-led initiatives, including Kids Cafe, which distributes lunches prepared daily in the new spot's 3,000 square foot commercial kitchen. Kids Cafe feeds  36,000 children lunches during the summer, and 1,700 daily during the school year with meals delivered to Columbus Parks & Recreation Dept.-sponsored and other (Open Door, Girls, Inc., etc.) after-school programs. 
(Side note: the Muscogee County School District this year expanded from 38 to 41 its number of Community Eligibility Provision (CEP) schools where students eat breakfast and lunch free of charge.)

"It's so important when children are growing and developing that they receive good nutrition," Frokjer says, "as it affects their ability to concentrate and focus. It affects their ability learn. We know what we're doing is working because the scores in these schools are going up. Which is great. Because the one hard thing for me to deal with is the fact of children going hungry, of children not having food to eat." 
Interested in helping the hungry in our region? Learn more about volunteering with Feeding the Valley here.