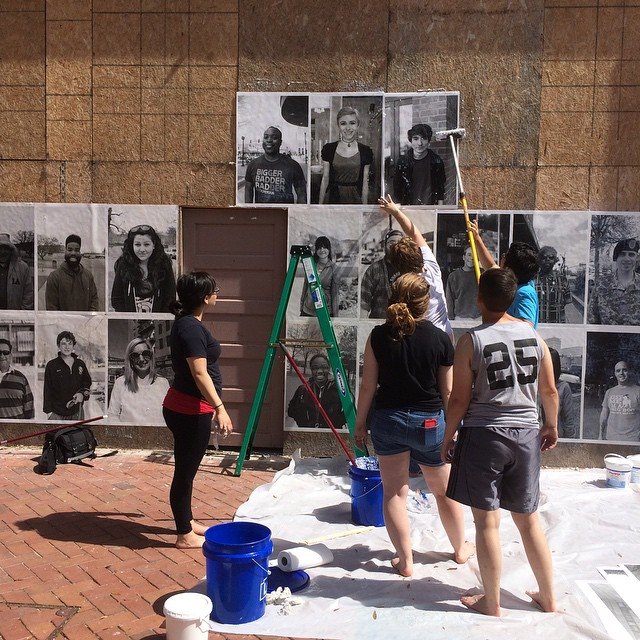 ARTBEAT is a community-wide effort that started in 2012 celebrating and supporting creative individual and arts organizations in Columbus, Georgia. Their mission is to provide culture, engagement, and education.
How can you NOT love this initiative?!
"The fourth annual Artbeat will spotlight public art in Columbus, from March 19 to April 1, 2015. 
Artbeat is a two-week annual event for residents and visitors to celebrate the arts.
ArtBeat 2015 features the new and the old, the traditional and the modern, the hidden gems and the bold pieces – the sculptures and fountains in Uptown.
Even before the Uptown Sculpture walk was developed in 2009, there were several hidden gems in Uptown including a half a dozen sculptures on the RiverWalk and a memorial sculpture (created by local artist George Goddard) soaring above the First Avenue median, in front of the Springer's Dot McClure theatre.
Seven of the pieces in the Sculpture Walk have found permanent homes in Uptown and have become favorites among those who live, work and play in Uptown. 
These sculptures – along with the rotating pieces that stay for a few years – add a vibrancy and liveliness to the Uptown streetscape.  One of the temporary pieces in this year's Artbeat is a large inflatable that kids will love.
Lamar Peterson's Eastern Bluebird, is nestled in front of CSU's Corn Center on Front Avenue.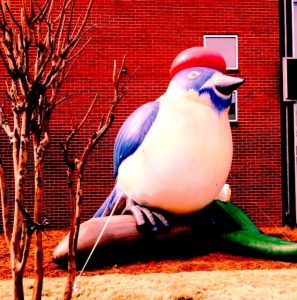 Artbeat 2015 also provides the opportunity to find out why Columbus is known as the Fountain City. More than two dozen fountains are scattered throughout Uptown, each with its own story serving as a reminder of the rich history of the arts in Columbus.
Also featured this year is Midtown's most famous fountain, the Lenora Starling fountain, located at the intersection of Wynnton Road and Buena Vista.
Often referred to as the "Mrs. Columbus" fountain, this majestic piece was created in memory of a woman who "met her tragic death while engage in an errand of mercy."  Isn't that enough to pique your curiosity?
Artbeat 2015 kicks off with an Opening Celebration reception on March 19th , at 5pm in the CB&T Turner Courtyard on Broadway – What a better way to spend a Thursday night in Uptown?!?!
During the evening, there will be music, special entertainment and public art tours led by special docents."
"In addition to the NEW Art Walk, the Columbus Ballet will be a part of the living sculptures on display up and down Broadway. Various musicians from the Youth Orchestra of Greater Columbus, the Columbus Symphony Orchestra (GA), and students from the Schwob School of Music at Columbus State University will be playing up and down Broadway.
NEW this year is the "Keep Columbus Creative" initiative. All businesses and friends in Uptown Columbus are invited to be a part of this fun, new program!
In fact, it's all up to you! 
One of the main objectives of ARTBEAT is to engage and inspire our community with creative experiences.
You are invited to use either the outside, or inside, of your business as a stage to create your own "masterpiece" that would become part of the Public Art Walk during ARTBEAT.
Here are some examples of what they are talking about:
On March 19th, elementary children from South Columbus Elementary will be creating sidewalk chalk art pictures on the sidewalk surrounding the CB&T Main office on 12th and Broad.
The RiverCenter will have on display a sculpture created with discarded instruments on loan from Northside High School.
Chancellors will be inviting everyone to bring their old ties to be recycled into a sculpture or mural in the entry of their business. 
Roger Stinson of Chancellor's Mens Store is hard at work on their #KeepColumbusCreative project, "Tie One On"!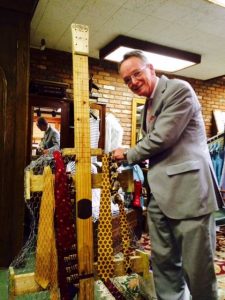 Old ties are being used to decorate the guitar. You can participate by dropping off any of your old ties to help create this work of art for #Artbeat2015.
Gallery on 10th invites the public to join in on creating a huge PAINT-BY-NUMBER Masterpiece. The Paint -By-Number painting is 36″ x 48″ and is a replica of Susan Dolan's painting of Gallery on 10th. It is color-coded and the Gallery will supply : Paints, brushes and artist's help. Painting will be done in front of the Gallery beginning March 19 until painting is complete. Come and be a part of creating this giant Paint-By-Number!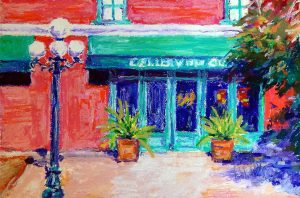 Another "Keep Columbus Creative" project from Waddell Realty in Uptown and Planet Pops: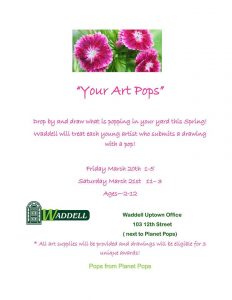 Drop by the Waddell Realty Uptown office, and draw what is popping in your head this spring. Each young artist who submits a drawing receives a pop from Planet Pops! Happening on Friday, March 20 and Saturday, March 21."
The community is stepping up to participate, like CSU College of Arts students are putting up "Faces of Columbus" on Broadway.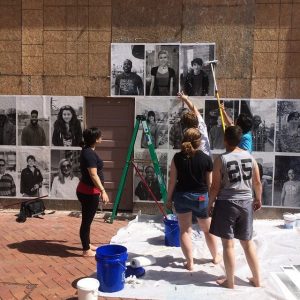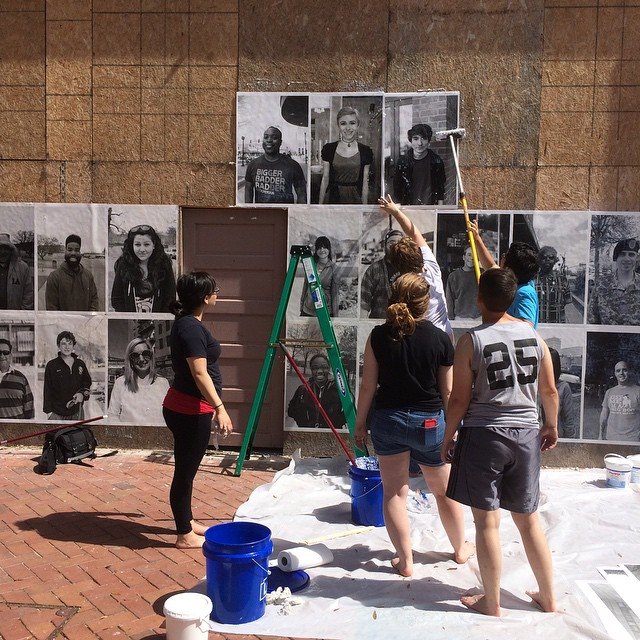 Also, make sure to stop by Museum of Wonder's, Butch Anthony, eclectic art featured on Broadway and 11th Street.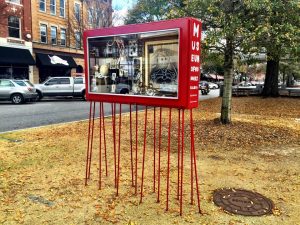 Plus, many more art surprises are in store during Artbeat!
Any other businesses in Uptown Columbus participating? Send them your pics and details at artbeatofcolumbus@gmail.com or post it to their Facebook page.
What new masterpiece will you produce to "Keep Columbus Creative" and enhance the 2015 ARTBEAT celebration?