Anticipation has steadily grown as Barberitos prepares to open its doors at 1012 Broadway in the space formerly occupied by Brother's General Store.  Built by Herndon Construction LLC, the year-long ground up historic renovation has taken the first floor retail space from a country store to a modern steel and stacked stone restaurant.  Though some original materials like the 100-year old wooden floors still remain, the overall aesthetic of the space has done a 180 turn around.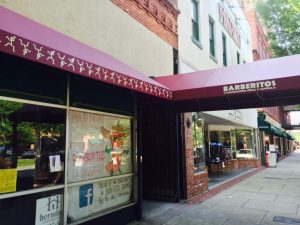 Just like Barberitos in The Landings, the restaurant will offer farm-fresh fast-casual Southwestern fare like burritos, tacos, nachos, quesadillas and salads prepared fresh in-house daily. No gimmicks here – these guys are the real deal. The menu is built around sustainably, responsibly sourced products like all-natural free range chicken, grass-fed steak and locally sourced produce.
But the menu isn't the only standout coming to Broadway.  Every booth in the restaurant doubles as a charging station for laptops and cell phones; a huge plus for the college students and business professionals looking to multi-task during a short lunch break.
The "community table" built by a local artisan offers lone diners and small groups the opportunity to engage in conversations with others instead of sitting by themselves at a standard two-top table.  On the community table awaits a jumbo jenga set and a few interesting reads for patrons to enjoy alongside their meal.
In just a few short weeks, the standard glass storefront will be replaced with an accordion folding glass door, which will make the entire space indoor/outdoor when the weather is nice. We believe this will make a lovely addition to the Spring and Summer concert series.
For the kids, they plan to install a suite of arcade-style games in the back and for the adults, Barberitos has secured a liquor license for the Broadway location; which will permit them to sell margaritas.  And we're not talking about your standard pre-mixed, sugar and chemical laden recipe. They will hand make fresh margaritas with agave nectar and lime juice every morning.
Are you excited about the addition of Barberitos to Uptown?
Join us as we celebrate their Grand Opening with an open-container block party on Friday at 5:30pm, July 31st featuring the Shelby Brothers! RSVP on the Barberitos Columbus Facebook page. (There will be a soft opening this Saturday but please don't come in all at once.)