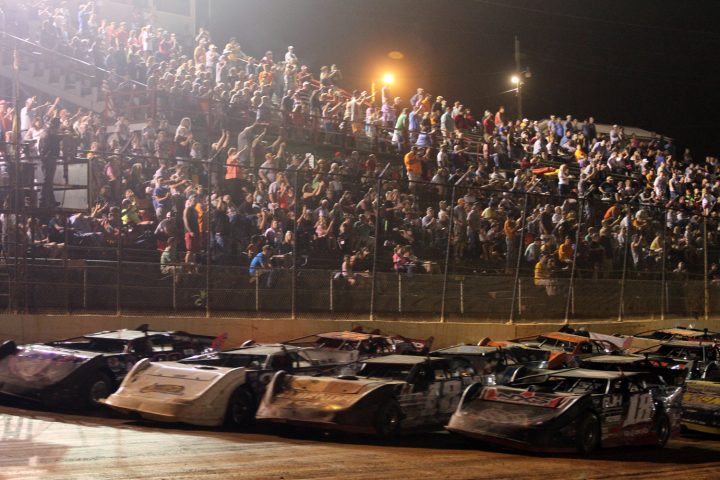 Written by Brad Baker
"Reluctantly crouched at the starting line, engines pumping and thumping in time. The green light flashes, the flags go up. Churning and burning, they yearn for the cup."

I'm a sucker for base lines of any genre. George Benson, ZZ Top, Jack Black doing the mouth bass solo in "School of Rock", or Cake's "The Distance" (lyrics and song above). I am, you might say, all about that bass.

But have you noticed our extreme lack of bass these days?
I don't really mean bass. I mean grit. I mean white knuckle adrenaline. Throttle and torque. My white collar never gets a wrinkle, much less dirty. Even in sports there isn't much raw adrenaline left unless you're willing to fly to Spain to get gored (Bull not Al) or to South Africa to get eaten by Jaws while surfing. If you don't have access to tanks at Ft. Benning, where do you go when you need some bass?

The Columbus and Phenix City area has lots of options, but I'll share one more: East Alabama Motor Speedway. Ten miles from Broadway sits a small, dirt race track that comes alive with a raw, all-American bass line every weekend.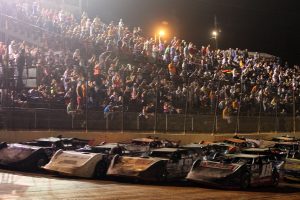 (image by www.nesmithracing.com)

After living in Atlanta for the last several years, we moved back to Columbus recently and I hit EAMS with my brothers. It was amazing.
My new life in Columbus is mostly removed from anything adrenaline boosting. But at the track, I watched a guy drive his beat up sedan into the pits, remove the headlights, and then suit up to race. He DROVE his dirt track race car to the track from work and then reconnected the headlights and drove it home from the track afterwards. Compare that with the guys who roll up in their semi-trucks, fully decorated and sponsored, and roll out some of the baddest looking racing machines you've ever seen.
Nascar's new cars look like the racing version of Mr. Rogers. The late model and super late model racers at EAMS look like racing bat mobiles. Like stealth bombers. Like transformers. Like the thing I drive in my bad a$@ dreams.
So a few Fridays ago we pay the super cheap $12 entry, grab some super cheap concessions to go with our cooler full of adult beverages (they allow us to bring in for free), and find a seat on what are admittedly some very warm concrete grandstands. Then we hear it. And feel it. Bass line. Torque. Growl. The various classes roll out of the pits for their races. One class only had one car. He still raced all out and proudly rolled in to victory lane for pictures with his newborn baby decked out in patrotic attire. I didn't say it wasn't a redneck paradise.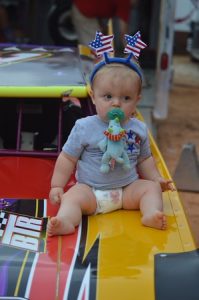 (image by www.eamsdirt.com)

When the sun sets, its time for the big boys. They get lined up and stroll a couple of laps around the track, almost like they're holding hands. Then the green flag. All hell breaks loose. My heated concrete couch rumbles as they blow by. My face looks spray tanned from the red dirt flying. I'm not complaining… I'm pretty pale to begin with and its nice to get some color.
(image by www.eamsdirt.com)
The entire time they've got the gas pedal down through the floor and every single car is sliding in sync. And the entire time, I'm maybe 25 feet away. So close I can see which driver is having to fight his car by snatching the steering wheel. So close I can see the lights glow on their dashboards. So close I'm thinking, was this really only $12 and I got to bring my own cooler? Yep.

Its over in a flash. Fights, fires, wrecks, lightning, mullets and pure adrenaline are commonplace. Also commonplace is an overwhelming sense of hard work and pride. Most of these guys are beating the ground to hold their lives together and make a living. This is part of who they are. They would give you the shirt off their back and the engine out of their car. They exist much closer to the edge than I do.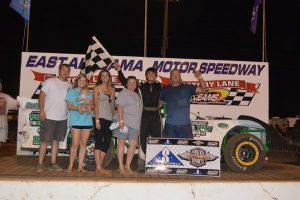 (image by www.eamsdirt.com)

Sometimes we could use a reminder to work a little harder, live a little wilder, and let our hearts beat a little faster. Sometimes we need more, in AC/DC's words, "sound of the drums, beatin in my heart."

So, I'll keep my white collar. You keep your hipster hair, your minivan I wish I had, and your cool new fashions I don't even understand. But lets not forget to let our hearts beat.

I'm proud to live in a city with such a strong bass line, and for me, EAMS is part of that too.