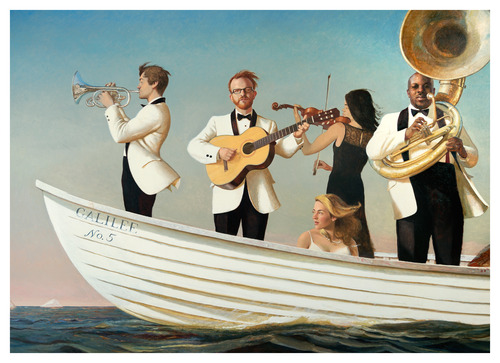 Have you heard of Bo Bartlett?
I'm embarrassed to admit I couldn't identify his work until I moved away from Columbus, GA.
Yet, he is a renowned American realist painter from Columbus, with featured art (below) in The Columbus Museum and across America.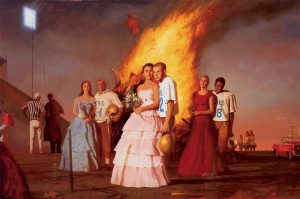 Why must you leave a place, or separate yourself from something, sometimes before you're able to appreciate it?
Well, now I'm able to treasure Bo and his captivating wife, Betsy, who is also an incredible, encaustic painter (featured below in a painting by and with Bo),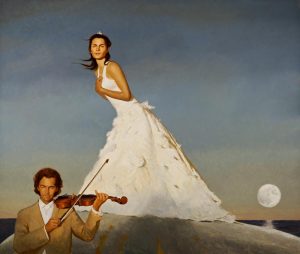 along with the rest of Columbus, on a permanent basis, since they decided to reside back in Columbus.
"Bo Bartlett is an American realist with a modernist vision. His paintings celebrate the underlying epic nature of the commonplace and the personal significance of the extraordinary.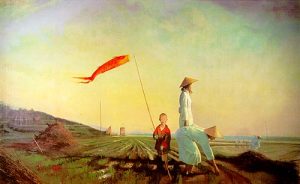 He pushes the boundaries of the realist tradition with his multilayered imagery. Life, death, passage, memory, and confrontation coexist easily in his world.
Family and friends are the cast of characters who appear in his dreamlike narrative works.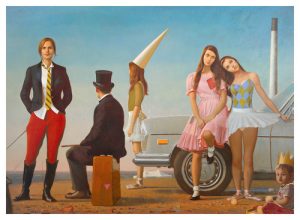 Although the scenes are set around his childhood home in Georgia, his island summer home in Maine, his home in Pennsylvania or the surroundings of his studio and residence in Washington State, they represent a deeper, mythical concept of the archetypal, universal home.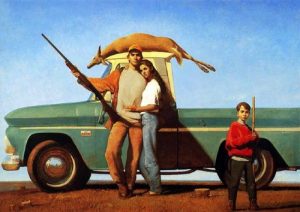 His work can be found in private collections, public collections, and galleries throughout the United States." – Tom Butler, excerpt from the book Bo Bartlett, Heartland
Not only is Bo and Betsy's talent exceptional, but their heart and vision for our community's culture is outstanding as well.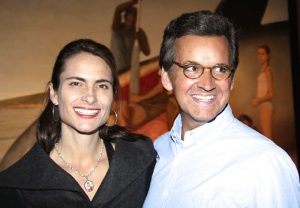 Bo is now donating his archives, artwork, and many major iconic paintings to the College of the Arts at Columbus State University. These works, along with additional donated artwork from personal and private collections, constitute the core holdings of The Bo Bartlett Center (on the second floor of the Corn Center with a vision of the center below).

The center is not open to the public yet, but you can visit for Bo's "Meet the Collection" lectures which occur every third Tuesday.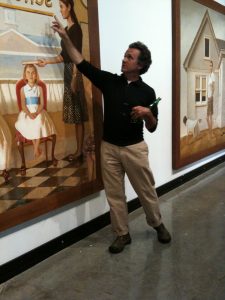 This month it is on Thursday (today) at 6pm to kick off his Master Class this weekend.
During "Meet the Collection", Bo discusses various paintings that are in the vault at the Bo Bartlett Center, and are part of it's collection.
Today he will be discussing the painting "Leviathan".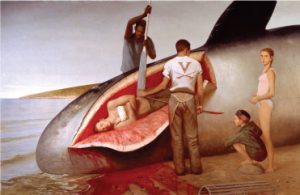 "Rarely do art students get the opportunity to both study with an internationally renowned artist plus have access to historic archives of that artist's inner-most thoughts detailed in journals, sketchbooks, drawings, references, photographs, films and correspondences.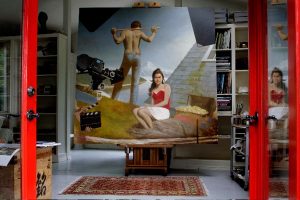 These elements are foundational in the process of creating a substantive work of art. This experiential learning model is the distinction offered by The Bo Bartlett Center at Columbus State University." CSU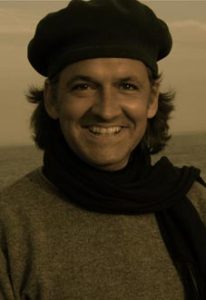 Bartlett explains, "The approach is holistic and multi-layered. I believe that a great painter is a great person painting. It is not just paints and colors that will inform the students, but it is a whole systems approach to art and to life. Art can lead the way in awakening our inner most dreams and aspirations, this in turn feeds the whole community."
This "holistic approach that feeds the whole community" is not simply eloquent rhetoric, but what Bo exemplifies through his art and life.
Bartlett donates his time to south Columbus schools by teaching children lessons in drawing and providing demos. Bo is a part of the Partners in Education program. Plus, The Bo Bartlett Center will have arts for homeless programs, as well as arts in prison!
Bo's art does lead the way in awakening our community's inner most dreams and aspirations, not only for our community but for the art community at large.
Bartlett's highly distinguished Master Class, which is happening this weekend, and attracts students from across the nation, is offered annually at the Center.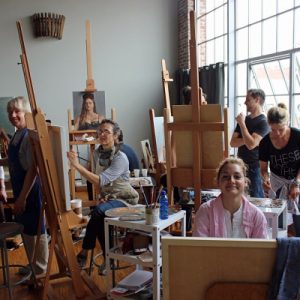 There are 19 artists selected from all over the country who submitted their portfolio, artist statement, etc., who are accepted into the Master Class.
Let us give you a glimpse of the talent attracted here this weekend for it:
Frank Oriti will be attending, with one of his brilliant paintings below: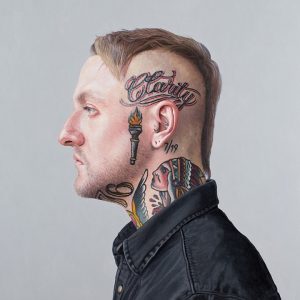 Recently, Oriti was featured in The New York Times and was the recipient of the 2013 Cleveland Arts Prize Emerging Artist Award.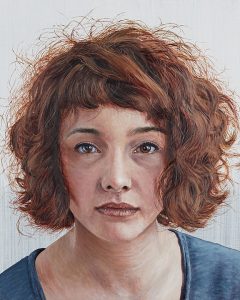 He currently lives and works in Cleveland, Ohio.
Victor Grasso will be taking the Master Class as well: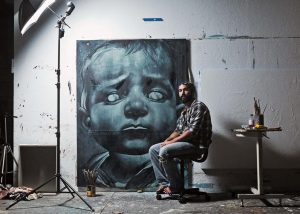 "A ride with Grasso is a ride in the hidden areas that inhabit our unconscious, and remain repressed and denied until so provocatively exposed as natural world order in his art. It is both our fear and our lust. It is fulfillingly appealing, while revealing our most hidden secrets now well exposed – seemingly as natural as Disney – gone Louvre." -Dr. Jacob J. Steinberg, Albert Einstein College of Medicine, Professor, Dept of Pathology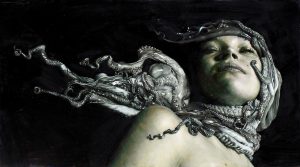 And one more spotlighted, student artist is Sean Roach:
Sean was a scenic artist for many years designing and building stage sets, sculptures and various other multi-media projects. Sean had two international children televisions show, while working with many notable companies like The Wilma Theater, Upstage Right Productions, Proof Productions, Busch Gardens, Nabisco, Kraft and many others. He was commissioned to build a life size Mr. Peanut for Planters' 100th Anniversary. This monumental sculpture now lives at the Atlantic City Historical Museum. He enjoys using various mediums for his art.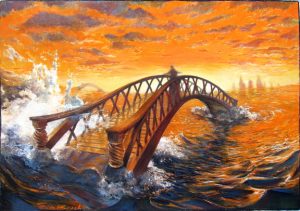 We appreciate Bo bringing us brillant artists, donating his works for the center, and donating his time to south Columbus schools.
We need leaders like him in our community for culture, which includes his altruism.
Most of all, we are grateful Bo is home, and so happy he brought his beautiful wife, Betsy, to continue inspiring, empowering, and educating our community on the importance of art.