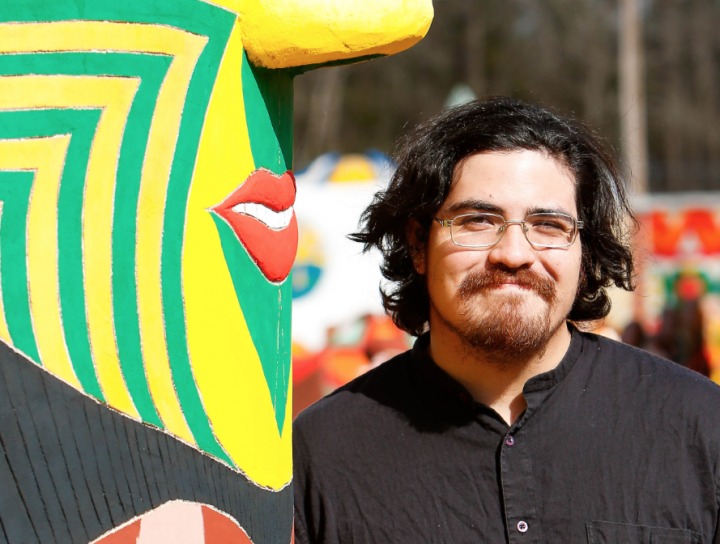 "St. EOM made up his own words, like Pasaquan and viberations," Charles Fowler says. "We decided we wanted to bring back Artists for Pasaquan weekend but to put our own spin on it. So in the spirit of St. EOM, we renamed it a word we came up with: Pasafest."
An artist and musician, Fowler is also caretaker of Pasaquan: the surreal vision of inter-planetary utopia on 7 acres erected by mystic outsider artist St. EOM—Eddie Owens Martin (1908-1986)—on his family farm in the piney woods of Marion County, just outside of Buena Vista, Georgia, 42 miles southeast of Columbus.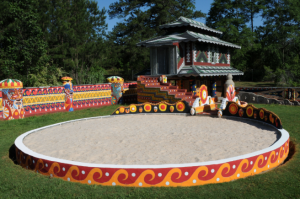 Pasaquan is the term St. EOM (pronounced "om," a reference to the sacred sound in Hinduism that represents the ultimate reality) made up for the kingdom he spent 30 years creating for a species of aliens from the future, the Pasaquoyans.
And viberations?
That's his term for Pasquan's energy field, also used to describe the feeling created in the space between two contrasting colors placed next to each other. 
"Hopefully, they'll feel the viberations," Fowler says of what attendees will absorb/exude at the first-ever Pasafest, which he helped organize in his role as event committee chair of the Pasaquan Preservation Society. "Feel a celebration of art. Feel a celebration of music. And feel a celebration of the coming together of all types of people."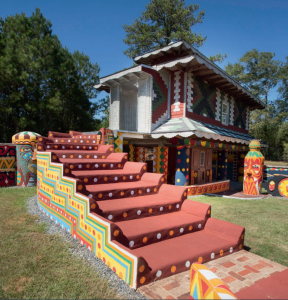 Martin left home at age 14, heading north to Atlanta, then Washington, D.C., before finally settling in New York City, where he made ends meet as a street hustler, bartender, drag queen for hire, gambler, and fortune-teller. After his mother's death in 1957, he returned to Georgia and spent the next 30 years building Pasaquan (often with money earned telling fortunes) amidst the occasional drug binge at a backwoods trap house. Martin was typically the only white to venture inside this tiny crazed club where his art adorned the walls and ceiling.
After Owens' suicide in 1986, the Pasaquan Preservation Society made diligent efforts toward the upkeep of the site and stewardship of St. EOM's artistic legacy. In 2014, arts philanthropists at the Kohler Foundation funded the visually stunning restoration of Pasaquan. Following the painstaking efforts of Columbus-based general contractor Tim Gregory working with a team of artists and arts scholars, Kohler turned the property over to CSU, where art professor Michael McFalls serves as director of Pasaquan.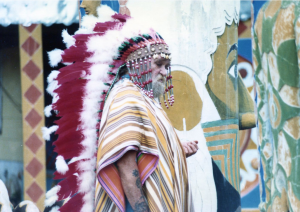 "When I was thinking about how to do Pasafest, I thought about St. EOM's vision for everyone coming together—different cultures, different religions—in one place," explains Flower. "I realized the way to do that was through music and art. So I came up with a very diverse band line up that ranges from blues to folk to psychedelic rock. We'll also have all kinds of artists—outsider, visionary artists. And we'll have tarot-card readers to tell fortunes like St. EOM would have done if he were here."
The inaugural Pasafest will also feature hairdressers and face-painters to help guests become part of the viberations.  
Beers will be served by Omaha Brewing Company, crafters of the St. EOM-inspired Viberations Ale, and food trucks will serve up a variety of eating choices.
Along with local legends/kindred spirits Butch Anthony and Ralph Frank, the Artist Market will feature the works of Kip Ramey, Ned Berry, Charles Laster, Sam Granger, Lee Laney, Fawne DeRosia, Suzy Sue Smith, Elyse Mixon, Bond Anderson, Brent Wykle, Charlie Dingle, Meg Anderson, Katie Lebel, Chuck Wells, Carey Slay, and Jeffrey Lerner.
"As the day progresses, it gets weirder music-wise," says Fowler.
The live-music line-up (from start to finish) features Joseph Mosman, Lady of the Lake, James Husband (Of Montreal drummer's solo project), Jontavious Willis (acoustic-blues rising star hailed as "my wonder boy" by touring partner Taj Mahal), iNDEEDFADE, the punk-trance of Rude Dude and the Creek Freaks, trippy blues-rock guitar powerhouse Heather Gillis and band, and the face-melting, mind-melding grooves of headliners Crispin Wah, whose after-dark set comes illuminated by DJ/digital-visual impresario Eduard Pesante.
"It should be a fun and exciting day," Fowler says. "Bring your lawn chairs, bring your blankets, and come to have a nice time.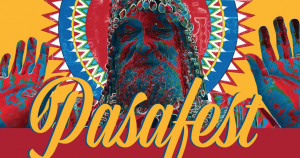 Saturday, 11.10.2018

Artist Market, 10 a.m.-5 p.m.

Live Music, Noon-9 p.m.

Tickets $30, students $15, under age 12 ($10), under age 4 free

Located at Pasaquan (238 Eddie Owens Martin Road, Buena Vista, GA 31803)

MAP