Najee Dorsey has enjoyed a successful career as a mixed media artist whose works are deeply rooted in African-American Southern culture. Recently, his art entered a new period, one that incorporates found materials into clay sculpture. Though Najee began sculpting in the early 1990s, assemblage became his focal point in December 2015, and he has created more than fifty pieces in only one year.
Those sculptures will be on display at The Black Art in America Gallery at 1433 17th Street, in the upcoming exhibit, "Moving Earth: Works in Clay by Najee Dorsey," from Dec. 3, 2016, until Jan. 8, 2017.
The opening reception is scheduled from 2-7 p.m. on Saturday, Dec. 3, 2016. Light refreshments will be served, and the artist will offer a short lecture at 3:30 p.m. Admission is free.
Najee, whose work has been exhibited at The Columbus Museum, The Houston Museum of African-American Culture and The American Jazz Museum, spoke with Brad Barnes about challenging yourself, building community and finding home.
Your best known works have always pushed the third dimension a bit — with overlapping images, textures, found objects and brush strokes combining into a single narrative. But what's made you decide to move completely into sculpture?
 I first worked in sculpture back in 1992 or 1993, with sandstone. But I believe something sparked for me when I had the fortune of acquiring a work by famed African-American sculptor Richmond Barthe last December, and so the last four months, sculpture has been all I've done. I haven't picked up a paintbrush. I've been completely inspired to work in the third dimension. I think part of what I like is the ability of the audience to more fully connect with a piece, versus something that's on the wall. As they move around it, the point of view changes. It's also a chance to challenge myself and see how I work in different mediums. I guess when the Creator was giving out skills, talents and, especially ambitions, I got in line a few times. [laughs]
And this isn't what we'd call traditional sculpture, right? It's not carved stone or just clay…
No, you're right. I hear a lot of, "This is a totally different element than what I've seen," you know, in many of these sculptures. I'm incorporating a lot of found materials. They're contemporary objects, or maybe things from the '50s and '60s that I've found in thrift stores. They're bowls, platters, metals — even lentils, black beans, peas or a carrot top. One piece features burnt wood from the Swift Mill Lofts.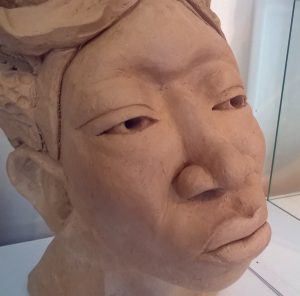 Do the materials you discover inspire the work, vice-versa? Do you have to work to make the found materials give voice to what you're trying to say?
 The majority of the time I'm creating the clay sculpture first. Then I scavenge my materials to see what speaks aesthetically and what may contribute to the narrative of what the clay provides.
You were born in Blytheville, Arkansas, but you've wandered all over the South — including, just before moving to Columbus, in Atlanta. What made you wander 100 miles south to our quiet little hamlet?
 I lived in Atlanta for nine years, and the opportunity to have a solo show at the Columbus Museum presented itself. After several trips, it was easy to see the city was a perfect fit for me. I found a thriving arts and creative community that was very welcoming. For the first time, it felt like home.
When you moved here, you brought the headquarters of Black Art in America with you. Why was creating that online network important?
Black Art In America has been important because it was and continues to be one of the few media outlets that focuses on an underrepresented group of talented and highly creative people that deserves to have a voice. Our mission has been to document, preserve and promote the contributions of the African-American arts communities. Over the last six years, we've built quite the presence online while producing content and art shows nationally to serve our mission. It's always a good time to have a space you can call your own, and when I say your own, I mean COMMUNITY.
Do black artists have a tougher time being viewed as legitimate in the art world? And, if so, how do you combat that?
I wouldn't say "looking to be legitimatized by the art world" because today we are seeing record attendance at museum shows for artists of color, record auction sales, a new focus on collecting the materials, so things have been looking up for SOME — however, we need more of this for more artists. Museums and curators are limited, at times, with understanding and knowing the breadth of talent that exists in our communities. It's important that they build bridges with those of us who are more closely connected to the community and the work. I understand we have multiple art markets, thus multiple art worlds, and much of what we've seen in the contemporary art world of works by artists of color is only the tip of the spear.