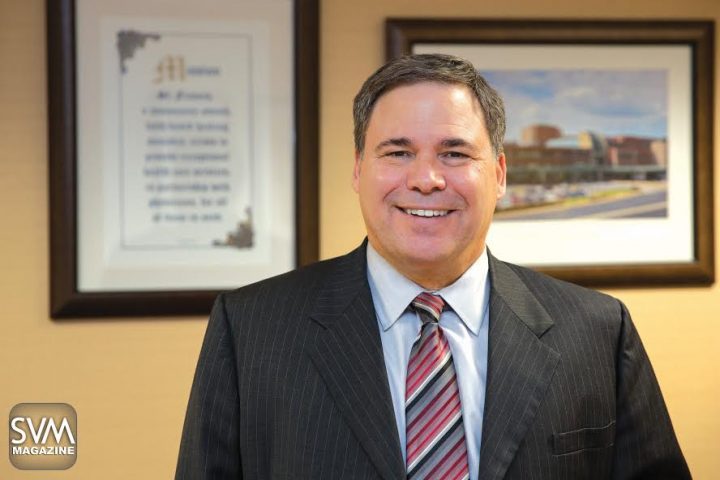 Originally featured in Southern Views Magazine
By: Roberto Caligaris | Photo by: John A. Marchetti, St. Francis
A seasoned hospital administrator with 30 years of experience, Koontz most recently worked as a healthcare consultant for a variety of community health systems, national hospital corporations and international clients. Koontz holds both a master's degree in business administration and a master's degree in public health, health system management from Tulane University. He also is a member of the American College of Healthcare Executives, and he is a certified management accountant. SVM sat down with Koontz and asked him about his management philosophy, the future of the industry and the challenges and opportunities at St. Francis.
What inspired you to pursue a career in healthcare?
Healthcare administration was an emerging profession when I was in college.  I had a degree in Anthropology, which had limited career options straight out of undergraduate school. I was attracted to healthcare administration because of its potential social and community impact, which guided my choices in graduate school. Further, I enjoyed the interdisciplinary nature of healthcare administration, mixing healthcare technology, complex organizational structures, business judgment and government policy.
How do you balance the many hats you wear in your leadership role with St. Francis and LifePoint Health?
Fortunately, St. Francis and LifePoint are aligned in many ways. I think balancing priorities and demands will be seamless. When challenged with complex problems, what is important to patient care always comes first. Then, how do we support the physicians in practicing medicine and how do we empower our employees in the performance of their duties?  We must also weigh the financial and regulatory considerations for the sake of stewardship of the institution.
What is your management philosophy or style?
My management philosophy and style is to encourage staff to critically think, and to constructively challenge ourselves on how we can improve. I like ideas and processes to be supported by data and results. Once decisions are made, I like to monitor whether the outcomes are unfolding as expected and making course corrections, as necessary.
What are your main focuses at St. Francis for the rest of the year?
Being part of the LifePoint family will allow St. Francis access to the best clinical and management practices that LifePoint has to offer. We want residents in Columbus and the surrounding communities to understand they do not have to leave this area for healthcare.  We will be planning and implementing new initiatives at St. Francis that will reduce the need to seek healthcare in other metropolitan areas.
What do you see happening in the future of your industry?
Healthcare is a rapidly changing industry. A huge benefit of being a LifePoint hospital is the access to the additional resources St. Francis now has. I believe the continued progress in medical technology will lead to less hospitalization and more care delivered in outpatient settings. The trend toward more decentralized healthcare delivery will require more sophisticated medical informatics, provider-to-provider communication and patients' involvement in managing their own health care.
What do you think it takes to be a great or top-performing hospital?
It starts with culture. Fostering a warm, personalized culture among hospital staff, prepared to help patients become healthy in mind, body and spirit. That is already happening here every day. It is one of the things I noticed from the beginning.
Promoting communication and coordination among caregivers is another important part. So we are establishing, documenting and periodically revisiting the most cost-effective medical protocols for the illnesses the hospital routinely treats to help serve as guidelines for its caregivers. Staying current with medical technology will also position St. Francis for continued success.
St. Francis underwent a dramatic financial turnaround the last couple of years. What could organizations currently facing hard times learn from St. Francis' experience?
Hospitals are under tremendous financial pressures.  Those hospitals facing hard times have a much better chance of responding to those pressures and prevailing by having talented and highly committed members of the board.  Such was the case at St. Francis.  St. Francis prevailed due to countless hours spent by selfless board members.
What challenges and opportunities do you see for St. Francis going forward?
St. Francis will be challenged by the breadth of its initiatives in the coming years.  It has the enthusiasm of the medical staff and its employees, now turbo charged by LifePoint's resources.  We will work hard to maintain our focus in the midst of our many undertakings. St. Francis' opportunity is to expand its capacity and its points of access across a broader geography in the coming years.
Finish this sentence: The best thing about living in the South is: its warmth, both in climate and culture.